There is apparently no limit to the hype.
"You gotta see this to believe it… The FUTURE really is now.
Seriously?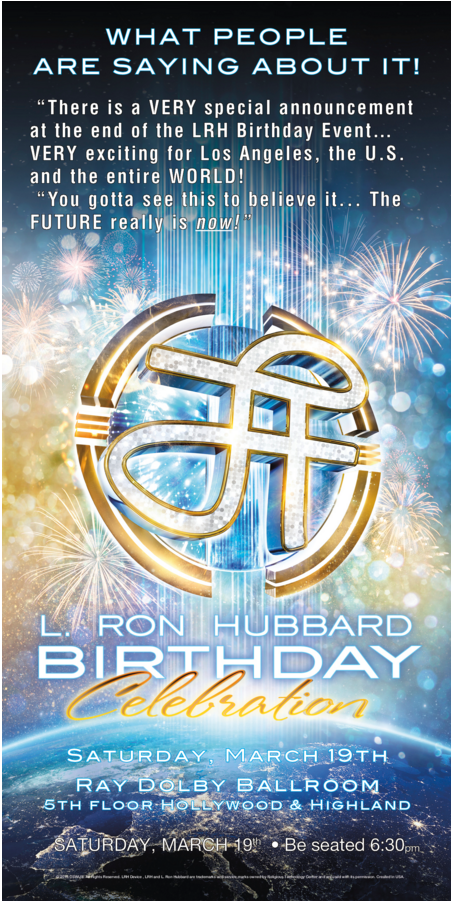 And what do you have to see that is the future now?
SPOILER ALERT!
Miscavige announcing the "imminent" opening of KCET.
You got it right. Things have gotten so bad that he is AGAIN announcing the imminent opening of KCET. It's already been shown and endlessly pitched and the "Big News" for the March 13th event was something that is "going to be" done.
In fact, if you look at the scientology.org website, it tells you everything you need to know and even has photos (and just for the hell of it log onto Facebook and look up John Mappin — he has the full rundown in his usual "style.") Really wonder how it's working out trying to get people to show up for this event to hear about the announcement of "upcoming" events they can read online?
Here is a selection from the scientology,org website report on the joyous occasion….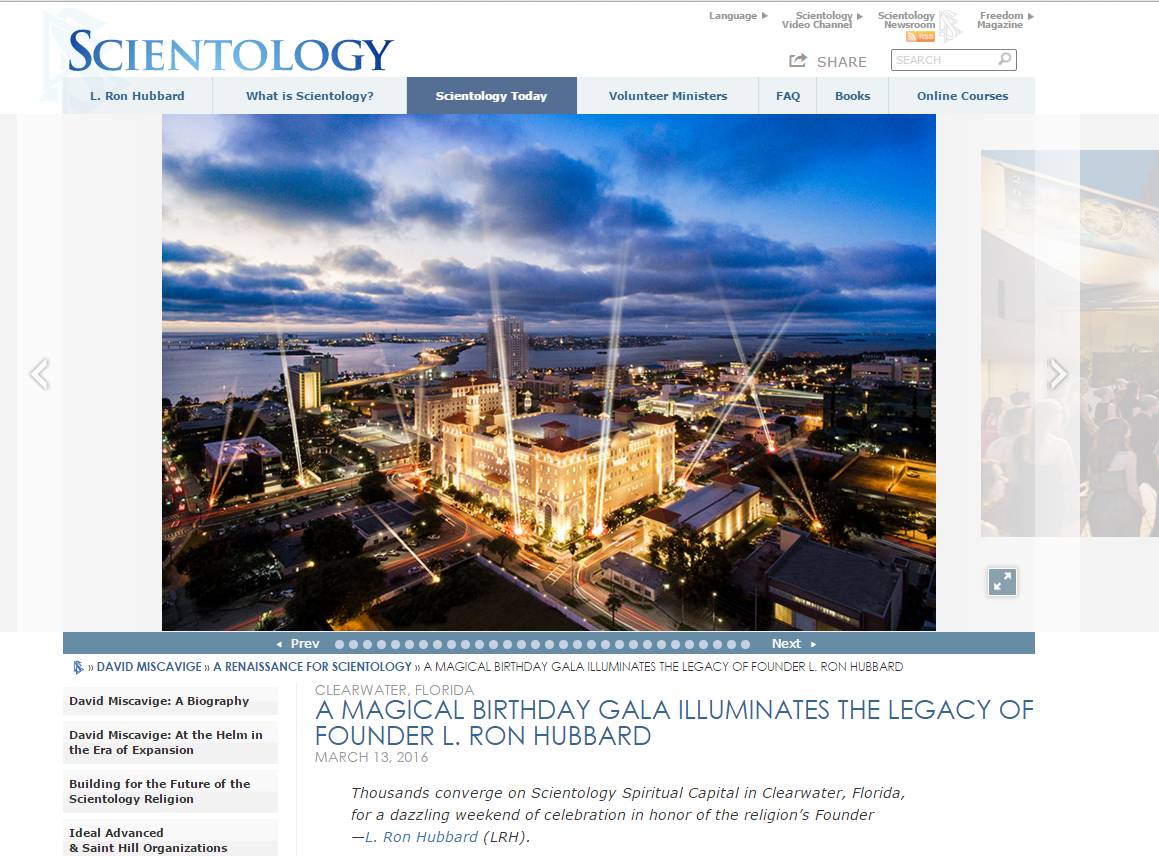 "Thousands" converged. They are afraid to even give bs numbers these days it seems. They struggle to fill Ruth Eckerd Hall — 2300.
A couple of the more interesting bits:

There may be 50 ideal orgs that have opened their doors — but nobody is going in. And frankly, after more than a DECADE of this program, one would have thought it would be done by now. But of course, they are still managing to squeeze a few shekels out of the sheeple so it will go on forever I would imagine. Miscavige will dole out just enough money to complete a few orgs so he has something to show at his events and tell everyone else to "keep donating because it is absolutely vital to have all orgs ideal."
There was not a SINGLE COMPLETED IDEAL ORG for March 13th. You can guarantee that if there is anyone left at the Int Base they were taking the full brunt of that flap.
So, again, the "announcement" (with more CGI footage) is "here is what is upcoming" and we have orgs "set to open."


The "imminent" opening (he might have said that back when he "opened" the "Ideal Pacifica Bridge" a few years ago) of the "entirely unique" media center. Really? Entirely unique? Except for the one 85 miles down the road that cost $500 million to construct replete with unutilized "video edit bays, music scoring rooms, audio mix rooms, a visual effects facility and multiple sound stages." Yes, Golden Era Productions is the EXACT SAME THINGS as this "unique" new white elephant. Why do they need a NEW nerve center to spread the church's message? The current one isn't worn out from over use.
Nobody really knows, but COB said it's a good idea, so it's a good idea and you WILL enjoy paying for it. Dave's Folly would be a more appropriate name.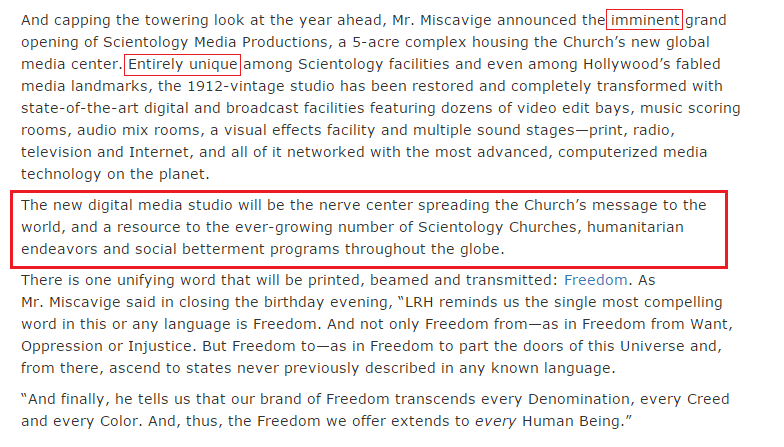 "Our brand of freedom"? – the scientology brand is freedom from over-filled bank accounts and credit cards that still have credit available on them.