The lies roll off their tongues so easily. The SuMP (scientology's useless media productions) is the next big thing that is going to absolutely, definitely bring about planetary clearing for reelz.
But as with everything like this, the absurd joke of this is also very revealing of the desperation inside the bubble.
This poor sap is "ordered" to relay this information.
The SuMP is STILL not open, though the opening has been scheduled twice now and canceled.
I assume whoever wrote this actually believes the opening of this white elephant is going to drive in masses of people to scientology. Of course, this is based on NO evidence whatsoever. Golden Era already churns out volumes of videos and ads. If the "airwaves" are so important, how come they don't have ads airing all the time? Only for "big events" where they can promote it to sucker more IAS donations?  They are not airing their existing ads, so how will making more of them not to air have any effect? And most of the other videos they already produce end up as filler for their websites. Probably the largest number of videos produced by scientology are "attack" videos to "dead agent" people. They put them on Freedom mag website or "Who Is Latest SP.com" sites and nobody ever sees them.
I wonder if the lack of staff to keep the doors open is the main reason SuMP has not yet ushered in the era of massive international expansion that GAT, GAT II, GAT for OTs, GAK, Ideal Orgs, Super Power, Running Pgm etc etc were all supposed to bring and failed?
Or is the reason that Miscavige has been preoccupied with other problems like his father, or is too afraid to make a public appearance – and god forbid that a building anywhere be renovated without him to officially yank its ribbon.
Or perhaps the real reason is the most cynical of all — as soon as it opens they cannot continue to raise funds… And the L. Ron Hubbard Hall seems severely lame as a the new "big thing."
Or could it be that with all the promises they have to figure out SOMETHING they are going to do that at least in THEORY is going to drive in more public. It would be pretty strange for this thing to open and NOTHING happens. How is Miscavige going to explain that next month at the Maiden  Voyage?
Ah, the problems trying to run a scam. Things keep catching up with you and it requires increasingly complex lies and maneuvers to not have everything come crashing down. And that is hard work.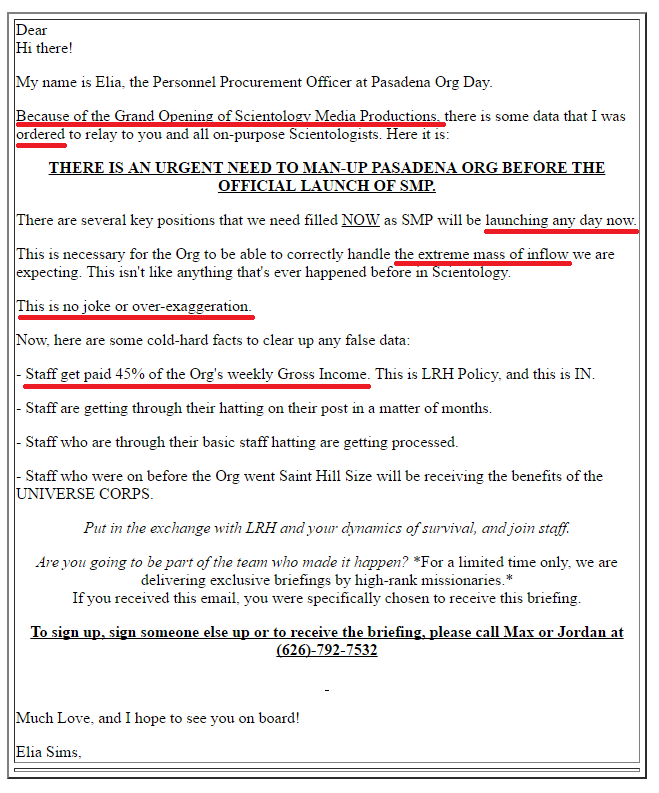 ps: the staff being paid 45% of gross income IS a joke. Just put in there for shits and giggles. Clearly, the staff being paid nothing is a serious objection to people joining staff… Wonder why? And wonder why everything they are promoting as a reason to join staff is the personal benefits you get? Tells you a lot about the state of this org. Even if they con some people into signing up, they are not going to stay as soon as they find out these things don't happen. They are much better off promising fantasmagorical and intangible benfits like "saving mankind" and "being part of the only true group" blah blah… Those things can continue to be restated in different ways for ever. Well, at least for 60 years or so now….