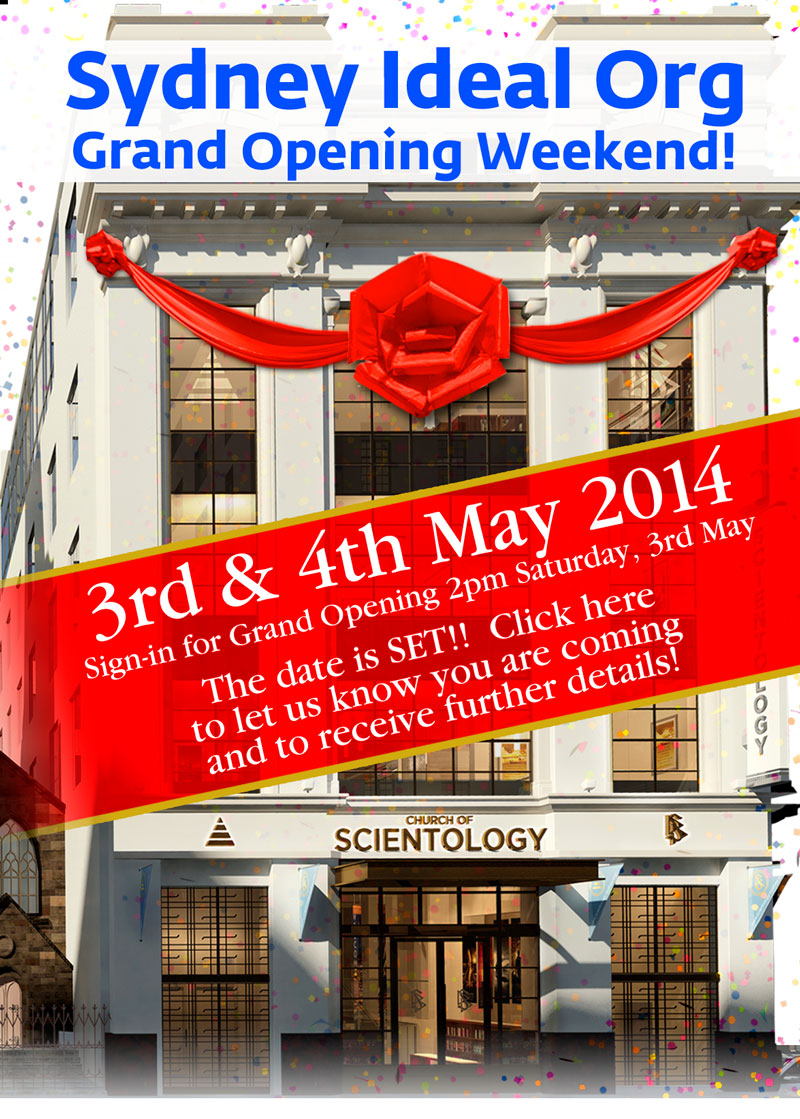 Captain Kangaroo must have cleared his schedule to make hisself available for the adoring smaller than expected crowds for the great day in Sydney. (Though they are not promoting He will be in attendance overtly yet, there are probably strict instructions not to let the SP's know, and OMG don't tell Bryan Seymour and Steve Cannane… what if THEY show up wanting an interview?)
After promising February, then March, then silence, they are now scheduling the big day for early May. That should give Him enough time to get a video put together for the Maiden Voyage Scuba Diving Cruise.
Doubt that Dear Leader will venture to any other of the illustrious orgs in Australia to witness his massive international expansion for himself. He may not even be able to find Canberra, Adelaide, Perth or Brisbane "orgs."  He might make a stop over in Auckland to see Lou's hometown and inspect the decaying wreck they purchased over there as part of his "ideal" program.
Sydney in the meantime has just a month to grab the last bucks they can before they begin their new campaign of "an Ideal Australia"…. 
But be forewarned KoolAiders of Oz. If you cannot guarantee there will be no contact with the undesirables or the media, Lord Voldemort will shun you, just like he did Pretoria. It is a long and arduous trip that takes a toll on his fair skin and creates bags under his eyes, so if there is a reason to cancel, he will be happy to oblige.
Funny they don't announce the time of the Grand Ribbon Pulling but instead announce "sign-in begins at 2" — probably because it takes so long to check everyone before they are allowed the privilege of standing on the same street as the great man. Wonder if his personal security will fly in with him too? 
Here are some more specifics and a ration of exclamation marks to make it an official church communication:  
Date: Tue, 01 Apr 2014
From: Lisa Terpstra | Continental Commanding Officer <[email protected]>
Subject: The Sydney Grand Opening Date is Final!

Hi Xxxxx,

The announcement you've long been waiting for. The Sydney Ideal Org Grand Opening date is now official!!!!

The Grand Opening weekend is Saturday and Sunday, 3rd and 4th May 2014! You can book your flights. (They are cheap right now – so it's the best time to book).

There is a full weekend of activities, so please plan for this. Sign-in starts from 2pm Saturday, the 3rd of May. The Grand Opening and festivities will go throughout the afternoon and evening. The activities on Sunday morning will begin at 10:30am and will go throughout the day. Please allow for this in your plans.

The simplest way is to confirm you're coming is on-line – Click [here]. Alternately, please send an email to [email protected]

More details will be emailed to you shortly, but some key datums you need to know:

– Sign-in for the opening will start at 2pm Saturday on Castlereagh St.

– If you have friends in Sydney, please contact them and organize your stay. Alternately, we are finding out the best deals around and can help you book a hotel or transportation if needed.

– If you need help on logistics, please email [email protected] We can help you find the best deals for hotels and transport, get you maps so you can get there etc.

Of course – please invite all of your friends and family!! Let us know so we have record of everyone coming and can ensure they are accommodated!

This long-awaited moment is now here! I really look forward to seeing you there!

Best regards,

Lisa Terpstra
Commanding Officer CLO ANZO