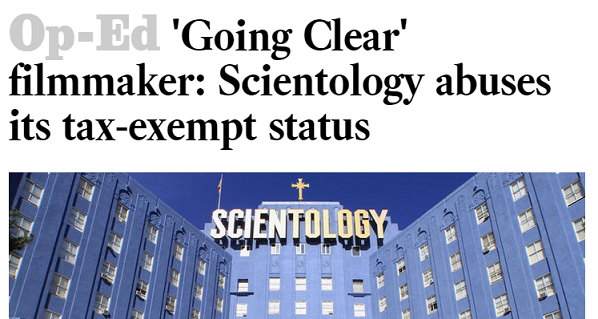 Clearly, the Alex Gibney OpEd piece in the LA Times is still giving Miscavige heartburn.
And he has no response other than a lame letter to the editor by his spokespuppet Monique Yingling.
This is the latest appeared in the Razzline. Sent by a "public scientologist" from a "csi.com" (church of scientology international) email address….
All they can do is hope to generate "positive comments" — using a "screen name"? Good luck with that.
From: Xxxxx  Xxxxx [mailto:xxxxx@csi.com]
Sent: Monday, April 27, 2015 3:04 PM
To: Subject: "Scientology deserves its tax exemption" – LA Times – link
to LA Times Letter to Editor
Good day, all!
The Church of Scientology's tax attorney slams back—although very
professionally—at recent media coverage of a self-serving filmmaker
who suggests the Church should lose its tax exemption.
Link à Scientology deserves its tax exemption
See attorney Monique Yingling's no-nonsense rebuttal at the link
above.
If you'd like to write a comment in the Time's comments section,
please do. (I suggest using a screen name.) You can also give a
thumbs-up to comments you like, and a thumbs-down to those you
think unproductive.
Feel free to circulate this as you think helpful.
Very best!
Xxxxx  Xxxxxx