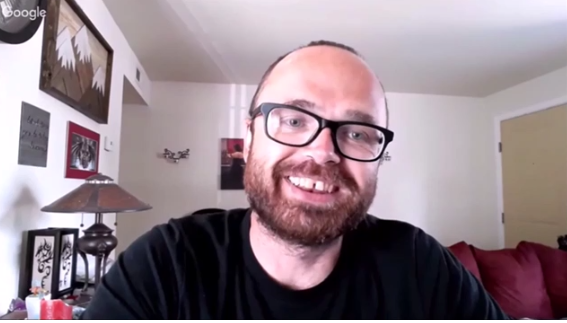 The information below was provided by Aaron Smith-Levin, along with an interview video he did with Sam Crabtree. I knew both his parents in the Sea Org back in the day, his father Paul more than his mother Debbie, especially when he was the Cram Off RTC.
The video is a long one, but fascinating. 
Sam is a second-generation Scientologist born into the Sea Org in 1983. His parents left the Sea Org when he was 6 years and raised Sam as a public Scientologist. After serving three more years in the Sea Org from age 17 to age 20 Sam moved to Clearwater to again be a public Scientologist. Sam was living in Clearwater in 2009 when The St. Pete Times published the "Truth Rundown" series which revealed the horrific abuse that had been occurring at the Int Base. Those articles caused Sam to reconsider his involvement in Scientology. From 2009 to 2012 Sam was out of Scientology but stayed under-the-radar due to professional and familial connections to Scientologists. In 2012 everything came crashing down when Sam lost his family, his friends and his job. After a series of unfortunate events which Sam discusses in this interview, Sam ended up serving 4 years in prison for a non-violent offense.
In May 2019 Sam was released from prison but with no friends or family to turn to and no money Sam was immediately on the street homeless. Sam contacted the Aftermath Foundation for help. With the support of our generous volunteers the Aftermath Foundation was able to help Sam set up his new life in Denver, Colorado.
Thank you to everyone who has supported the Aftermath Foundation and thank you Sam for sharing your story with the world.
Aaron has broken this video down into shorter segments:
Homeless after prison, the Aftermath Foundation helps https://www.youtube.com/watch?v=DXehWWo3_fQ
Four Years of Incarceration https://www.youtube.com/watch?v=XxKfG3Dglt0
Everything Falls Apart in 2012 https://www.youtube.com/watch?v=RSZsMLNwaiY
The Tampa Bay Times "Truth Rundown" Articles Changes Everything https://www.youtube.com/watch?v=culKMlq6sJY
Being the "Cadet Estates Project In Charge" https://www.youtube.com/watch?v=n8VQ2XeCpNE
Being in the Sea Org from age 17 to 21  https://www.youtube.com/watch?v=b1L1-OC1BQw
What Makes One a "True Believer" in Scientology  https://www.youtube.com/watch?v=ihI6J5nJIA0
Scientologist-owned School was a Recruit Pool for the Sea Org https://www.youtube.com/watch?v=DX0UbW56OR0
Leaving the Sea Org at 6 Years Old and Returning at 17 https://www.youtube.com/watch?v=wwvgk5GZ1wg
Born into the Sea Org https://www.youtube.com/watch?v=L8Ob6Qo4sIU