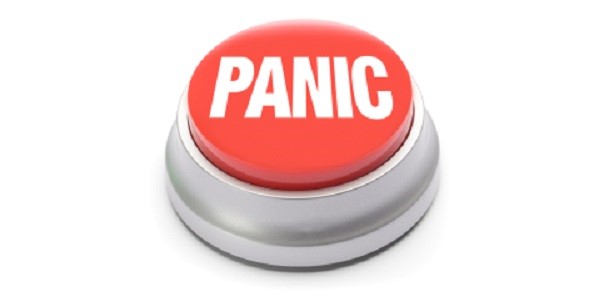 It seems to be all hands panic stations inside the scientology bubble.
In violation of Hubbard policy and all earlier practices, they are now "spreading the flap" by announcing it to all scientologists and "encouraging" them to write letters and sign a petition to shut down The Aftermath.
This really is an unprecedented action in the annals of "attack the attacker" history. Scientology usually does its best not to make their public aware of "bad media", knowing most of them will not look at it anyway. Standard practice is to pretend it doesn't exist.
They must be deluged with reports of bubble-dwellers watching or hearing about the show and figure they have nothing to lose — everyone knows about it already.
And so they are "inviting" the sheeple to send letters of protest. But when you are "invited" to do something in scientology that means you are expected to do it. As a scientologist, you do NOT respond "but wait a second, why do we care?" or "I'm not convinced everything on the show is lies" or anything of the sort. That is an instant "invitation" to ethics, sec checking or even being declared.
Here are a couple of the letters that are circulating:
Good Afternoon,

We are cranking up the pressure on advertisers and asking that each of you contact five trusted Scientologists and ask them to send a letter expressing their heartfelt opinion on the damage created by the anti-religious show which they are supporting. Below is an example of what you can send. Our goal is 2500 letters out by Monday, I know that is asking a lot, but it is going to make a difference. The only variable is impact and that is governed by the number of letters we send.

Thank you for your help.

ML,

Joel Phillips

LA STAND I/C

Hello Friends,

I'm pretty sure you are aware of Leah Remini's show on A & E attacking Scientology and further that is has been nominated for an Emmy in the "Best Informational or Series Special" category. Unbelievable.

Currently, we are helping on a campaign to counter and stop this insanity.

What is needed and wanted right now are letters (emails) to the *sponsors* of this show. We want them to back off on their support, and without their support, the show will likely be pulled.

If you would be willing to write an email, guidelines follow. The content needs to be original from you. Here are some points you can use to help you, but please put them in your own words.

a. Not to support religious hate and bigotry since this leads to violence against people and property.

b. This country has seen enough bigotry and hate speech. It does not need support and validation of it.

c. Remini's religious hate campaign has caused hundreds of threats of violence against Scientologists and our Churches.

d Emmy support of this hate and bigotry will be a dark day for the Emmys and for American entertainment.

e. If what Remini says were true there would be a conviction, a judgment, a police report or something. There is not. The only convictions were against people who listened to Leah Remini's hate campaign and committed felonies through doing so. Three have been convicted to date.

Just start your email with Dear Sirs. Don't worry about the particular sponsor. You will send your email to admin@we-stand.org <mailto:admin@we-stand.org> and they will get it to the right recipient. You also need to send a bcc to joelinla@earthlink.net<mailto:joelinla@earthlink.net>. (STAND is Scientologists Taking Action Against Discrimination.)

We want to flood these sponsors with our letters of protest.

If you are willing to help, please write an email asap. We need them now. They don't have to be long, just make the point. You can even say you will be pulling your own support of their business if they don't stop sponsoring LR's show.

_Don't forget to bcc Joel too._

Any questions, just ask.

Thanks MUCH in advance if you decide to help.

ML, Tina and Joel
Dear Friends,
I would like to ask you to please send an email to the advertisers of the A&E network to discourage them from funding the Leah Remini show on A&E. We have the ability to reach all the advertisers by sending our letters to admin@we-stand.org. My letter is attached for your info only. Please don't copy it but write one of your own. Suggested points to cover are:
They advertise on a show that supports religious hate and bigotry which leads to violence.
This country has seen enough bigotry and hate.
Remini's claims are false.
Letters should include personal communication and experiences as Scientologists.
If this advertiser continues to support hatred of my religion on this network I will be forced to cancel any business with you and tell everyone else I know to do the same.
Please do this as soon as possible.
Love,
Alethiea Taylor
Let's just break this down a bit.
The network should not "support religious hate and bigotry since this leads to violence against people and property" (note the similarity of wording between these letters — they are virtually form letters being sent out to people to tell them to send form letters). If you actually think about this the fact is that the show is EXPOSING religious hate and bigotry and violence. The hate that scientology spews is being seen by the world every time they put up another whinesmear site. Their violence against children is being exposed, and there is more to come.
"This country has seen enough bigotry and hate" – could not agree more. Which is why this show is so important to expose what they are doing in the name of religion.
"Remini's claims are false." So far, not a single "claim" has been proven false. There is a lot of whining, name-calling and claiming that every person involved is a liar and  trying to make money. And that is about all.
"If what Remini says were true there would be a conviction, a judgment, a police report or something. There is not."  Now, people in glass houses really should not throw stones.
In fact, there ARE convictions — remember Mary Sue Hubbard and 11 others went to Federal prison? L. Ron Hubbard was convicted of fraud in France. Tony Strawn and Jasja Barendsen convicted of sex abuse.
There ARE judgments. Larry Wollersheim. Julie Christofferson.
There are DOZENS of police reports. There is a 300 page file from the FBI reporting on their 2010 human trafficking investigation.
These are just some things off the top of my head. This is scientology's silly argument "there would be something" and there are many somethings so I guess this proves the point.
Is there something current? No. But that is just a matter of time…
And while on this subject, if everything Leah Remini says is false, why hasn't scientology sued her? This is something completely in their control. Unlike scientology, Leah Remini cannot hide behind the "First Amendment". And they don't need to meet the legal standard for a criminal prosecution of "beyond a reasonable doubt". So, how come no lawsuits?
And now, to the petition.
Let's not forget scientology has variously claimed they have 10, 11 or 12 million members around the world.
In fact, they routinely claim they have more than 10,000 scientology orgs, missions and groups.
Why then after a week can they only muster 5748 signatures?
This thing is being promoted to every scientologist.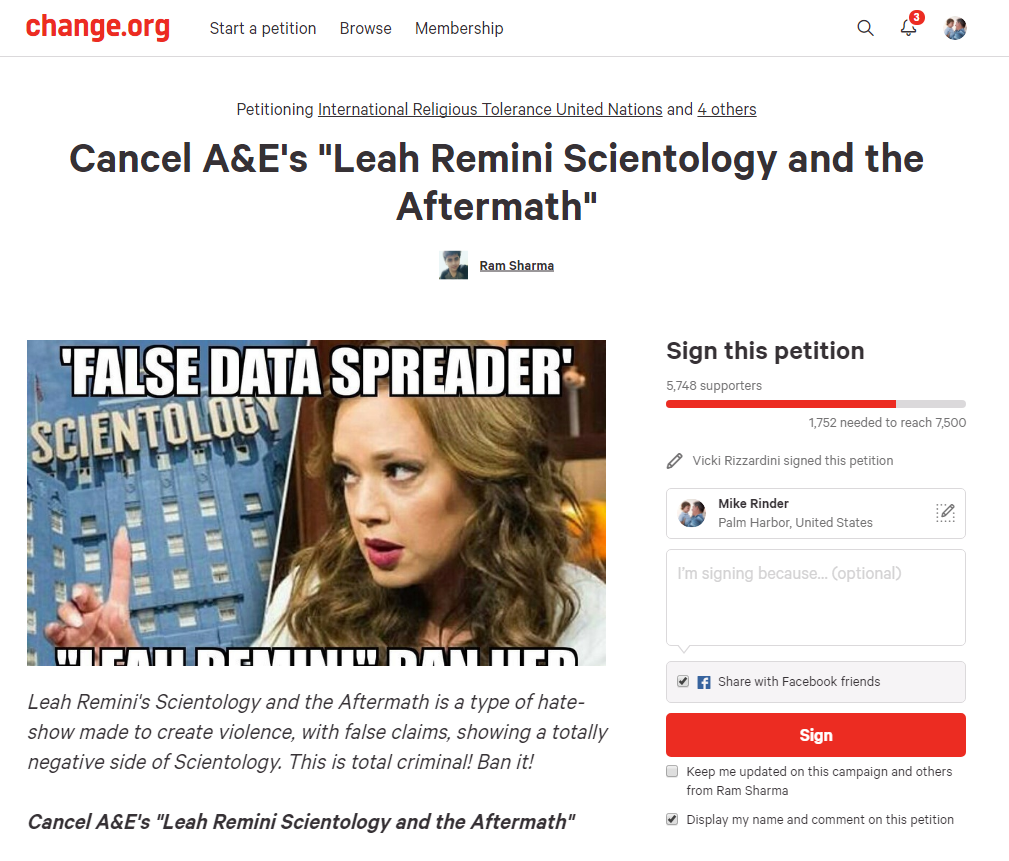 Then again, we cannot be sure that they even scraped together 5700 people when our old friend did a little digging on the names on that petition.
If every signatory is actually 1/20th of a person, it means they actually found 300 people to sign their petition.
I don't really think everyone is a multi-person signing repeatedly. But it tells you how desperate they are.
Even the numbers that can actually be counted they try to falsely inflate!