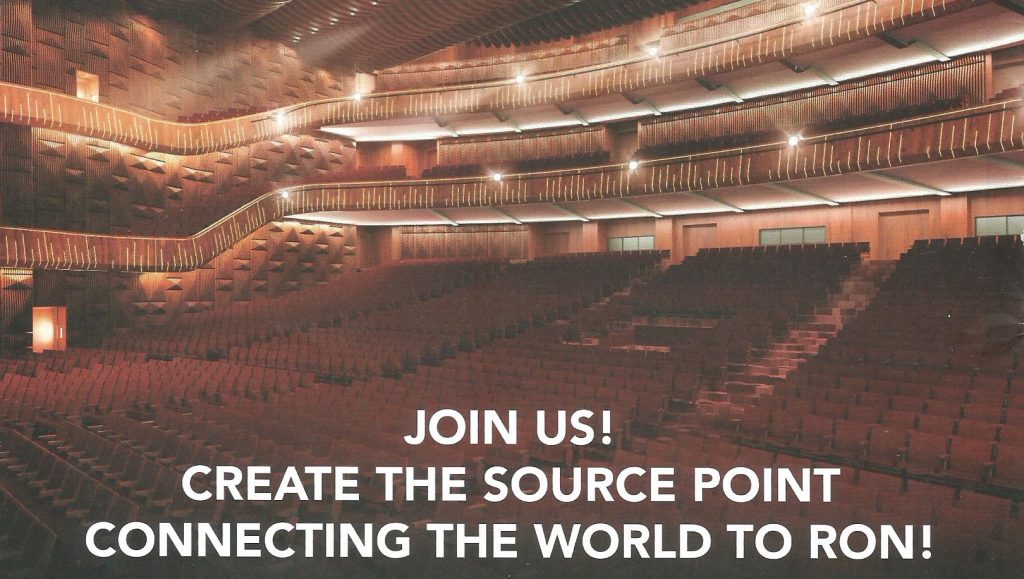 Even in the world of scientology relentless money-grubbing for everything, perhaps the biggest boondoggle ever is the "L. Ron Hubbard Hall."
This is a project that is even LESS needed than "ideal" org buildings. Some orgs have resided in shitty premises for decades, so there is some merit in improving their facilities. Though of course not to the extent of moving tiny, failing orgs into 50,000 sq ft buildings in industrial parks replete with custom furniture and carpets.
But there is no need whatsoever for an "event facility" dedicated to scientology events. They cannot fill Ruth Eckerd Hall in Clearwater for their one event a year to sing happy birthday to L. Ron Hubbard, nor the Shrine Auditorium in LA for New Year's. They fill up a tent for the IAS event in UK, but they have to import people from the US and all over Europe (which they could not do in Clearwater). The "Maiden Voyage" events are held on the Freewinds.
So, for 3 events a year that they cannot fill their existing facilities, they are raising money to construct a "state-of-the-art" (everything in scientology is "state-of-the-art" except it isn't – they are still selling and using CD players) event facility.
Because they cannot justify needing a hall, they promote it as something that will "bring freedom to mankind." Just how this is supposed to happen is not explained (of course). The events scientology holds are NOT available to the general public. They are kept under highest security to prevent them being put on the internet, Which, when you think about it, is strange as they are supposed to be a showcase of the remarkable accomplishments of scientology around the world — you would think they would WANT them seen by everyone. In fact, they are worried their claims will be fact-checked or that those who are shown in their puff piece videos might find out they were taken advantage of….
But they are going hell-bent-for-leather top raise funds and have recently put out a 24-page color brochure full of Shermanspeak.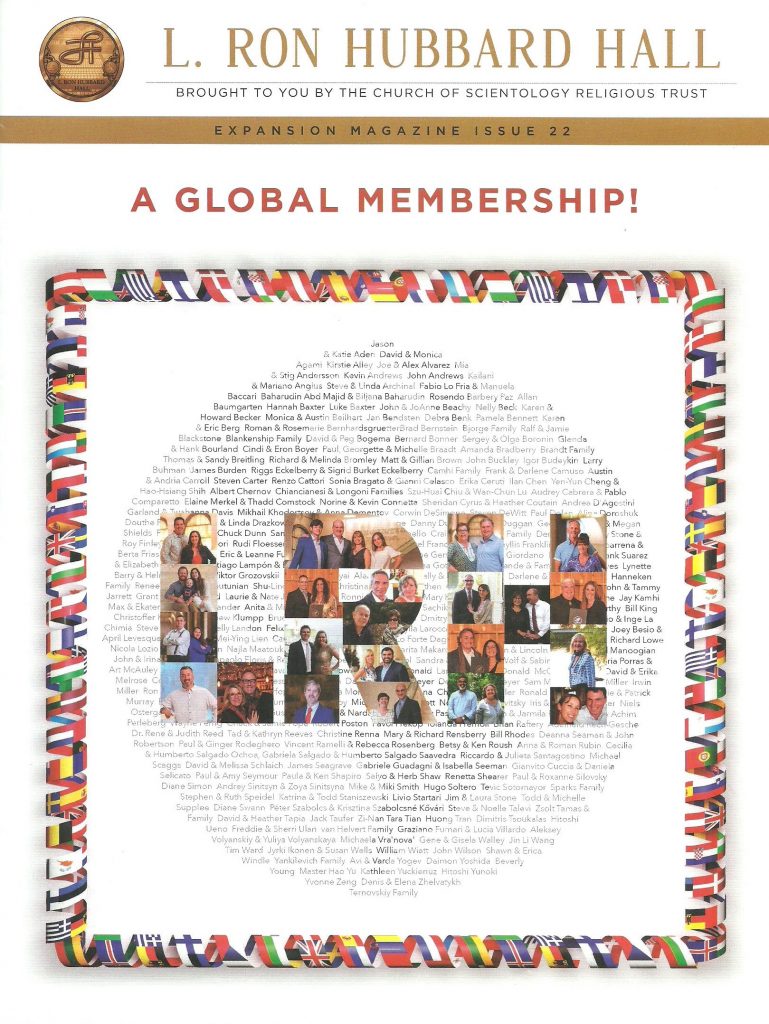 The hype is oh so typical and such purple prose it is hard to read…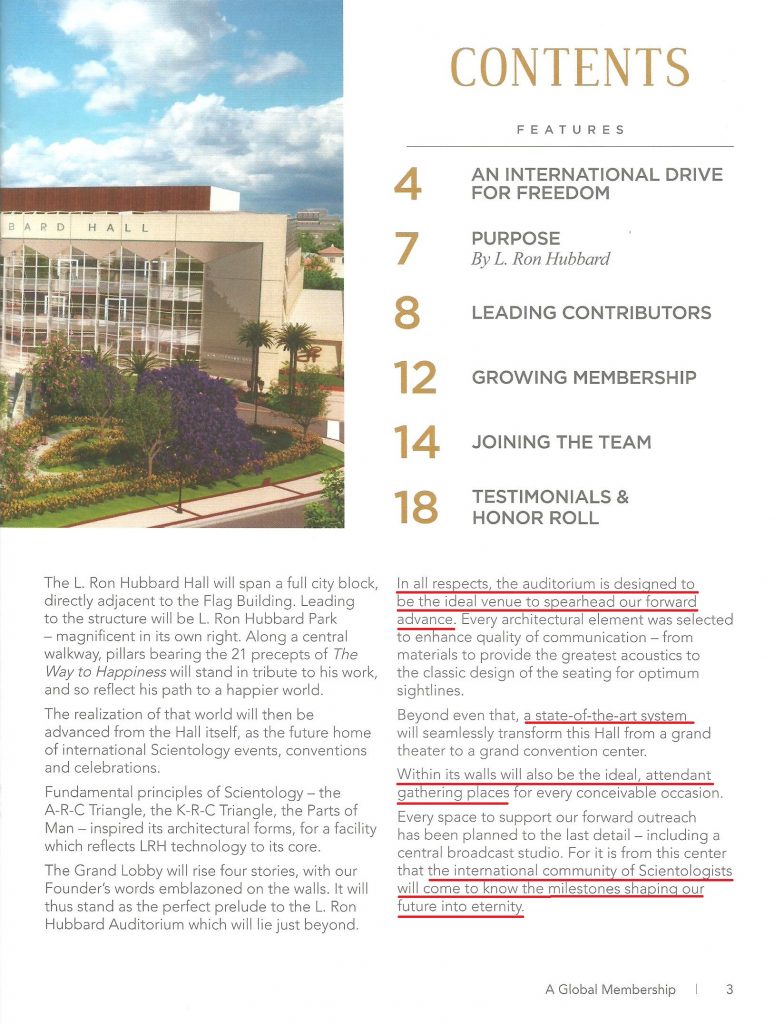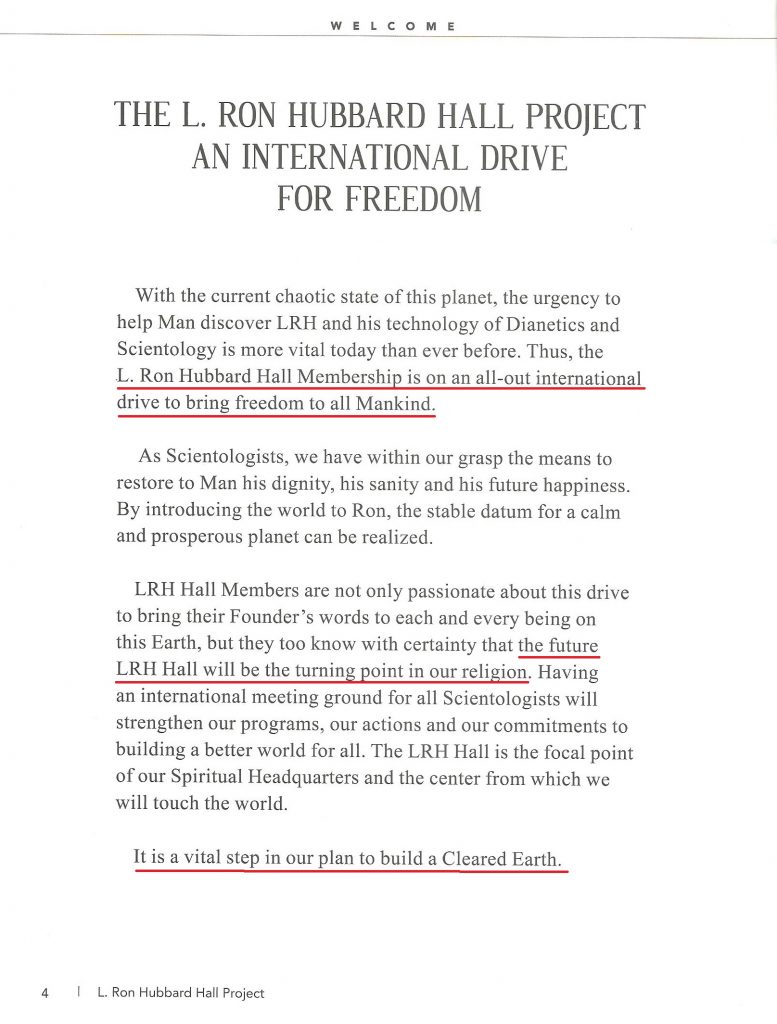 I'm not including the whole hypefest, but skip to the list of donors suckers — many familiar names. But the "statuses" they are bestowed are pretty comical.
Illuminare?
Legion of Honor of Distinction?
LRH Hall Senior Master Member?
The idiotic titles of scientology "statuses" are alone enough to scare off anyone who has not been completely brainwashed by scientology.
This is the entire list of people who, over the last 20 years, have been convinced to turn over money to buy this Brooklyn Bridge. Frankly, if they truly believe this is such a vital step in their plan to build a Cleared Earth, this is a pretty poor show. Only a couple of hundred people are with the program. In the entire world.