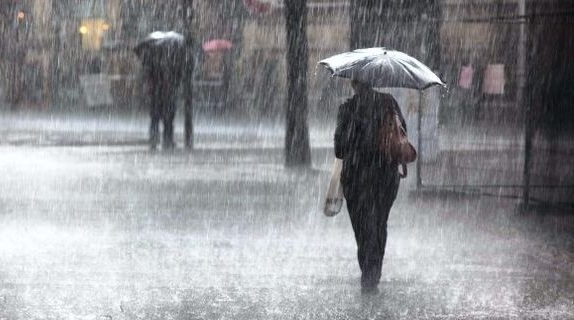 Seems the Gods are not smiling down on Dear Leader.
Either that or some SP's have conspired to suppress the weather (though everyone else in California is no doubt pleased) and mess with his party on Friday and Saturday.
Confusion reigns inside the bubble — first they announced the date as last weekend, then changed to this Friday and Saturday ("to capture the Academy Awards crowd…."), then word went out that the events would be delayed until Sunday and Monday. Then that changed — like good OT's who will make it go right, "we will not be effect of the weather" and it was back to Friday and Saturday.
Now the latest is it has changed again. Put over til Sunday and Monday (going to miss the Academy Awards attendees, what a bummer….)
And of course all of this is happening in seekrit. Individual emails only. No bulk announcements (and by this point, they will ONLY have the SO members and truly die-hard sheeple in attendance). 
But hey, not to worry, there will be plenty of food (enough hot dogs for everyone to have at least 5 each) and after all, the re-re-renovation of AOLA IS "LRH's dream" don't ya know?
And hell yeah, "we" handled the drought in Southern California.  Only begs the question as to why you chose to handle it this weekend? Are you CI to Command?
Date: Wed, 26 Feb 2014
From: Pat Hammersen <phammersen@wus.scientology.net>
Subject: THE GRAND OPENINGS!!

Dear Xxxxxx,

The good news is we handled the drought in California and everything will be bright and clean.

However:

The Grand Opening for AOLA and ASHO Day and Foundation will now be on Sunday March 2nd! We are to be here by noon with lots of parking and food and festivities.

On Monday the 3rd of March is the Grand Opening of the Life Improvement Center! We are meant to be on Hollywood Blvd by 5pm!

Again there is lots of parking at the base and there will be transport to the Center, as well as the Metro ~ which takes 6 minutes!

There will be lots of food and this is LRH's dream!!
I hope someone realizes that planning events based on the weather forecast in LA is like taking a trip to Vegas to make your fortune.  It is just as likely to NOT be raining on Saturday and pouring down on Sunday. Or maybe it will be raining both days (and Monday too….) It's in the hands of the Gods (or SPs). 
And another one just in.  They are not challenging the rain gods in spite of their OT powers. 
 
Hi Xxxxx,

We decided not to challenge the rain gods (besides, LA certainly needs some of that wet stuff) on Saturday. So free-up your button on change: The new day and time for the PAC Base Grand Opening is SUNDAY MARCH 2 at NOON. 

The Scientology Life Improvement Center Grand Opening on Hollywood Blvd is scheduled for Monday at 5:30pm.

Apologies for the earlier confusion.

ARC,