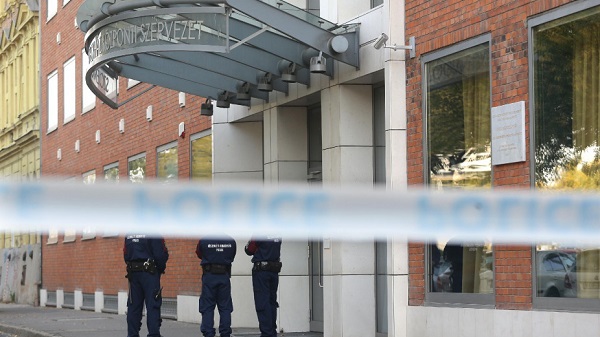 Things are not looking up for scientology in Hungary.
This is the call that went out recently, and it is enlightening just how much trouble they are in:
HUNGARY NEEDS OUR HELP TO SECURE THEIR RELIGIOUS FREEDOM!
Dear fellow Scientologists,
Hungary's freedom to practice religion freely – particularly Scientology – is in danger and needs immediate help. The Hungarian government is currently working to suppress the right of Scientologists to practice our religion in Hungary. They literally have pad locked the doors to the PC folder room at the Budapest Org with an alarm system that alerts the government when someone tries to get a folder for session. The government is threatening to send agents to raid the org should people attempt to receive auditing at their local org! This is the same calibre of suppression that occurred in Portland in 1984, and we need to represent with as much, if not more power than we did then.
This is deplorable and must be stopped. There is an event being held in Budapest on January 20th to put a stop to this madness. They need as many Scientologists as possible at this event to flood Hungary with theta and get this situation handled once and for all.
This is a call to action. If you can make it go right to go to Hungary to stand with our Hungarian brothers and sisters, please do so. If you cannot, but know someone who can, please do whatever you can to alert them and get them on a plane to Hungary ASAP. Minimally, please spread the word to every Scientologist you know.
For more questions as well as help coordinating yours or another's arrival to this watershed event, please contact Adam Viszler at [email protected].
Let's show the SP's what we're made of!
I am not a big fan of some of the heavy-handed tactics used by the Russian Federation, and perhaps the same can be said here.
But I will note that scientology has been very well aware of the Data Protection laws in Europe since they were enacted. Europe has very stringent laws protecting the collecting and keeping of information about individuals. Scientology has always acted as if it were above these laws as they conflict with L. Ron Hubbard's policy and scientology's attitude (in fact the object of Dept 20 is to bring governments in compliance with what scientology deems appropriate, not the other way around).
It would appear the conviction to keep scientology working has met an immovable object and it is going to be interesting to see where this ends. No doubt in the European Court with scientology arguing that the laws prohibit its free exercise of religion and the state arguing that they can practice anything they want but it cannot violate the law.
What I find interesting about this email is this:
"This is the same calibre of suppression that occurred in Portland in 1984." No, Portland was merely a civil damages case. It could not have shut down scientology other than the fact that it might have encouraged other civil litigants to try their luck in front of a jury, causing a "run on the bank." There was no government padlocking the doors to the pc folders. No threat of criminal prosecution. Hungary is taking this seriously and they have effectively shut down scientology in the country. Often there is a "raid" and then things go back to normal while prosecutors mull over what to do. Here they are "mulling" but also taking ongoing action to prevent further violations of the law from occurring.
"…flood Hungary with theta and get this situation handled once and for all." This poor fellow thinks this is going to be solved with "theta" as a result of some scientologists showing up? And I think he actually believes this… But wait, this is an IDEAL org? The very epitome of a powerhouse generation plant of theta (at least according to Dan Sherman). What has gone wrong?
"… this watershed event…" Really? I wonder if he knows what the word means or he just saw this on other promotion for events and thinks it must be a good thing to say?
Finally, scientology (especially the IAS) likes to position Portland as the start of the IAS and some "watershed moment in whole track history."  The IAS had NOTHING to do with Portland and was in fact created to keep money OUTSIDE the US so it did not need to be brought under IRS purview and civil litigant claims. The IAS was not funding ANYTHING back in the days of Portland and certainly nothing in the US. Portland was FAR less important than the DC 9 criminal case or the Melbourne Inquiry or the FDA raid or scientology losing its tax exempt status, but it has become the stuff of legend now and "everyone knows" that "Portland" means "the ultimate proof" that "scientology theta" overcomes all.  Theta über alles?