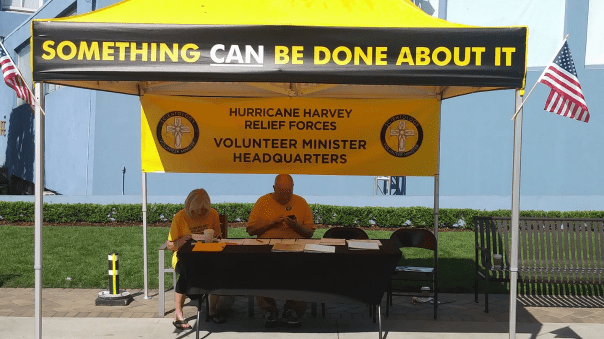 You know how much scientology loves to tout their amazing relief efforts and the power of their "tech" and the vast numbers of people they can launch at a moment's notice to do what nobody else can do in the face of disasters.
Well, here are the 3 proud Canadian Continental VMs.
Yes, 3 of them. Not really the largest private relief force in Canada one would suspect.
And what are these 3 actually doing? Trying to convince other religions they should join forces with them… Now that's some serious disaster relief. Other than that they brought about "a reign of calm in the face of suppression." That seems to have been really hard work as they are not appearing to enjoy themselves one bit.
Which reminds me — where were the VM's in North Carolina? I know there was one video of the woman from Flag who drove to Myrtle Beach and sent in the report that "there's really nothing to worry about, it's just fake news media hype"…
That's all I have seen.
In related news — they are now trying to offload VM jackets as a reward for getting the org stats up by doing a course. It must be IN THE ORG — which is actually NOT the "VM Program" at all. But as with everything in scientology, if it can be perverted to try and get a stat to report of course starts and completions or anything else, it will be.
So here they are (does anyone want to bet these are made in China and cost about $2 a piece — ironic in that China has banned scientology):