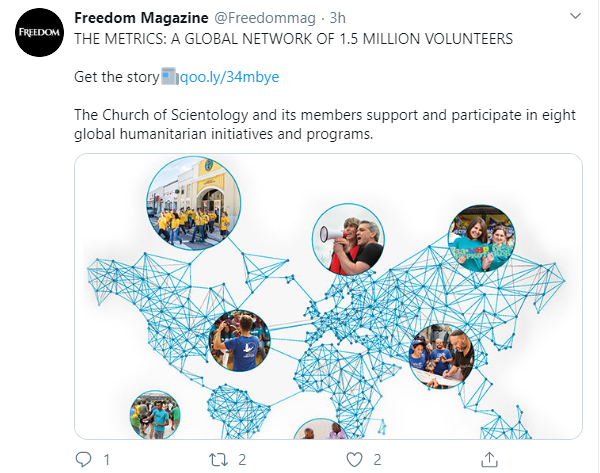 This is a recent tweet from Freedom magazine.
The level of bald-faced lies is breathtaking. 1.5 million volunteers? Where? I can only assume they now count everyone in the Red Cross wordlwide because a Volunteer Minister in Manila had a photo taken with the local Red Cross coordinator. Scientology could hardly scrape together 1.5 million BT's if they rounded up their 6500 OT's and had them pool their resources.
This is simply absurd. And apparently they say it with a straight face.
Seeing this, I just had to click on their link to "get the story."
So, here is their "proof"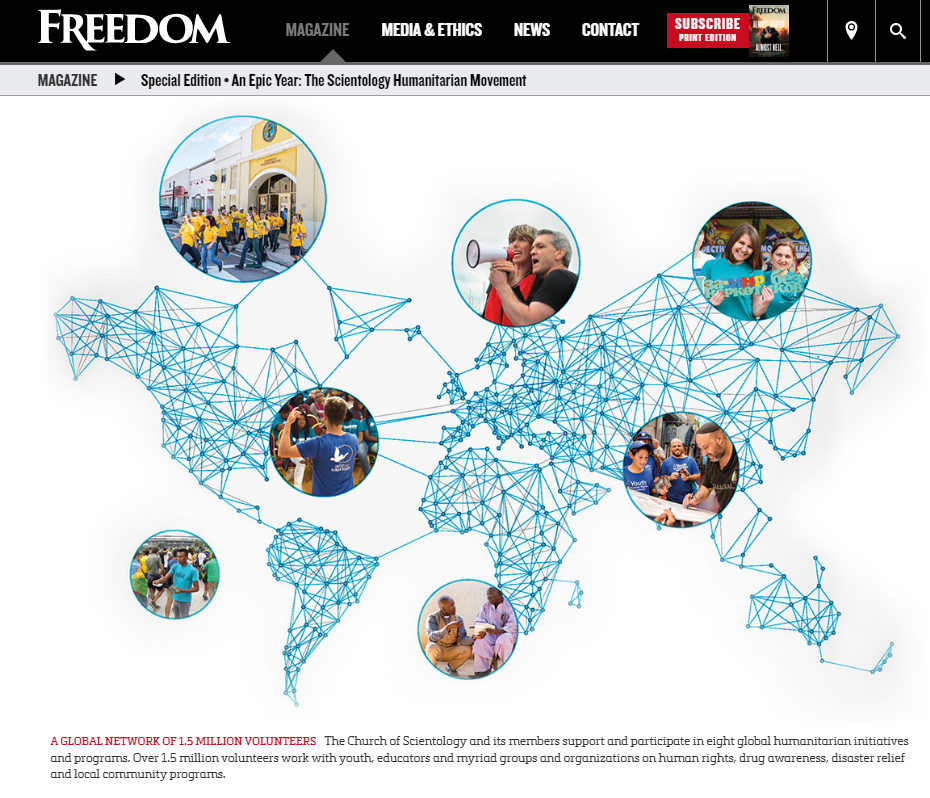 As you can see — just more generalizations here, but they add the detail that its "eight global humanitarian initiatives" to make it sound like it has some substance…
So, let's proceed to check out "The Metrics".
First up, the Volunteer Ministers.
"Thousands" is the best they can do here. But they have never promoted any evidence that showed more than a "handful" of VM's, though they spare no expense to ensure their "good works" are video'd.
Of course, you cannot find a gallery of media reporting on the great work of the largest independent relief force (independent of who? certainly not independent of scientology?). Scientology explains this as just being the merchants of chaos spinning their web of lies — but you can find thousands of articles and tv footage of the Red Cross or Doctors Without Borders or even the Salvation Army (they are not "independent"?):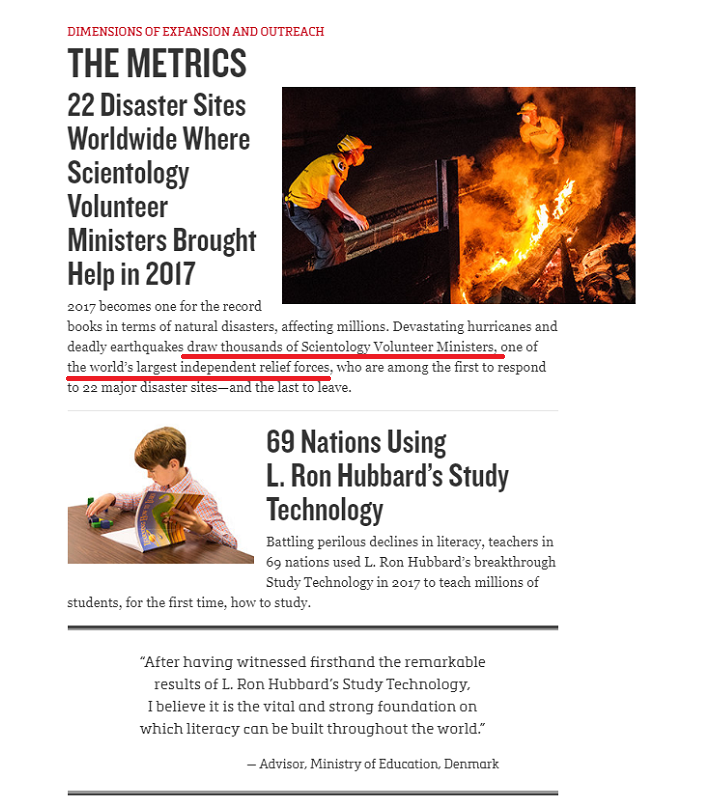 Perhaps there are teachers using Study Technology (guarantee you they could not produce teachers from 69 countries, though they might be able to dig up scientologists or people who have read Dianetics in 69 countries) — but this is a meaningless statement that proves nothing about 1.5 million volunteers.
There are more teachers that use ABC Mouse from the company owned by scientologists. ABC Mouse is far more popular than "study tech"?
Then one of their favorites. 34 million "told the truth about drugs" — and this is based on the number of copies of the truth about drugs booklets printed. They churn those things out and most of them end up in trash bins outside the Super Bowl venue.
But over 20 years they have probably printed that many of those booklets. They do not even mention the number of volunteers involved. I doubt we have even reached 1,000 so far.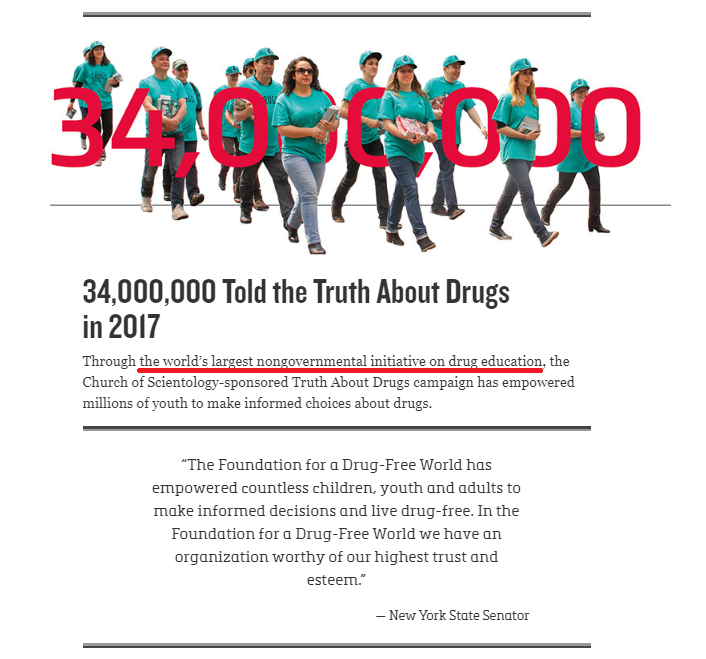 Just as a note. Why no name for the NY State Senator? No doubt he or she has no idea their endorsement of this front group is being used to promote scientology.
This next one is an old trick. Scientology claims 11,000 churches, missions, groups and affiliated organizations. There are in fact less than 1,000 worldwide, but if you fudge it with "affiliated organizations" you can start counting lemonade stands set up by the children of church staff in front of their house.
Same here — this figure is supposed to give the impression there are 95,000 governments and legitimate organizations working "in partnership" with scientology. They could not provide a list of 20 governments working with scientology.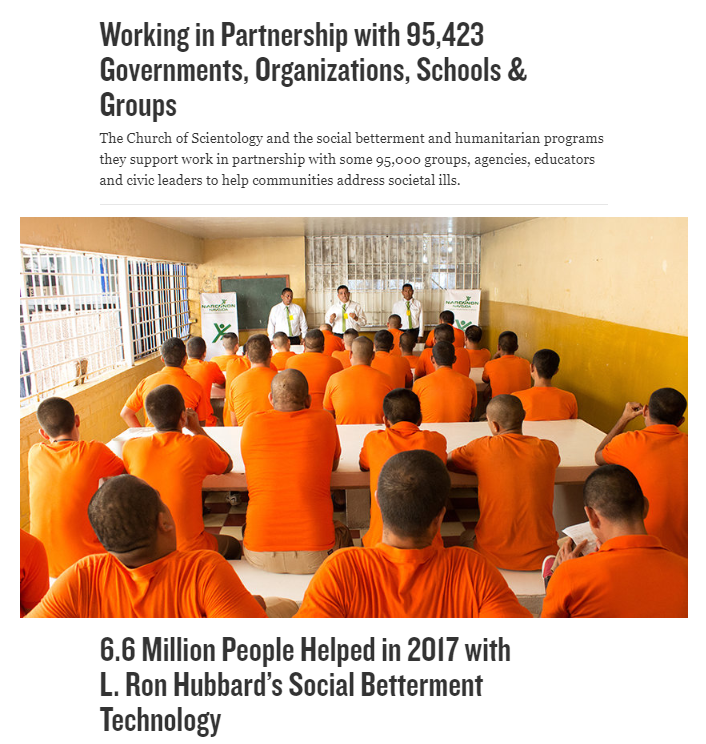 6.6 million people helped.
Nothing to substantiate this at all. Just a picture of some prisoners in Latin America.
And the next one is more of the same — fudging the definition to make it seems like there are churches and missions of scientology in 210 countries. There are large swaths of the Mid-East Asia and Africa that have no scientology churches or missions. There is no org or mission in China, the most populous nation on earth. There is no org and a solitary mission in India, the second most populous nation on earth. No orgs in any Asian nation other than Taiwan and Japan. None in the Mid-East apart from Israel. None in Africa other than South Africa and Zimbabwe. No org in Brazil. Nothing in Central America or the Caribbean other than Mexico.
Outside of the West, scientology has no foothold in the world at all. And it is shrinking fast where it does exist.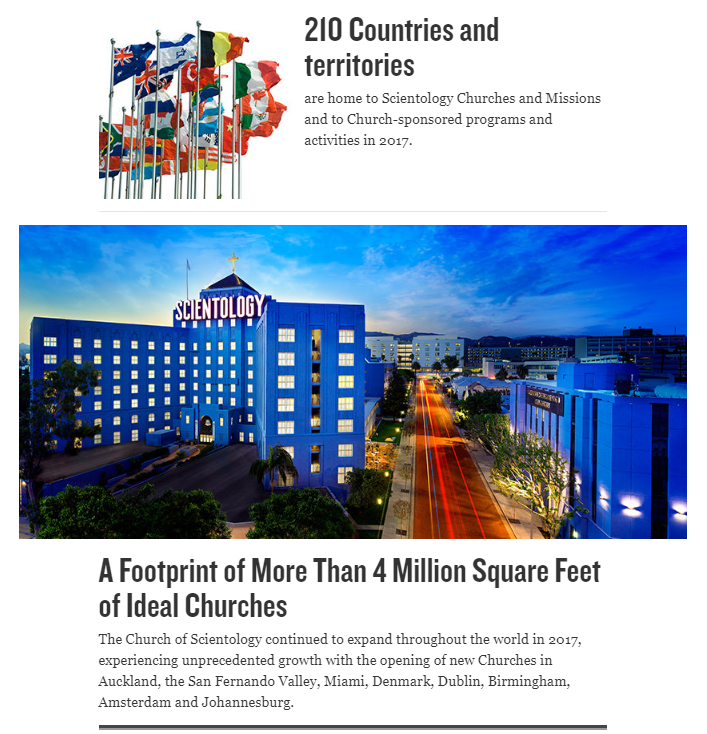 But they HAVE purchased real estate. And boy are they proud of it and convinced this proves their "unprecedented growth."
These buildings are empty. They are a hedge against the IRS accusing them of accumulating too much cash. They do not serve a growing demand for scientology, only a growing appetite to have more showy buildings to use to claim "unprecedented expansion."
And finally, scientology touts the number of copies of the NON-RELIGIOUS pamphlet written by Hubbard as proof that the church of scientology has 1.5 million volunteers around the world.
And if that makes sense to anyone, you are a candidate to become a scientologist.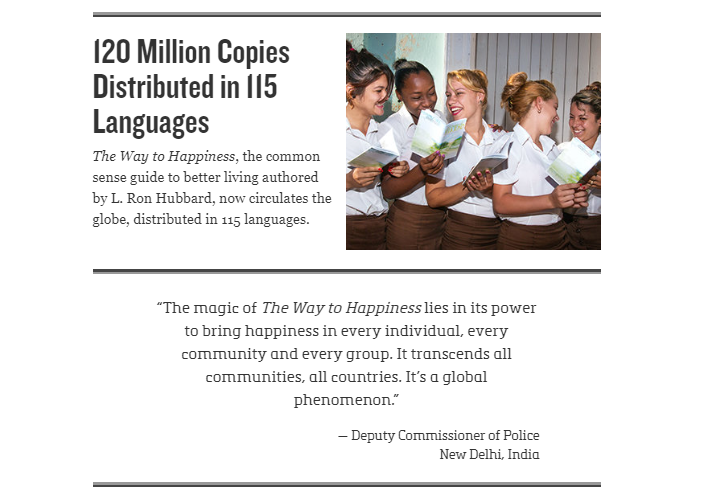 This is an exercise in wispy smoke and tiny, cracked mirrors telling the "big lie" in the hope it will be bought without inspection.
I doubt many people these days take anything scientology says at face value.