AG Barr: "I'm extremely distressed by the upsurge in violence, hate crimes, committed against the Jewish community." pic.twitter.com/YjQTIrhBqz

— The Hill (@thehill) January 28, 2020
This statement by the Attorney General only highlights and confirms what is apparent to everyone in the country. Hate crimes against Jews have reached an unprecedented level.
Behind these crimes are vile words that incite acts of violence.
One of the major promoters of anti-Semitic hate is Louis Farrakhan, leader of the Nation of Islam. And in turn, one of his main mouthpieces is Tony Muhammad, Western Regional Minister of the NOI. Minister Muhammad is also the poster child for the ugly marriage of convenience consummated between the Nation of Islam and scientology.
Tony Muhammad (or Abdul Malik Sayyid as he now prefers to be called) is a high ranking scientologist who was awarded scientology's highest honor by scientology's grand pooh-bah David Miscavige: The IAS Freedom Medal. He is enabled and supported by scientology and is used as a major fundraiser and speaker at scientology events.
ISNOI News thoroughly documents the history of the disturbing joining of scientology and Nation of Islam, and the unapologetic anti-Semitism of these speakers who purposefully incite hate towards the Jewish Community. The Justice Department should take note — if you want to stop hate crimes, stop those that INCITE them.
Scientology is proud of Tony Muhammad: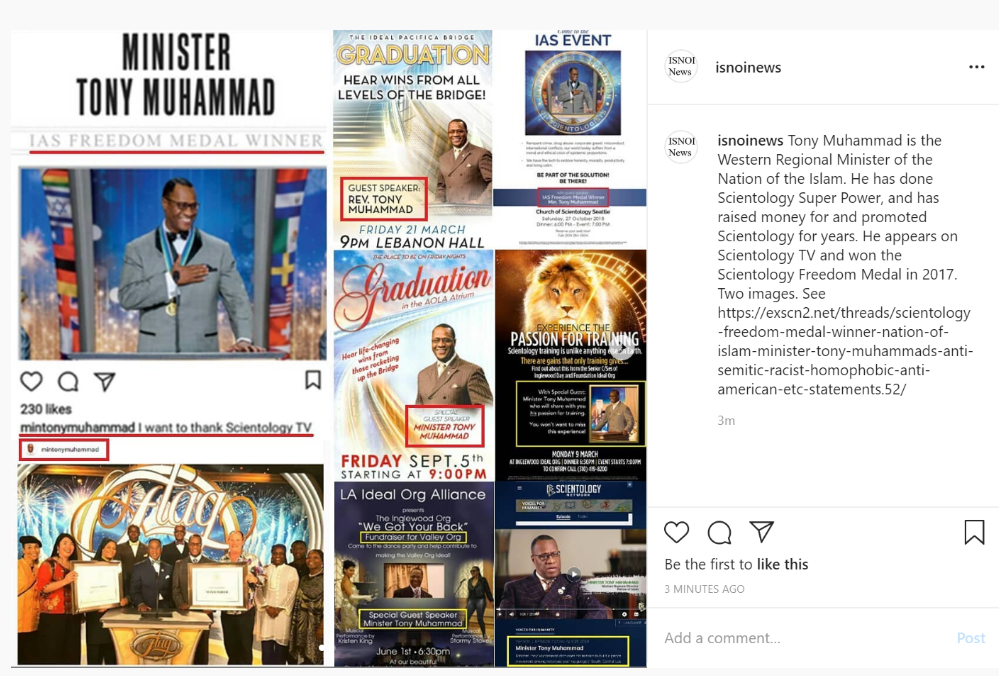 Here is just one example of his vile anti-Semitism — "Jewish devils" are "slave-makers of the poor" and "bloodsuckers of the poor":
12/29/19: #Scientology Freedom Medal Winner Nation of Islam Minister Tony Muhammad lectured on "Jewish devils" who are "slave-makers of the poor" and "bloodsuckers of the poor" — https://t.co/k53idvvd2n

cc @ADL @LA_ADL @JewishJournal @JFedLA @SoCalValleyGal @UltioetVeritas pic.twitter.com/0anBo4SHiT

— ISNOINews (@ISNOINews) December 31, 2019
Here is another prominent anti-Semite, Scientology Youth For Human Rights Award Winner Rizza Islam, claiming that Ashkenazi Jews are referred to as the "Synagogue of Satan" and "own the movie and film industry."
For The Record! // Segment about Ashkenazi Jews @IslamRizza pic.twitter.com/QbGi0r2Rpk

— 𓋹 To – RAH 𓋹 (@beeetoria) May 30, 2018
Scientology loves to proclaim itself as champions of religious freedom and human rights. It is a cornerstone of their propaganda campaign. Every chance they get they announce it to as many people as they can get to listen.
Yet, if you go to the scientology "STAND League" site, ground 0 for their supposed efforts on this front, you will see a lot of whining about how scientologists are victims, but not a single mention of the vile anti-semitism of these scientology-lauded and supported "human rights advocates" right in their own backyard. Nothing.
Scientology shouts from the rooftops that THEY are "victims" of hate crimes "incited" by The Aftermath TV show which has exposed their abusive practices to the world. But says nothing about their own "champions" inciting hate against the Jewish Community that has resulted not just in violence but numerous deaths.
This is a classic "Methinks thou doth protest too much." Seeking to deflect attention from their abusive practices, scientology squawks about being the victims of unspecified "hate crimes" they claim are "documented" though none is ever provided. Yet they are provably enabling this vile anti-Semitism.
The only "religious freedom" scientology cares about is scientology's. The only "human rights" they care about is their right to continue to abuse humans under the protection of religious freedom.
PS: A reader just sent me these shots of David Miscavige presenting the Freedom Medal to Tony Muhammad. Included here for posterity's sake…