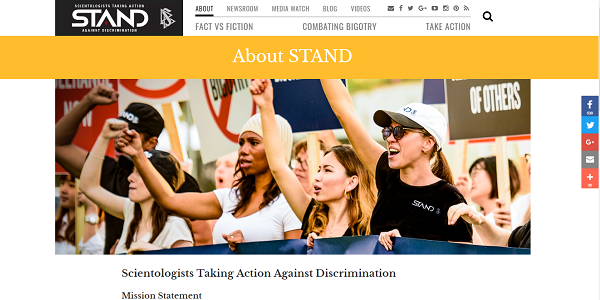 The Scientologists Taking Action Against Discrimination (STAAD) League has been playing the victim card for a while now and have come up with a new tactic of orchestrating a letter writing campaign to advertisers on The Aftermath.
You may recall their earlier "victory" of claiming to get copies of People magazine removed from the shelves of a Target store because Leah Remini was on the cover. It was a "huge blow for religious freedom" — even though it almost certainly didn't happen — but didnt do much for the concept of freedom of speech that scientology spouts as one of their causes.
Now they are providing form letters to their members to send out to advertisers. Of course, when they say they are  calling for a boycott they don't mention that this amounts to perhaps 100 people who will not be buying a Hyundai (most scientologists use virtually all of their disposable income for scientology — they are not big new car buyers, so out of the 100 they probably won't lose a single sale…)
Yesterday the Wall Street Journal published an article about this: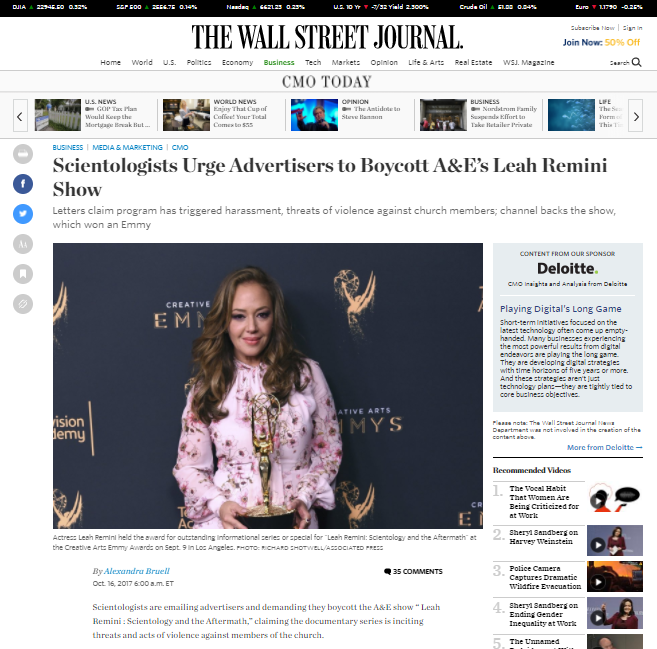 Here are some interesting passages:
Individuals who say they are Scientologists sent multiple versions of the letter in recent months to advertisers and ad buyers, according to people familiar with the matter. The group behind the effort, Scientologists Taking Action Against Discrimination (STAND), also posted a handful of letters addressed to Anheuser-Busch InBev SA, Fiat Chrysler Automobiles NV's Chrysler brand and Berkshire Hathaway Inc.'s Geico, among others, on its website.
Of course this group is really a handful of OSA organized "volunteers" who are provided with a website and form letters and posts/comments to distribute. The head of STAAD is an OSA Int staff member, Ed Parkin. He is the "handler" of Phil and Willy Jones and various others. Sort of a goofball who has been a low level OSA person for decades.
"We are enormously proud of the quality and importance of the series, which was affirmed by the show's recent Emmy win, and we intend to continue to share these brave stories with viewers," said an A&E spokesman in an emailed statement. The program won an Emmy this year for outstanding informational series.
Yeah, I imagine STAAD was not too happy about that bit…
"Scientology and the Aftermath" made its debut in November 2016 to the strongest ratings on the channel in two years. Through September, Ms. Remini's show has averaged 2.8 million total viewers per episode, including live viewing and on-demand episodes watched within seven days, and 1.6 million adults aged 25 to 54, according to the network.
Geico said its ads likely appeared on the Scientology show as it regularly rotated its commercials through several A&E programs. "That rotation ended previously and Geico ads are not appearing in time slots for that program," said a Geico spokeswoman.
Geico didn't respond to questions about whether the show's content or the letters prompted its decision not to advertise on the show.
It seems that the one advertiser they could find that had switched their ad buy was Geico. Though the statement is quite oblique. What is interesting is that clearly GEICO has no idea that there are 1000X more people that support them for advertising on the show than there are people upset about it. Though they likely don't hear from those people.
The real joke of this is that NONE of them watch the show. They only know what ads are on there because someone in OSA is taking note and telling them.
"Leah Remini's hate campaign of religious bigotry in its first season alone generated more than 400 incidents of harassment, threats of violence and vandalism against our churches and members," reads one letter from STAND, dated from August and addressed to Geico's assistant vice president of marketing Bill Brower. "The threat level has again risen, precisely coincident with A&E's promotion and airing of the second season of this show, now spawning even more threats—bombings, murder and acts of physical violence."
This is the already disproven lie that somehow the show is causing them harm — sort of like the rapist who blames the media for people not liking him. But even then, they have done something so typical of scientology with sneaky sentence parsing. They do not actually say they have gotten more threats (probably because they have been called out on this already) — instead they say "the threat level has risen." One could just as easily say "the potential for David Miscavige to do grevious bodily harm to someone in his vicinity is increasing as a result of the show airing."
A spokeswoman for the Church of Scientology said in a statement that, while it hasn't seen every letter from Scientologists to marketers, "advertisers are being written to educate them and expose the lies that A&E irresponsibly airs from a hateful Remini and her unvetted—albeit compensated—subjects."
OK, well they don't have much they can say other than name call, say it's all lies (while they have never disproven a single thing on the show), say people are "unvetted" (whatever that means — there is an army of lawyers that vets every show) and that the subjects are "compensated" — another lie. Miscavige keeps churning out these idiotic statements that have no credibility, but he seems to think they work.
Here is one of the letters they have on their website: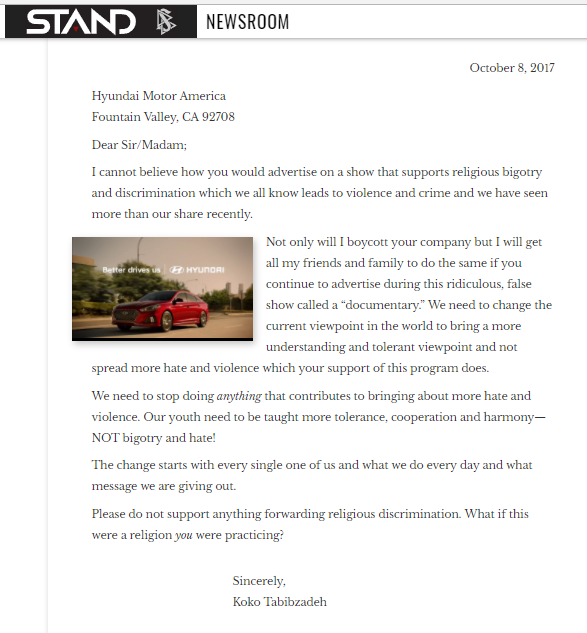 Koko of course is a long term LA whale.
Interestingly, the letter says in part:
"We need to stop doing anything that contributes to bringing about more hate and violence."
"The change starts with every single one of us and what we do every day and what message we are giving out."
Koko, you need to take your own words to heart. Stop hurting and abusing people. Stop destroying families. Stop taking people's money under fraudulent pretenses. It will calm things down for you and other scientologists. You won't be the subject of scorn if you stop these things.
Here are a few of the other corporations who received these letters (these are on the STAAD website). Perhaps they should hear from some people supporting them for advertising on a show that helps bring an end to abuses and suffering…