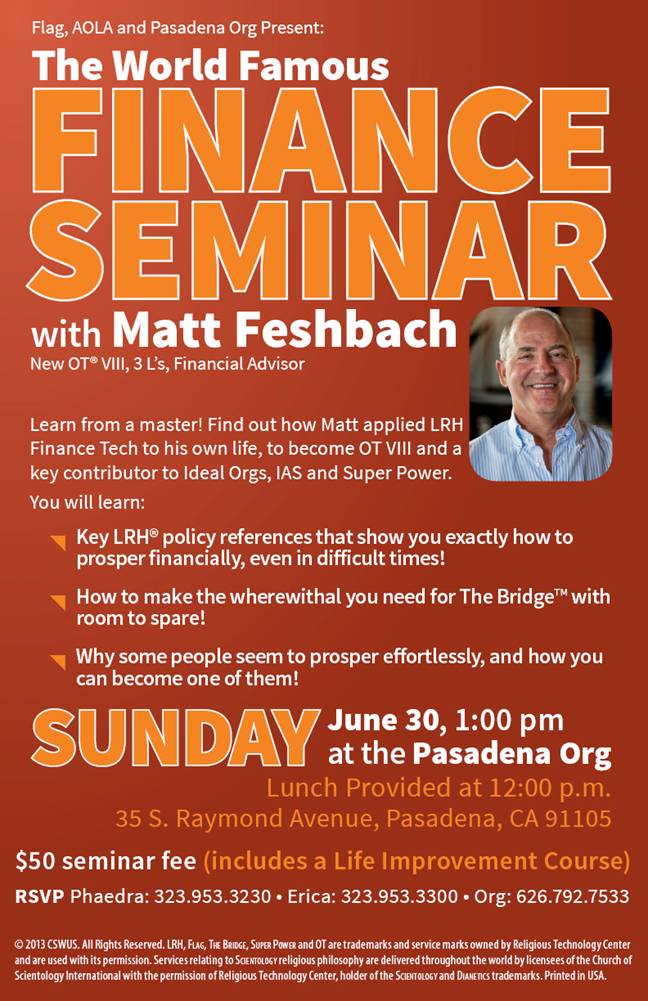 Flag, AOLA and Pasadena present? Huh? Pasadena makes sense as that is where the seminar is. Matt Feshbach is Flag public, but that's still strange. AOLA is left field….
No longer any mention of Matt being the first public "Super Power Completion"? 
A seminar that includes a Life Improvement Course? Some stat manipulation happening here….
But the whopper in the middle of the room is this. "Learn from a master. Find out how Matt applied LRH Finance Tech to his own life…"
Read the excerpt below from the declaration filed by Matt Feshbach in the United States Bankruptcy Court on 12/11/11 and see if this is someone you would want to take financial advice from:
5. Further, because of our IRS obligations, my wife and I have been unable to save for retirement, and we have no retirement accounts.  In fact, our retirement accounts were liquidated to pay our income taxes. 

6. We no longer own a home because we sold it to pay our tax obligation and paid all the equity to the IRS to pay our 2001 tax liability.  In fact, over the years, we reduced our expenses to be able to meet our tax obligation.

…

23. Despite this unfair allocation, we continued to pay to the IRS our $120,000 obligation each quarter until January 2008, at which point we were simply overwhelmed with numerous unanticipated financial circumstances which left us unable to pay.  First, the disastrous decline in the stock market in 2007 devalued all our assets, as it did all Americans.  The decline in the stock market also crippled what remained at that time of my already much-declined investment business.  There was likewise few employment opportunities for me in the hedge fund and investment management field, the only field I have worked since 1984.  

24. Second, in the middle of this financial turmoil, I became seriously ill with chronic pelvic pain syndrome.  What that means is that I suffer from crippling pain in my pelvic regions – making it impossible for me to stand or sit for long periods of time, and requiring that I be laying down.  This condition severely curtailed my ability to restart an investment business, interview for employment with an investment firm, or otherwise engage in meaningful business opportunities.  This ailment also prevented me from working outside our home.  Because of these unfortunate events, we were unable to pay our April 2008 installment obligation in a timely manner. 

25. But in an effort to continue paying the IRS, we sold our home in June 2008 and used the net proceeds from the sale, $685,607, to pay our tax obligations.   Further, we also tried to sell our furniture from the house in July 2008, but to no avail.  We listed various pieces of furniture for approximately three to four months.  When that generated little results, we placed the furniture with with antique dealers and furniture consignment stores to sell our remaining furniture.  We applied the proceeds of each of these sales toward our tax obligations.