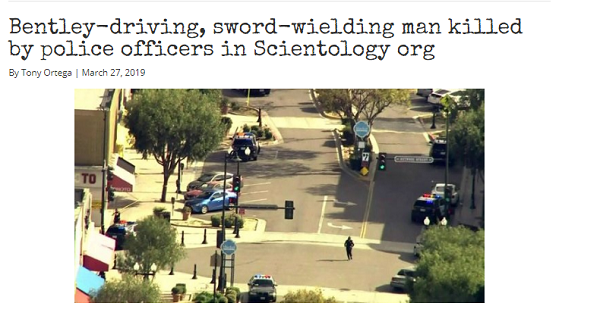 It seems inappropriate to run the Thursday Funnies this morning in light of the events at the Inglewood Ideal org last evening.
Tony Ortega, as he always does, is keeping up with the story and you can follow the news at his blog. He does a great job of sorting the bs from the real facts.
Someone being killed, wherever it occurs, is horrendous and tragic. The circumstances of this death remain unclear, and somewhat mysterious.
Either the person who was shot by police is someone who had contact with scientology and was upset about something they had done or were doing, or the person had no prior involvement with scientology and was a "stranger."
You can sure if it is the former — it was a scientologist shot by police — the response from scientology will be VERY different than if this was a previously unknown person.
If this was a scientologist or someone known to the organization, scientology will do everything they can to distance themselves from him and claim he was "damaged by psychiatry" or "he had been excommunicated" or some other "explanation". They will go to great lengths to try to suppress anything that might suggest that the man was upset by predatory regging, refusal to return money or breaking up of a family. This will all be "irrelevant."
On the other hand, if this person was unknown to the organization, scientology will be out of the gates with accusations that this is "another" in a long series of violent acts directly attributable to The Aftermath. Back in the day, the blame was always put at the feet of "the psychs" — or even "big pharma" but never anything that scientology had done. Today, everything is caused by The Aftermath.
Because we know so little at this point, all we can do is watch. It will be interesting to see how scientology spins this (as it will be spun either way). So far, the STAAD League has not erupted with their usual outrage.
Even yesterday, scientology knew whether the person shot by police was a scientologist or not. The fact that they have not yet tried to blame The Aftermath is interesting. Perhaps it is simply that they cannot get their statements authorized because David Miscavige was not available.
Some pronouncement is bound to be forthcoming soon and it will speak volumes to those who understand the machinations of scientology.