The seventh installment of the first draft of a novel written by our old friend Terra Cognita. Our Sunday Serial.
Terra welcomes all suggestions and feedback — this is draft — you can note them in the comments.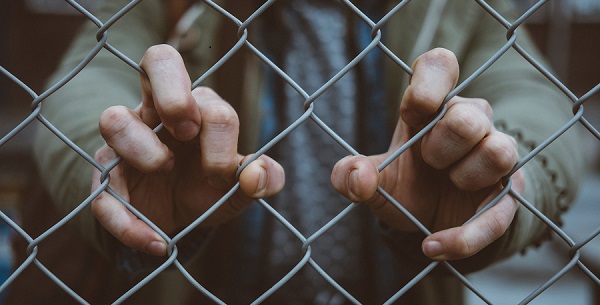 Chapter 37
Morning three. Instead of heading for the sauna after breakfast, two "pages" hustled us across campus to a three story, rectangular building with no sign, number, or identifying marks. Unlike the other buildings I'd been in, there was no person manning a front desk. We climbed the stairs to a lobby-like room on the third floor where a fifteen or sixteen year-old boy told to us to take a seat; my auditor would be out for me shortly.
We sat down on one of the three couches and I turned to Roxy. "Auditing?"
She shrugged.
"You have no idea why we're here?" I asked.
"I suspect you're in for a little sec-checking."
"Refresh my memory, please. What is sec-checking?"
"It's short for security checking. Essentially, you're asked for all your crimes while holding the cans."
"The e-meter acts kinda like a lie detector, right?"
"Kinda. I guess. They say it can't actually detect lies but…"
"That's what they use if for, though, to detect lies."
"Pretty much, yeah."
A guy with short gray hair rounded the corner from down the hall and walked toward us. "Rick?" he asked, coming to a stop in front of us.
I nodded.
He extended his hand. "Jonny Wilson."
Flaky skin and some kind of rash covered most of the cracks and crevices on his face. The inside collar of his white shirt wasn't all that white and he looked too old to be a Jonny. I stood up and shook his hand.
"Come with me," he said.
"Where are we going and what are we doing?" I asked.
"Oh? Nobody told you? You're going to get a confessional."
Sounded Catholic. "Remind me what that is."
"Come with me and I'll tell you all about it."
"Why don't you give me a hint first?"
"Because that isn't how we do things—in a PC waiting room. We'll clear everything up once we're in my auditing room."
I turned to Roxy. "What's a confessional?"
"It's basically where you…"
Jonny stopped her with a raised hand and a stern look. "Roxy. Let me handle this, please. The last thing Rick needs is verbal data."
"Verbal data is anything out of anybody's mouth that isn't LRH, right?" I asked.
"More or less. Come with me and we'll read the exact definitions of both confessional and verbal data."
I figured I had nothing to lose by going with him and finding out what was going on. If I liked what I heard, I might pick up the cans. If I didn't, I wouldn't. I rose from the couch, winked at Roxy, and followed Jonny back down the hall.
The small bookcase, desk, and chairs took up most of the small, bright, auditing room. Besides the glossy white paint, the walls were bare. I sat down and watched Jonny arrange everything on his side of the e-meter. He looked up and smiled when he was done.
"Pick up the cans, please," he ordered.
"You gonna tell me what we're doing first?"
"A simple confessional," he answered.
"Which is exactly…?"
He pulled a Scientology Technical Dictionary off the shelf behind him and flipped through the pages until he found the definition he wanted before arranging the thick, red book in front of me.
After reading the definition of confessional, he asked me what I thought the word meant in my own words.
"It basically means you ask me a bunch of questions about any crimes I may have committed and I tell you all about em."
"And do they have to be crimes?"
"They can be anything you think isn't right. So technically, they don't have to fit the legal definition of a crime. Like I could have eaten more than my share of dessert. It isn't a crime but it isn't right."
"Good. Let's get started. Pick up the cans please."
"Why do we have to do this on the meter?"
"Simply to help you locate those incidents that are holding you back."
"Those incidents being all the ones in my life where I didn't behave all that ethically, right?"
"Exactly. The e- helps to pick up unconscious thoughts that otherwise might go undetected. So all you have to do is sit back and relax while I read a list of questions. When we're done, we'll take up all the ones that read."
"All the ones that read being the ones where the needle on the e-meter reacted a certain way, right?"
"Exactly."
"And then what happens?"
"Then you answer the questions that read."
"But I mean what happens after that?"
"I get all the data to the CS."
"And I'm to believe this is all confidential?"
He glanced down at his worksheets. "Of course."
"Just like in Las Vegas, what happens in session, stays in session."
"I'm not familiar with that phrase," he replied while adjusting the e-meter.
I smiled. "Of course not."
"So…pick up the cans, please."
Some hours later, Roxy and I were sitting in the sauna cleansing our bodies of all its toxins. Our skins glistened with sweat. All the stuff I might have said to Guy Sephardic, the MAA, and Jonny Wilson, the auditor, were running through my mind. Apparently, Roxy was on the same track.
"We got off pretty light," she said.
"You did, anyway. I had to do a confessional."
"How'd it go?"
"Weird. Like some of the questions had to do with past lives. Like if I'd ever destroyed a planet or a whole race. A lot of em had to do with sex. Like if I'd ever had sex with an animal. Really weird shit."
"You can't go free until you've given up all that kind of stuff."
"At this point, I don't care about going free. What I care about is calling home. I don't understand what the holdup is."
"Like Guy said, the phone lines might be bugged."
"And what if they are? If I make the call from another town and the call is traced, they'll know it didn't come from here, on the Int Base."
"I'm sure you'll get to make your call soon."
I took a swig of water from my plastic bottle and dumped what was left over my head.
"I've been thinking about the Purif and the SRD," I said.
"Uh-huh?"
"I heard the Purif takes four to six weeks to complete. Sometimes eight to ten. And some people back in Santa Barbara have been on SRD for months."
"So?"
"So, I'm not planning on staying here forever. Like I thought I'd be here for a day or two. A week at the most. Not months. Not until we've finished the Purif and SRD."
"It takes as long as it takes."
"So you've been reminding me. But we don't have to finish these things here. We could do it back in Santa Barbara."
"But you heard what Guy said. Santa Barbara could be dangerous. The press, the cops, they could all be out to get you."
I shrugged.
"And I'm Sea Org," she continued. "I can't just move to Santa Barbara for the next few months."
"I'd have to get a new twin." I liked the one I had just fine.
Roxy nodded.
I nodded.
I thought about the fence. And how hard it would be to scale. The razor wire would be a problem. Unless I tossed a blanket or two over the top. Or snagged a pair of wire cutters from some random utility shed. Because I wasn't staying at Int Base for months. No way. I didn't like the food. I didn't like being "on course" morning, noon, and night. I didn't like being out of communication with my family and friends. And I needed to know what was going on with Joan. Like what had the coroner determined? What had the cops turned up? Had they determined that her body had been moved? And that I was involved in the cover-up? Sooner or later they were bound to put two and two together.
And when they did, they'd come looking for me. No one would accept it was a merely a coincidence that I'd taken an undisclosed vacation hours after Joan had died. I couldn't stay hidden out in the desert forever. Even if I'd wanted to, the cops would eventually find me. The sooner I faced the music, the better for all concerned.
And it wasn't like I'd killed Joan. She'd died of natural causes. Certainly, the coroner would make that determination. Technically, I hadn't even moved the body. I'd been negligent. I hadn't called an ambulance. I hadn't called the cops. I hadn't even notified Joan's husband, Bill. Which was pretty cold—not calling the spouse. Like how cowardly was that? I cringed at having to face the man.
"What?" Roxy asked. "You look like you're cold, not hot."
"I was thinking about Joan's husband. And what it would be like facing him."
"Pretty grim, I imagine."
"One of these days, I'll have to confront him."
"You will. When the time's right. In the meat time…"
"I sweat my ass off in here with you."
"Look at that wall. Thank you. Walk over to that wall. Thanks you. Touch that wall. Thank you. Turn around. Thank you."
These were our commands for our next Survival Rundown process. For part one, the coach was required to be in physical contact with the student. This meant me standing beside Roxy with my left hand on her left shoulder and with my right hand stretched over and resting on her right shoulder. The drill was supposed to teach a person that he could not only control others, but that he could be controlled himself. I recalled that a couple back in Santa Barbara had taken over fifty hours to get through the process.
Coaches were taught to deliver the commands and nothing else. Over and over again. Occasionally, they'd have to handle "originations," like "I feel weird," or "I gotta pee," but for the most part, they stuck to the script.
That afternoon, we went at it from one to six. As the coach, I was supposed to be in control at all times. From about two o'clock onward, I felt like curling up in a ball and going to sleep. After a while, my jaw became tired from constantly suppressing yawns. After five hours of walking back and forth, from wall to wall, I was just about dead.
I was never so glad when Carlos called a stop for dinner. Our half hour break gave me just enough time to scarf down my two inch square of lasagna and half dozen pieces of steamed carrots and broccoli. Fantasies of In and Out Burgers swirled through my mind. I thought of making a break for the golf course when Roxy and I stepped outside.
"Come on," she said. "We only got a few minutes before roll call."
The temperature had dipped fifteen degrees so I didn't work up too much of a sweat jogging through the ninety degree heat.
Before each course period in Scientology, the sup would call roll—even if there were only two or three students in the room. That evening, Carlos took ten seconds to get through the four names in his roll book. I wasn't looking forward to more "wall duty," even if it did mean I got to wrap my arm around Roxy for the next few hours.
By the time Carlos called "That's it," three hours later, Roxy and I had turned into zombies. Which I didn't think was the purpose of the process.
In Scientology, every action one performed on course was assigned a point value. Like you might get fifty points for doing a drill or ten points for clearing a word. At the end of every course, students were supposed to add up all their points and turn in the totals to the sup. I never understood the purpose. As far as I could tell, it didn't matter if you made a thousand points one day, and fifty the next. You still did the next thing on your course checksheet.
I stopped Roxy outside the course room. "Let's go for a walk."
"Just in case you hadn't noticed, that's all we've been doing all day," she said.
"I know. But it's all been in the course room. I need to get outside."
"We were outside over dinner."
"For three minutes. I want take a real walk. See the stars. Smell the night air. Get some space."
"There's curfew."
"Gee, I didn't know that," I said sarcastically.
"I don't want to have to see the MAA again."
"We'll be careful. We haven't been caught so far."
"So far."
"And what's the big deal if we are caught? They gonna crucify us for taking a frikken walk? We aren't doing anything wrong?"
"Except breaking curfew. Which is in place for a good reason."
I paused at the door to the back staircase. "And what reason would that be?"
"So everyone will get a good night's sleep. And not get into trouble."
"Which is a joke because there's nothing out here that could ever get a person in trouble in a million years. And most of the staff look like they're lucky to get two hours of sleep a night."
I opened the door and started down the stairs—two at a time. I could almost smell the chaparral-scented night air. I heard Roxy's footsteps behind me. Instead of turning left when I got outside, I took off toward the fence to the south. "Let's go a different way tonight," I said.
"We're supposed to stick to the paved paths," Roxy said.
"Like it's a major crime to step on the grass? Lawns were invented to be walked on."
"God! You just can't follow rules, can you?"
"I can follow rules just fine. It's the pointless ones I have a problem with."
Like needing authorization to make a phone call.
A couple of minutes later, I put my fingers through the chain link and gazed at the moonlit desert on the other side. I glanced up at the razor wire. Even with blankets covering its sharp points and edges, scaling the thing would be a chore and a half. I wondered how Roxy was at climbing fences.
Just for the hell of it, I pulled out my phone and turned it on. Holy fuck! I had a bar! The bad news was my battery was down to seven percent. It usually crapped-out at around five. Since texting used less juice than talking, I decided to text Dad and cc Dev. I slumped down with my back against the fence and began to type.
Hi. Sorry I haven't spoken to you in a while but the reception out here in the desert is terrible. I'm at a Scientology retreat near Hemet, California. Will tell you all about it when I return—about my involvement in Scientology and my time here. Having a great time. Should be home in a day or two. Just about to run out of battery. Gotta run. Love Rick.
I clicked "send" and glanced up at Roxy.
She shook her head. "You made your fuckin call. I'm almost glad that's finally over."
"And you didn't try to stop me. Thanks," I said.
"You satisfied now?"
"Not totally. I just told em where I was and that everything was great and that I'd see em in a day two. That was all."
"You told em where you were?"
"I said I was staying at a Scientology retreat near Hemet."
"Oh fuck… Like you didn't get the part where Carlos said their phones might be tapped?"
"I texted em."
"And that's more secure?"
"I don't know! And like I've been telling everyone from day one, I haven't done anything wrong. I was at the wrong place at the wrong time. That's all. If they're gonna arrest me…so be it. Might as well get it over with. The sooner, the better."
"And you didn't consider Scientology? Like what this could do to the church?"
"They never should have moved Joan to begin with," I said. More morosely than I'd intended.
"Well…they did. And they had their reasons. We can't change that. What we can do is to make sure this all doesn't reflect poorly on Scientology."
I shrugged. "Whatever. However it looks, I'm just gonna tell the truth. Which is what Scientology preaches anyway, right?"
"Yes. But the press can twist the story to make it look way worse than it is."
A coyote howled somewhere on the other side of the fence. I wished I was with him.
I shook my head. "I'm just gonna tell the truth and let the chips fall where they may."
Roxy looked over her shoulder, back toward the buildings. "I should report this."
A second coyote joined the first. A semi-truck downshifted somewhere to the north. I dug the heels of my shoes into the sandy soil.
"You don't have to report the call," I said. "And if someone catches me, I'll say I was alone. That you weren't anywhere near me."
"One way or another, I'd be busted. If not for stopping you from making the call, then for not being with you when you did. I'm supposed to stick with you twenty-four seven. So I'm screwed either way."
"Not unless they find out. And I'm not gonna tell anyone. So nobody has to know. It'll be our secret."
As if from a Jedi lightsaber, a beam of light sliced across our bodies.
Chapter 38
"Give me you cell phone," Guy said.
"No," I said.
Guy sat on one side of his desk; I sat on the other. For some unknown reason, the third chair had gone missing. Roxy stood in the corner.
"Give me your cell phone," he repeated.
"Hardly has any juice in it, anyway. Wouldn't do you any good," I said.
Guy stared at me, trying to look intimidating. As much as any thin, pasty, wispy-ass-mustachioed guy could. I stared back. Almost wishing he would jump across the desk and try to take the phone out my hand. Instead, he stood up, told us to wait, and left the office.
I turned to Roxy. "Well…that went well."
She closed her eyes and her chin dropped to her chest. "I am so screwed," she said.
"You didn't do anything wrong."
"I let you make the phone call."
"I would have made the call whether you wanted me to or not. There was nothing you could have done."
"I didn't make it go right."
"Make it go right" was a favorite Scientology phrase. Scientologists made things go right. Because they had the "tech."
Guy returned a few minutes later and sat down behind his desk. The two burly guys who'd been with him outside took up positions just behind me. Guy crossed his arms. I glanced over my shoulder. The two muscles crossed theirs.
"Give me your cell phone," Guy said.
"No," I said.
He nodded at the two guys. The one on the left took a step forward and wrapped his arms around me, pinning my arms to my sides. The other one reached into my front pocket, mashed down on my knuckles, and pulled out my cell. He handed it to Guy. Who had no luck turning it on.
"You're in deep shit," Guy said.
Ever since Joan fell to the sauna floor. I shrugged.
"Who'd you call?" he asked.
"None of your business," I answered.
"What are you hiding, Rick?"
"I'm not the one hiding anything, Guy. It wasn't my idea to disappear. Out here at Int Base."
"You will tell me who you called. And what you said." Great TRO. Excellent intention.
I shook my head. When Hell freezes over.
Guy stood up and leaned over his desk. "Tell me who you called! Now!"
I stared back at him. Only blinked a few times!
Guy turned to Roxy. "You may leave," he said.
"Uh…where?" she asked.
"Back to your room. Wait there."
"Yes, sir."
"See that she arrives safely," he said to the two hired hands.
After they left he said, "This isn't over. Not by a long shot."
"Geeze, Guy. It was a simple text. What you gonna do? Call the cops? Alert the feds? In case you didn't know—sequestered here at the Base like you are—people use cell phones all the time these days. People call people; they text; they surf the Web; check out what's happening on social media. It's not a big deal. It's what people do. It's the twenty-first century. You need to get with the program. And just so know, who I call and what we talk about is none of your business. Never has been. Never will be. You don't own me."
Guy said, "I'm going to run this by my seniors. Go back to your room. And just so you know, we will charge up your phone and check the logs and find out who you called."
I felt my phone's sim card resting snuggly under the upper sleeve of my sock. Good luck, Guy.
Chapter 39
Roxy was sitting up in bed reading Fundamentals of Thought, by LRH, when I got back to the room. She hadn't even taken off her shoes and socks.
I glanced down at the book. "Any good?"
"It's by Ron."
Well, in that case…
"So?" she asked. "What's happening?"
"Guy said he was gonna run it by his seniors and that's all I know." I sat down on my bed and took off my shoes and socks—making sure to keep the sim card hidden in the sock.
"And in the meantime?"
"Don't know. Except my days here are definitely numbered."
"What do you mean?"
"I mean, I'm not sticking around. I'm leaving. Despite what anybody says."
"But what if they say no."
"They can't keep me here against my will. It's not up to them. This is America."
"It's not as simple as that."
"Enlighten me."
"They could like…refuse to open the gate."
"Then I'd just wait until a car came by. And when the gate opened to let it in or out…I'd walk out."
"They could still stop you. You saw what happened in Guy's office. Like with those two big guys. They're not above getting physical."
"Then I'll go over the fence."
"It's topped with razor wire."
"I'll throw a couple blankets over it. I'll make it go right."
And why was I disclosing my plans to Roxy?—who'd been entrusted to watch over me. I trusted her…and kinda wanted her to come with me. She flipped a page.
"You know…" I said, "you'd have to come with me. Seeing how you've been given the task to stay with me and make sure I don't get into trouble."
She snorted. "I've been doing a good job of that."
"Aren't you curious about the outside world?" I asked.
She didn't look up. "I know everything I need to know."
"No, you don't."
"You don't know anything about me."
"I know you were born into this life. You've never been to a real school. Studied real world subjects. Flown on a plane. Gone for hike. Walked on the beach. Swam in the ocean. Been on a real vacation. Had a relationship."
"I've walked on a beach," she mumbled.
"Go swimming? Get wet?"
She didn't answer. Her eyes had closed to slits. Probably due to a particularly tough passage in her book.
"Tomorrow," I said.
She took a deep breath.
"Tomorrow night we're outa here," I said.
Chapter 40
The sauna felt hotter than usual. Guy had probably snuck in the night before and cranked up the temperature setting—pissed off he hadn't been able to get anything off my phone.
Roxy lay on her back, her head resting on a rolled up towel. I lay opposite her. Two inches separated my feet from hers. I stretched out and ran a toe down the bottom of her foot. She jerked her legs back as if bitten by a spider.
"What'd you do that for?" she asked.
"Just felt like it," I replied. "Feel like cooling off in the shower?"
She didn't answer.
"I'll take your lack of TR2 as a 'yes'." TR2 was that part of the Communications Course in which students were drilled on the importance of acknowledgements.
She snorted. Or sniffed. Was hard to tell.
I stood up and took one of her hands. "Come on. We've been in here long enough. We need to cool down."
I pulled her up to a sitting position, grabbed an ankle, and swung her legs around. Then I took her other hand and yanked her off the bench. Until we were standing there. Face to face. Dripping with sweat. Our breathing and hearts rates up. To keep us cool. Or something like that. I reached behind her lower back and pulled her body into mine. Our wet stomachs made a squishy sound. Didn't care. I leaned in and kissed her on the lips. Lightly. Mostly, on the lower one. It tasted hot and salty. So I tried the upper one. And a minute later, I felt the tip of her tongue. Probing. Asking if it was okay to go any further. See what this French kissing thing was all about. I almost smiled. Because it felt so good.
I finally pulled back—because we were standing in hellish heat after all—and led her to the bathroom. And into the shower stall. I turned on the water. And then we were making out with the water cascading over our heads. Down our bodies. She pushed me back until my back was against the wall. And pressed in. Hard. Like she'd finally decided that it was okay. Okay to let herself go. Kiss a boy. The cold tiles against my back added to the waterfall of sensations.
I heard the door to the bathroom open and Carlos call out, "You guys in there?"
Roxy turned from Hot Roxy to Scared Bunny in the blink of an eye. She threw back the shower curtain and jumped out and said, "Just cooling off."
"Where's Rick?" Carlos asked.
"Cooling off in the shower."
"Uh-huh," Carlos said.
I assumed he was standing outside. Because guys just didn't barge into bathrooms when there was the possibility there might have been a naked girl inside. In my world, at least. The protocol might have been different in the SO.
"We're just taking a break," Roxy said. "Must have been in the sauna for twenty minutes. Might have been thirty. And it was really hot. We couldn't take it anymore. Had to cool off before we died. Because like…"
"We're cool, Carlos," I called out from inside the stall
"Okay," he said. "Just checking. I'll be up in the course room if you need anything."
I pulled back the shower curtain after hearing the bathroom door close. Roxy was slumped over on the plastic chair in the corner, her head buried in lap. I couldn't see her face.
I tried to make light of the situation. "Well…that was close!"
Roxy nodded. Or at least her head seemed to have moved.
"Care to join me back in the shower?"
She shook her head.
I turned off the water and we walked back to the sauna. The building seemed to have cooled off, so the initial blast of heat felt good. Roxy climbed up to her spot on the upper bench and leaned back. I climbed up on my spot on the other side. I didn't mind staring at her since her eyes were closed.
"Nice time in the shower," I said.
"We can't do this," she said.
"We already did."
"No more."
"Why not? I like you. I think you like me. So what's the big deal?"
"We've been over this."
"I know. You're in the Sea Org. And I'm not." I paused to adjust my towel. "But there's no law against us hooking up."
"But you'll be gone soon and then what? You gonna visit me on the weekends in LA? In case you weren't aware, SO members work six and half days a week, morning, noon, and night."
Damn; that was a lot of friggin hours.
"There's no reason we can't have a little fun until I do leave," I said. Ever the optimist.
"Wham, bam, thank you mam. That's the expression, right?"
"That's not what I meant. And besides, you don't have to stay here. You can go wherever you want."
"No. I can't."
"Yes. You can."
"You wouldn't understand."
"Then enlighten me."
"Being in the Sea Org isn't like regular life."
"Tell me something I don't know."
"We have rules. So people can't just do whatever they want. You have to follow…"
"Policy?"
Roxy nodded. Tiny beads of sweat had formed on her forearms. I felt like running my tongue up her arm. And beyond.
"You're free to do whatever you want," I said. "You don't have to follow every last bit of policy. You're not a slave."
"No. I'm not. But…you just don't understand. I'm not free to do whatever I want. This is my life."
"The one you chose?"
She opened her eyes. I couldn't tell if they were wet from tears or sweat. "I don't know anything else! I don't know shit!"
"Wouldn't take long to learn about things. Like in the outside world."
"My whole family is in Scientology."
"So?"
"They'd all disconnect from me."
"Which is what exactly?"
"It means they'd never talk to me again. They'd never see me. I'd essentially have no family."
"What? That's insane. Totally, bat-shit crazy. You sure?"
"Yes, I'm sure. I've been in Scientology my entire life and I've seen what happens to people that leave. Once a person leaves, that's it. They can't communicate with their family. And vice versa. I know this for a fact, Rick. I've seen it a million times. And all my friends, everyone I know, are Scientologists. Everyone. I don't know anybody on the outside. Not a soul."
"Well that sucks."
"It is what it is."
"Still sucks."
"And it's even worse if you blow."
"Blow?"
"Leave without properly routing out. Like anyone who leaves has to go through this long process."
"How long does that take? A day or two?"
"More like months. Up to a year. And in the meantime, I'd be working in the RPF." She leaned forward. "If I was lucky."
"And if you weren't?"
"Seeing that I'm here at Int Base, I'd probably be sent to the Hole."
"What's that?"
"Something that nobody's supposed to know about."
"But you do. What is it?"
"It's this place where Mr. McCaven sends all his top execs who haven't been producing. They subsist on rice and beans and never see the light of day. I've heard rumors of physical violence. It's supposed to be worse than hell."
"Sounds like a prison camp."
"That's exactly what it is."
"Which is another reason why you should come with me. Tonight."
Roxy lowered her head back onto her rolled up towel and stared up at the ceiling.
"You'd have place to stay on the outside," I said.
I told her about the Little House at the back of my dad's property. I told her he was a teacher at Santa Barbara City College. I told her about my two brothers. I told her about my best friend, Dev. And that I was currently unattached.
"You'd love Santa Barbara," I said. "Got the ocean on one side, the mountains on the other. Rarely gets too hot. Nobody uses air conditioning. You'd love it."
No reply.
"You could take classes at CC—Santa Barbara City College."
"Yeah, right."
"I think they even have classes where you can get your GED. Like if you don't have a high school diploma."
"I have a GED. It's worth shit."
"Doesn't matter. They have these really low gradient classes at CC. Like for people who, for one reason or another, didn't do so well in high school."
"I hardly know anything."
"What do you mean?"
"I mean…I never went to a regular school. I never took any regular classes. I never studied the regular shit that most people do. Pretty much everything we studied was written by LRH and had to do with Scientology."
"Doesn't matter. You're smart. You have the 'study tech.' You'd be up to snuff in no time. I'd help you. And…"
"And what?"
"It's time to cool off, again."
Chapter 41
We ate lunch. Tried getting more into present time on the SRD. Ate dinner. Tried getting more into present time on the SRD. By ten-thirty that evening, Roxy and I were lying on our beds in our room.
"Well…at least we didn't have to deal with Guy, today," I said.
"He and his seniors are probably still working out what to do with us. Just wait until tomorrow," Roxy replied.
"There isn't gonna be any tomorrow. We're blowing this joint tonight. Leave around one or two. Give everyone a chance to go to sleep."
Roxy didn't reply. So I did. "You are coming with me." Then, "That's an order."
"You're not my senior."
"Doesn't make any difference. Besides, just think what'll happen if you stay. You'll be fucked. Big time."
"I could stop you."
"You could try."
"I'm stronger than I look."
I laughed. "You want to arm wrestle? You win, we stay; I win, we go. Or you just want to come over here and…restrain me?"
"The last place I'm going is over to your bed."
"Because of what I might do? Or because of what you might do?"
"Either one."
"Listen, Roxy. You might as well come with me. Like you said, you're fucked if you stay. But you're less fucked if you go. By the way, when's the last time you actually saw your mom and dad?"
"A while ago."
"When exactly?"
"I think last Christmas."
"You think?"
"Might have been two Christmases ago. My mom works at Flag. My dad works on the ship. Where the holidays are a big deal. Like they try to get as many public as possible to go there during that time of year."
"So if you come with me, it won't be any different—at least in terms of seeing your parents."
"Except that if I go with you I might not see em again for the rest of my life."
"You will."
She shook her head. "You haven't been around long enough to know what you're talking about. I know lots of staff back in LA who haven't seen family members in years."
I shrugged. "Well…it's up to you. But just know… I want you to come with me."
She closed her eyes and tapped the back of her head against the wall three times. Tough decision, for sure.
I stepped over to her bed and sat down. And gazed into her eyes. She didn't look away. Or shove me to the floor. I leaned over, one of my arms on one side of her, one arm on the other. I lowered myself until our faces were inches apart.
And then she shoved me to the floor. She was stronger than she looked.
I laughed and rose up on one elbow. "Why'd you do that?"
"Because I can't think with you hoovering over me; that's why."
"No TV. No books—except the one you're reading. No laptop. No cell phone. What the fuck else am I supposed to do?" I shrugged, then added, "With a pretty girl in the room, I've been left with little choice."
Roxy blushed. Kinda cute.
Then she rolled over and buried her face in her pillow. I got up and laid back down on my bed and stared up at the ceiling. And then at the back side of the girl in the other bed. Because the ceiling was pretty damned boring. And the back side of girl wasn't.
I set the timer on my watch for one-thirty and closed my eyes.
Chapter 42
"Beep, beep, beep," sounded my watch.
I brushed the pillow off my eyes and sat up. Over in the other bed, Roxy was wide awake. She watched me put on my shoes and socks. I waited for her to put on hers. A minute later, she took a deep breath and swung her legs off the bed. Three minutes after that, we were tiptoeing down the hall toward the back stairs. Roxy carried the rolled up blankets from both our beds. I carried the rolled up mattress from mine. Since it was only a couple of inches thick, it wasn't heavy.
I cracked the door at the bottom of the stairs and peeked outside. No sign of security. Stars and sweet desert air. All clear. We took off across the grounds. Neither of us said a word on our way to the fence. Too bad Roxy was wearing a white blouse.
I scanned the razor wire as we got nearer. I would only get one chance to fling the mattress across the top before its sharp claws seized the outer fabric and held it in place. If I failed, I'd use the blankets.
I unfurled the mattress. Glanced at Roxy. Took a deep breath. Took three practice swings. And then swung it over the top of the fence. Two thirds of the mattress flew over the top. One third flopped down on our side. I pumped a fist and said, "Yes!" From the north, a light shined in our direction. "Fuck," I muttered.
I bent my knees and cupped my hands below the mattress. "You can do this," I said to Roxy.
A second beam of light joined the first, bouncing off the back of Roxy's bright, white shirt. Double fuck.
She put her hands on my shoulders, looked into my eyes, and said, "I trust you."
She slipped a shoe into my hands and I looked into her eyes. "On three," I said.
She nodded.
"One, two, three…" I heaved upward with all my strength.
She caught the top of the mattress and clawed her way over to the other side. And fell on her back with a thud. I didn't have time to ask her how she was.
I threw the two blankets over the razor wire beside the mattress. Just in case the mattress slid to the other side. One of the beams of light caught the side of my face and someone shouted, "Halt!" Roxy raised her head off the desert floor and began to cough as I scaled the chain link. Before I reached the top, I reached out and pulled myself over onto the mattress. "Stop!" someone with a deeper voice shouted. Sounded close.
I twisted around on the mattress so I when I dropped down on the other side I'd land on my feet. Roxy was just sitting up when I landed next to her. As I helped her to her feet, two lights from the other side of the fence lit up our faces.
"Don't move!" one of them ordered.
I ignored them and asked Roxy how she was.
"I'm fine," she said.
One of the guys started to climb the fence.
I grabbed Roxy's hand and began running. After crossing a small wash, we took off into the desert. Which turned out to be not so much desert but fallow field. I wished the moon were smaller and Roxy's shirt wasn't so white.
"Hemet's to our left," she said. "The nearest town. I don't think it's more than mile away."
I nodded and veered left as I glanced over my shoulder. "Can you keep up this pace?" I asked.
"I think so. At least for now."
"Good. Because I think one of those guys made it over the fence."
A hundred yards behind, a beam of light crisscrossed the ground. As if someone was searching for tracks. We continued jogging toward Hemet. Stars lit the heavens. I didn't hear any coyotes and when I looked back, the light was getting closer.
"Let's head back to the wash," I said. "It heads right toward Hemet and there's more brush and cover. Here…we're right out in the open."
We sprinted back to the chaparral lining the wash and ducked through a small opening probably used my animals. The wash offered more concealment but running on dry sand was the shits. I slowed down to a quick walk, hoping we'd lost the person following us. No such luck. I heard the sound of something big crashing through brush before a beam of light sliced through the night air above our heads.
"We need to pick up the pace," I said.
A half mile away, Hemet glowed in the dark like some kind of other world sanctuary. If we reached the force field defending the city, we'd be safe from the evil alien tracking us. Who seemed to be better at running on sand than we were because he'd closed the gap significantly. At the rate he was gaining on us, he'd catch us way before we reached asylum. Ten seconds later he called out for us to stop. No fuckin way.
"What do we do…if…he catches us?" Roxy panted. She wasn't quite gasping for breath. But almost. No way was she gonna outrun this motherfucker.
I wondered if he'd try to physically restrain us. Or try to drag Roxy and me back to base. Definitely, he wasn't dragging me back. No way. But Roxy? She wasn't all that big. And he was Sea Org. And Roxy was Sea Org. So she might submit to his demands once he caught her. SO guys could be pretty scary.
"Stop," he shouted. "You can't get away." He'd closed the gap to a hop, skip, and a jump.
Roxy turned to me. "Hide in the brush?"
A small island of thick chaparral floated in the middle of the wash twenty yards in front of us.
"He's too close," I said. "He'd see us."
"No way we're gonna lose him before we get to Hemet."
I looked around for something to save us. Like a magic sword. Or secret portal. Saw lots of rocks and dead branches around the perimeter of the island of brush, but nothing remotely enchanted.
We stopped at the island and turned to face our pursuer. We only had to wait a few seconds before he pulled up in front of us.
He bent over on his knees and said, "Okay, let's go back."
He was six inches taller than me.  And way taller than Roxy.
"Not happening," I said.
"What you're doing is totally out-ethics."
I would have laughed if I hadn't been so winded.
"I'm ordering you both to return to the base with me. Now," he said.
"You're fuckin deluded," I replied. Then I straightened up and took Roxy's hand. "Come on. Let's get out of here."
He reached out and put a hand on her shoulder. "You're not going anywhere but back to the base."
I slapped his hand away. "Not happening," I repeated.
I pulled Roxy forward. "Don't listen to him. He can't do anything to us. We can go wherever we want."
I got a whole two steps before he shoved me from behind. I threw out my hands just before my face hit a pile of dried sticks that had been thrown together during the last flash flood. I rose to my knees and turned to see him dragging Roxy back the way we'd come. I grabbed a two-foot branch as I jumped to my feet.
I jogged over to them. "She isn't going anywhere with you," I said.
He didn't stop. Nor relinquish his grip on Roxy's wrist. I ran around them and stopped.
"Get out of our way," he said. There was just enough light so I could see the sweat dripping down his chin.
I shook my head. "Let go of her," I said.
"Fuck you," he said.
"Roxy? You want to go with him?"
She shook her head.
I took a step closer. "Let go of her. She doesn't want to go with you."
"I don't care what she wants. She's coming with me."
As if time had slowed down, the sounds of the night became more distinct. Lots of crickets and engines from nearby highways.
He shined his light into my eyes and said, "Get out of my fuckin way."
I slapped the flashlight down with my free hand—the one not holding the branch. He stepped to the side with Roxy. I stepped to the side in front of him. He shined the light in my face again and told me to move. I slapped his arm away. He raised the light again. I smashed the branch down on the wrist holding the flashlight. It fell to the ground, its glass face burying itself halfway into the dry sand.
"Shit!" he cried, cradling his wrist against his chest. "I think you fuckin broke it!"
Good.
"Come on, Roxy," I said. "Let's get out of here."
He hadn't given up. "No! You don't have permission to leave. You have to go back. You have to! Don't listen to anything he says Roxy. You're Sea Org. You're part of the team."
Right. The one saving the planet. I'd heard it all before.
I took Roxy's hand and we began to walk. Down the wash. Toward Hemet.
"Stop! Now!" he yelled.
We kept going.
This time, he was the one who ran around and stopped in front of us. Or Roxy, to be more precise. "You're going back with me," he said.
I raised the branch threateningly. "Get out of our way."
He shook his head. I raised the branch another couple of inches. He tensed but didn't move. Fuck it. I swung the branch into the side of head. He crumpled to his knees. And Roxy and I took off running toward the glowing lights of the city. She stopped just past the island and looked back. I followed her gaze. The SO guy was slumped over, his face a foot from the sand.
"He'll be okay. Come on," I said.
Roxy nodded and twenty minutes later we climbed out of the desert wash into a suburban neighborhood. At three o'clock in the morning, all the stucco, one story houses on the cul-de-sac were dark and quiet.
Roxy look back over her shoulder.
"Having second thoughts?" I asked. "You don't have to do this, you know. You don't have to come with me. You can turn around and go back."
"I'm supposed to stick with you," she said, staring straight ahead.
I wasn't sure if she was being facetious or not. "But what do you want to do?"
"I'm tired of working eighteen hour days."
"I can imagine."
"But it's all I know. It's all I've ever done."
"Slavery was outlawed over a hundred years ago and vacations aren't against the law. Just so you know."
"I have no money. I have no education. I have no family or friends outside the church. I have nothing except what I'm wearing. Literally."
"You have a hell of work ethic, though. More often than not, that counts for more than brains and education."
"I'll be sure to add that to my resume."
We passed a hedge of fragrant jasmine. At car alarm went off not far away.
"They'll be looking for us," Roxy said. "Like they'll have cars roaming the streets."
"Uh-huh."
"So what are we gonna do?"
"Good question." And one I'd been thinking about. "First off, we gotta find a phone."
"Yours is back at Int."
"We'll borrow one."
"Like just ask someone on the street if we can borrow their phone? Like people are okay with that?"
"Contrary to what you've been taught, most people are pretty nice."
"Who would you call?"
"Dev. My best friend."
"He has a car?"
"Yeah."
"And he'd come get us?"
I nodded. We turned right at the intersection, toward downtown.
"I can't believe this is really happening," Roxy said. "Like this is it for me. My life—pretty much everything I've known since I was a little kid—is over."
She sounded like she'd decided to come with me. And not because she was "supposed to."
"Scientology believes in past lives, right?" I responded. "Like according to Hubbard, we've all lived millions of lives. So if that's true, you have nothing to worry about. You end one life; you start a new one. You've done this before. Lots of times. Millions of times."
"Then why does it feel so scary?"
"Because it is. Just because a dog bit you in the past, doesn't mean you shouldn't now be scared of a barking pit bulls."
We turned left on a wider street. Commercial signs on tall posts loomed in the distance. Two blocks away, a small pickup truck stopped at the intersection and Roxy and I ducked behind an orange tree. Loved the fragrance of its blooms.
"The truck's just sitting there," she said.
I nodded.
"What do we do if it doesn't move?" she asked.
"For now, we just wait. It has to move eventually."
"But what if it just stays there? Like until it gets light. We can't stay here forever. People are gonna be waking up soon."
"Maybe we can dodge the truck by cutting through some yards." And hopefully not get mauled by that bit bull I was just alluding to. More than one dog had alerted his owners since we'd entered suburbia.
A couple of minutes later, the truck crossed the street and drove down the block. And I was saved from having to fend off any dogs from shredding our calves while crossing their property. We took off at a quick walk up the street. Wary of more patrols. We made it a block and a half before the white Ford pickup rounded a corner and pulled up beside us. A passenger in blue coveralls rolled down his window and told us to wait. We kept walking.
"I said wait," he called out.
We kept walking.
"We just want to talk," he said.
Bullshit. We kept walking. The truck made a U and pulled up beside us. This time it was the driver who told us to wait.
I shook my head and kept walking. Roxy stared straight ahead. I glanced back when I heard one of the truck doors opening. The passenger climbed out and jogged around to the sidewalk. I didn't see any islands of brush or piles of sticks so I whispered to Roxy and squeezed her hand, "Get ready to run." She squeezed my hand back.
I scanned the block for a McDonald's, Taco Bell, or police station. I spotted a donut shop halfway down the block on the other side of the street with a brightly lit "open" sign hanging in the front window. "Jupiter Donuts," its pole sign read in block, red letters. Big name for a small place. The truck was keeping pace with us. As was its pedestrian passenger.
"Time to go, babe," I said. "That donut shop up ahead. We'll be safe there." Unless it was a front organization for Scientology and they were using donuts to lure people into the church. Like who didn't like donuts, right?
We took off running up the street, the SO security guy hot on our tails. Or at least I figured he was hot on our tails. I didn't look back. Just kept running. Making sure not to outpace Roxy. The guy shouted for us to stop. I glanced back. We'd actually put a few more yards between him and us. His big black work boots weren't doing him any favors.
I grabbed Roxy's hand and we dashed across the street, narrowly missing the pickup truck's black bumper. We crossed the parking lot and shoved open the doors to the donut shop. All six of its gray Formica tables were empty. The display case running the width of the shop was mostly empty, too. We stepped up to the front counter. Through a door to the back room, I spotted a twenty-something guy with long black hair and a small goatee dropping circles of dough into a huge vat of what I assumed was hot oil. "Be there in a sec," he called out. Metallica blared from speakers in each corner of the shop.
"No rush," I called back. No rush?
Roxy and I spun around as the passenger pushed open the glass front door of the shop. Out in the parking lot, the driver of the truck was talking into a cell phone.
"I hear the donuts are outstanding here," I said to the passenger.
He glanced through the front window to see what was happening with his partner. "Come on," he said. "Let's not make this any harder than it has to be."
"We're not going with you," I said.
"You don't have a choice."
"Yes…we do."
He took a deep breath and crossed his arms over his blue coveralls. "We just want to talk with you."
I chuckled. "Bullshit."
"No, we just want to talk. But not here. This isn't the place."
"What? You don't like donuts?"
Rush replaced Metallica. The guy in back dropped more donuts into the vat, his head moving to the beat of the new song. The driver of the truck nodded and shook his head as he talked on his phone. A blue delivery truck with the words "Reyes's Produce" on its side passed by on the street. I couldn't make out the graffiti on its back door. According to the clock on the wall it was almost four.
"Come on," the passenger said. "Let's just go. Sooner or later, you gotta come with us. We don't have to make this hard. On any of us."
"Waiting for fresh donuts," I said.
He shook his head. "Fuck you." Then turned to Roxy. "You don't have to stay with this guy, you know. He's not SO. Hardly even a Scientologist. We're your group. Not him." He paused, then, "You signed a contract."
For a billion years! Who the fuck signed anything with that kind of commitment?
Roxy glanced at the floor.
"That contract means shit," I said.
"You wouldn't understand," he said. "We're the ones actually doing something to save the planet. Unlike your pathetic self. Who isn't doing shit." He shook his head and snorted. "We have real purpose in our lives. What are you doing to save mankind?"
Fuck mankind. I was just trying to save myself. And a girl.
I said, "Hey…I'm just here for the donuts."
"A joker and degrader," he said.
The last time I'd been in Ethics, I'd read this essay by LRH in which he'd wrote that people who joked around were degraded beings.
The driver of the truck put away his cell and joined us in the shop. He stopped beside his partner and crossed his arms. He was about as thick as the sign post outside. Didn't know how his pants stayed on his hips. "What's happening?" he asked.
"I'm trying to convince them to come with us. That it'll be better for everyone concerned. And easier. And that we aren't going to hurt anyone. We just want to talk."
"Like I'm gonna spend the next five years in the Hole?" I said.
His eyes flicked to the side. "The Hole's a rumor."
"Bullshit."
"If we have to use force, we will," the driver said.
I was pretty sure the two couldn't have forced me into their truck. Roxy was another story. Not only was she half their size, she'd been in Scientology her entire life and still had Kool Aid coursing through her veins. Family, friends, and everyone else she knew was part of the church. And she'd signed that billion year contract. Her eyes hadn't lifted from the floor. Which needed mopping. Big time. Just saying.
"Just another minute!" the guy in back called. "Don't usually get many customers this time of night. Usually just make donuts."
A second white pickup truck pulled in the lot next to its twin. Two more guys got out and joined us in the shop. One wore blue coveralls. The other wore a blue blazer—with two colorful medals pinned over the left breast pocket—over a white shirt with black slacks. Our odds of escape was plummeting.
The guy with the blazer stopped in front of me and said, "This has gone on long enough. Let's go." He was ten or fifteen years older than the other three and hadn't worn braces as a kid. He smelled like an ashtray.
"I'm not going with you," I said. "I'm not playing this game anymore."
Blazer guy took a half step closer. "You think this is some game we're playing? That we're doing this for fun? Working all day and all night. With little to no pay? You don't think I wouldn't want to be lying on some tropical beach right now? In Cabo San Lucas? Drinking margaritas? In case you didn't know mister, this is a deadly serious game we're playing here in Scientology."
Apparently serious games were okay to play. Fun games…not so much.
He wasn't done. "We're the only ones on the planet actually doing something to save it. From complete annihilation. Look around you… What do you see? Paradise?" He shook his head. "I see a world on the brink of catastrophe. War, hunger, global warming… If we don't do something to stop the insanity, we're doomed. And nobody but us has the tech. Do you get that? For the first time in trillions of years we have the chance to go free. Truly free. Unless, we blow ourselves up first. And we can't let that happen."
"You make a good point," I said.
"Let's go, then," he said. "Now. I'm tired of fuckin around."
"All I wanted to do was to call home."
"And you got your call. Now let's go."
"And Roxy?"
"Roxy will do what she's ordered to do."
I took a deep breath and let it out. "No," I said.
"No? No, what?" Blazer guy asked.
"No, I'm not coming with you. I got that you want to save the world. That's cool. I hope you succeed. But I'm not coming with you. I got my life; you got yours."
Blazer guy stared at me. Hard. An open pack of cigarettes poked out of his shirt pocket just under the lapel of his jacket.
He turned to Roxy and said, "Get in the truck. Now."
She raised her eyes and started toward the door. I grabbed her hand.
"You don't have to do this," I said. "You can take that vacation we were talking about."
Her gaze fell to the dirty floor and she shook her head. Slowly. Back and forth.
"Let's go," Blazer guy said. "Both of you. To the truck."
"Whether we return to the base is not up to you," I said. "So why don't you guys step outside and give us chance to talk about things."
"That's not happening."
Blazer guy turned to his three underlings. "Sean and Ryan, take Roxy to the truck and stay with her. Make sure she doesn't do anything else stupid."
I tightened my grip on her hand. Her left hand. Sean grabbed her other while Ryan stepped in and shoved me in the chest. I fell back against the counter but didn't relinquish my grip. Ryan tried ripping my hand away from Roxy's. I chopped at his wrist with my free hand. Roxy screamed to let her go. Ryan slugged me in the jaw. I hadn't seen that coming.
I slumped down against the counter. But didn't let go of Roxy. So Ryan kicked me in the ribs—with what felt like steel-toed boots. My fingers slid out of Roxy's involuntarily but I struggled to my feet.
I swung wildly at Ryan. Would have been happy to have connected with any part of his head. I grazed the top of this shoulder. Without thinking, I followed the right with a left to his nose. Dead center that time. Blood splattered the display case. Definitely not a good look for Jupiter Donuts.
Ryan looked at his red hands and didn't like what he saw. He bellowed and lunged at me, tackling me to the ground. Blood from his broken nose dripped onto my face—gross—as he pummeled fists down on my upraised arms. Then Roxy shrieked and jumped on his back and clawed at his eyes. Which gave me time to punch him in the nose a second time. He screamed and rolled to the side. With Roxy still attached to his back. Sean grabbed her hair and yanked her back.
I glimpsed flashing red lights in the parking lot as I got to my feet and flew at Sean. He released Roxy, ducking under my fists. Then we each took a step back. Looked each other in the eye. Assessing what to do next.
Ryan was on his knees holding his face. Blood dripped onto the floor. Blazer guy and his driver stood to the side, behind one of the small tables. The two cops burst through the front doors with guns drawn.
"Everyone on the floor!" the younger, dark-haired one ordered. "Hands behind your heads! Now!"
I lowered myself to my knees. Roxy got to hers. Sean raised his hands and sat down on the floor. Ryan was already there holding his nose. Blazer didn't move. His driver lowered himself onto a chair. The gray-haired cop pointed his gun and them and shouted, "Now! On the floor! Both of you!" Sirens blared in the distance. Donut guy stood transfixed in the doorway to the back room, holding his cell horizontally between his goatee and his mouth.
Gray-haired cop raised his gun a notch at Blazer guy and his driver. "I said on the floor! Now! Don't make me tell you again!"
Two more cops burst in the shop. Guns drawn.
Blazer guy and his driver got down on the floor.
A third black and white unit pulled into the lot and two more cops jumped out.