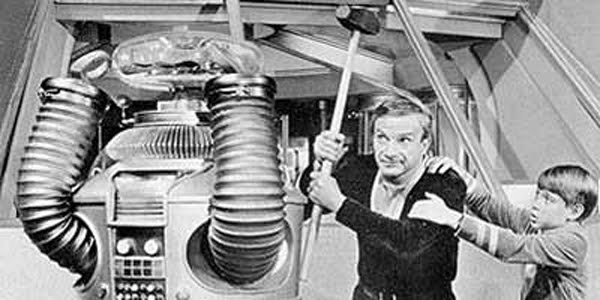 I guess Quinn Taufer's brilliant "Affluence Analysis" didn't really pan out.
They went from a million dollars to $8,500. I would call that straight down and vertical.
But never fear, because Kathy Heard reported that COB remarked "just get Valley done." So, of course, this is the  command they will all follow. They remind me of the robot from Lost In Space but without his ability to say "that does not compute."
Date: Fri, 27 Jun 2014 
From: Valley Org <valley@scientology.net>
Subject: Valley OTC Minutes, Tuesday, June 24, 2014

MINUTES
VALLEY ORG OT COMMITTEE MEETING
June 24, 2014

Note: The minutes are for the sole use of Valley OTC members. All members receive a copy. Please do not forward the minutes to anyone else for any reason.

ATTENDEES Kathy Welch, Kathie Heard, Mary Lee Krackow, Ralph Temps, Mary Ann O'Donnell, Karen Brown, David Nunez, Carol Loweree, Tony Lonstein, Teri Novitsky, Thorburn, Charlene David Wilson, Bonita Wilson, Irad Ron, Hagit Ron, Tamara Dahill, Kevin Dahill, Kathy di Galbo, Dean Glosup, Alicia Kreisberg, Scott Kreisberg, Mark Anderson, Tony Lonstein, Avi Lonstein, Teri Novitsky, John Cumming, Sylvia Cunning, Chuck Jacobs, Terry Morrill, Pete Sokoloff, Annie Sokoloff, Bob Welch, Ofrah Bahat, Dali Bahat, Omer Azmon, Schlomit, Colleen Bigler, Vered Ziv, Avner Golan, Donna Griesen, Jill Halverson, Larry Marshall, Linda Massey, John Massey, Marty Kassowitz, Bobbie Kassowitz, Cyndi Norberg, Vera Seidler, Mark Foster, Kathy Foster, Jake Welch, Diane McPhee, Patty Riemer, Ray Loomis, Bonnie Krumpe, John McQuilling, Jeanette Douglass, Kevin O'Donnell, Donna Griesen, John Larocca, Alan Gilbertson, Nola Aronson, Ben Ghiora,

Quinn Taufer, Valley Ideal Org project I/C opened the meeting at AOLA.

He then read the purpose of the OT Central Committee and data from HCOPL 9 Mar 65 RA Field Auditors Become Staff. "Civilization is successful only because it is a team."

Claire Taylor OT Ambassador I/C Los Angeles announced "LA United" data from MV25 last week.

Kathy Welch, Bonita Wilson and Kathie Heard, representatives from Valley Org OTC all gave highlights from their trip to MV25 and wins regarding support and alignment of our OTC activities from Int Management, CLO and other OTCs in the Los Angeles area.

Kathie Heard reported that COB remarked "just get Valley done."

CO CMO PAC Base briefed us on OT Ambassadors being hand selected for MV25 for their production on the Ideal Org project. She covered some tactical plans re: Valley. Then she had us all read and get a check-out on the new OT Ambassador Program. West US has 25 buildings. 15 are purchased and only 10 left to complete.

CO CLO WUS Vicki Shantz briefed us on getting Valley Ideal Org fundraising done. She read definition of Compliance Report from Management Tools PL.

A video from Nancy C (on the Freewinds) was presented in which she announced our new $4 million MATCH GAME!!! Target to complete is July 10th!

David and Bonita Wilson gave their wins on becoming Valley Org's newest "NEW CIVILIZATION BUILDERS!" Triple WOW!

Continental Finance Director Austin Nickels and Quinn Taufer built the Org Board for fundraising and presented the In Charge terminals.

Kathie Heard is Overall I/C
Kathy Welch is Humanitarians I/C
Carol Espinoza is CC OTC I/C
Mary Elizabeth and Dean Glosup are Premiere Benefactors I/C
Susan Jacobs and Nancy Parodi are the I/C's for Alumni

Then all the I/C terminals selected their helpers from all the OTC members present and setup production actions and schedules.

STATS

Division 1 – Karen Brown

Active Members – Up from 58 to 59

Division 2 – Mary Elizabeth Glosup

Gross Income – $8,492.75

Division 4 – Kathy Welch for Tamara Dahill

# of Volunteer Hours – Down from 284.75 to 256
# of all GAT2 starts – Down from 7 to 5
# of Events & Briefings Held – Up from 0 to 2
# of Books Sold – Even at 1
# of Pre-OTs onto their next step – 0
# of Clears onto their next step – Up from 0 to 1

Division 5 – Kathy Welch

# of Route to Knowledge starts – 0

Division 6 – Kathy Welch for Joan Roeschke

Meeting Attendance – Even at 29. New target is 75!

ANNOUNCEMENTS:

Reminder: Vered Ziv announced the next OTC dinner: Friday June 27th at David and Bonita Wilson's at 6:30pm

Reminder: Mary Elizabeth Glosup: come to the Humanitarian meetings Sundays noon here at Valley Org.