Remember when they used to issue these commendations BEFORE the "Ideal Org" opened and publish their "OTC Minutes" listing the attendees? They don't do that any more because they were embarrassed about them repeatedly being leaked and appearing on this blog. Ah, for the good old days…
And remember the 10X expansion that is guaranteed when an org has its ribbon yanked by the only True Leader, David Miscavige?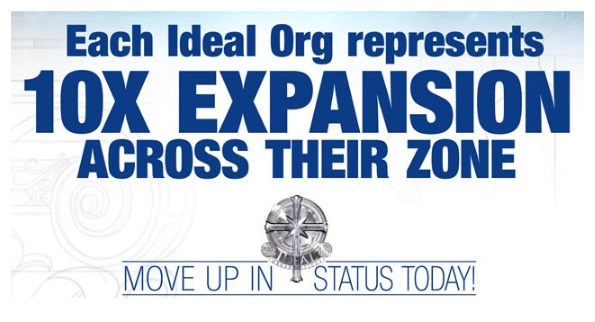 Well, Valley has just announced their progress towards achieving 10X.
They now have 30 active OTC members.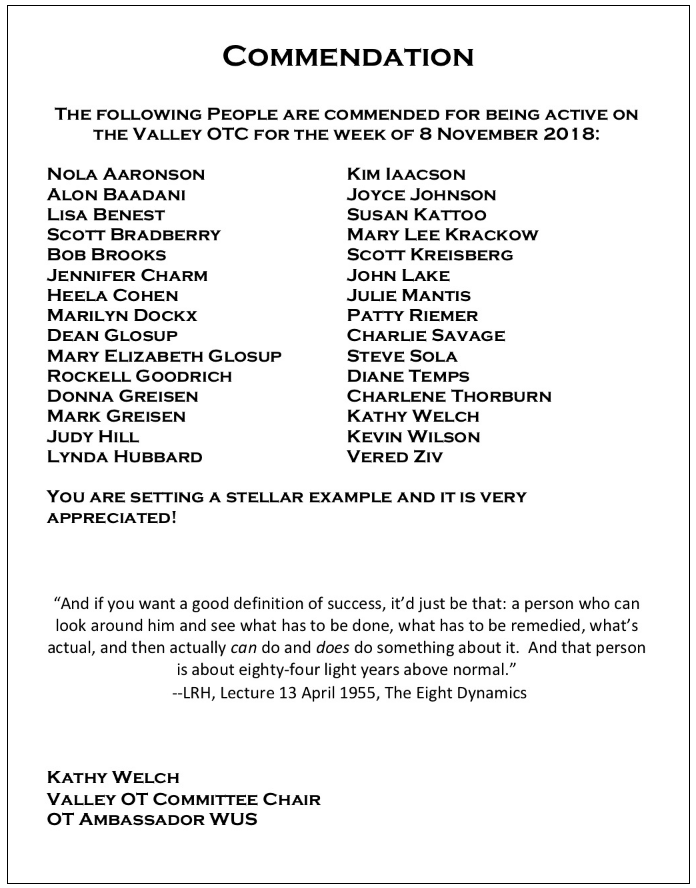 But wait a second. It seems Valley (unlike every other org on earth according to True Leader) is NOT living up to expectations. How we do we know?
Here is one of the lists of OT Committee members attending the weekly meeting in 2015 (you can guarantee every one of these was counted as "active" because they actually showed up at the org):
Kathy Welch, Mary Elizabeth Glosup, Mary Lee Krackow, Diane Temps, Karen Brown, Mark Anderson, David Wilson, Tony Lonstein, Sharon Lonstein, Avi Lonstein, Jennifer Charm-Jacobson, Steve Jacobson, Ralph Temps, Hagit Ron, Vered Ziv, Avner Golan, Bob Welch, Kathie Heard, Dean Glosup, Bob Brooks, Linda Massey, John Massey, Alan Gilbertson, Dali Bahat, Ofra Bahat, Heelah Cohen, Lauren Perreau, Chuck Jacobs, Bobbi Kassowitz, Marty Kassowitz, Jill Kirsch, Charlene Thorburn, Mary Walsh, Colleen Bigler, Kathy DiGalbo, Terry Morrill, Rochelle Goodrich, Larry Marshall, David Nunez, Mary Nunez, Jose Salas, Patty Salas, Sue Kattoo
That was 43 people. They have shrunk by nearly 33%.
What the hell is going on with THE most important and largest Class V Ideal Org on earth? Servicing the area with more scientologists than anywhere on the planet. In an "ideal" location on a busy avenue near a subway and bus station, plenty of restaurants and other attractions.
AND they have perfect tech thanks to True Leader. AND the only workable administrative tech on earth to guarantee expansion. AND they have a 24 hour a day propaganda TV station. AND they have a massive promotion printing plant. AND they have a scientology TV studio right there in the same locale. AND they have international scientology management and Bridge Publications and Author Services and an Advanced Org and a Celebrity Center and a St Hill just 15 minutes away.
This is the perfect storm of "idealiness" and it's failing.
What more do you need to know about the "ideal org" program?