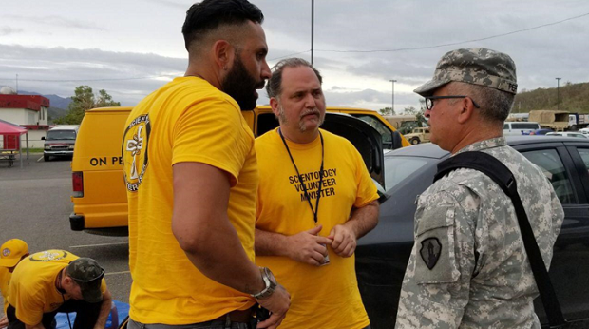 This tells you all you need to know about the largest and most effective private relief force on earth
Hurricane Maria did not devastate an outer islands of the Philippines or a remote area of Guatemala.  This is a US Territory that houses a soon to be "ideal" Scientology org.
I take nothing away from the fact they helped clear 7 houses around the org.  Every little bit of help is appreciated by those who are suffering. But the emphasis is on LITTLE.
Read their report below ad you will see they have rounded up 30 people! This is likely the full contingent of 10 staff and 20 public in the PR org… They are investing tens of millions to buy a new building for 30 people?
Apparently most important thing to them is that they "created amazing good will for the org." That is the most telling statement — this is not being done to help people, it is being done to generate "goodwill."
And if they only collected $8200, where the hell is the IAS with their hundreds of millions "war chest" at the ready to respond to "every major natural disaster" in the last 20 years?
But the truly big news is that they have "a table assigned" on the "same floor of the convention center" as FEMA and the Red Cross. Talk about "wannabees" OMG.
I will leave the rest of the commentary for others.