Of course, with the tragic fires in northern and southern California, David Miscavige's self-proclaimed "largest independent relief force in the world" has sprung into immediate action…
Fundraising.
What else but a healthy dose of "disaster capitalism" to rake in some more dough as tens of thousands have been evacuated, countless have lost their homes and families have lost loved ones.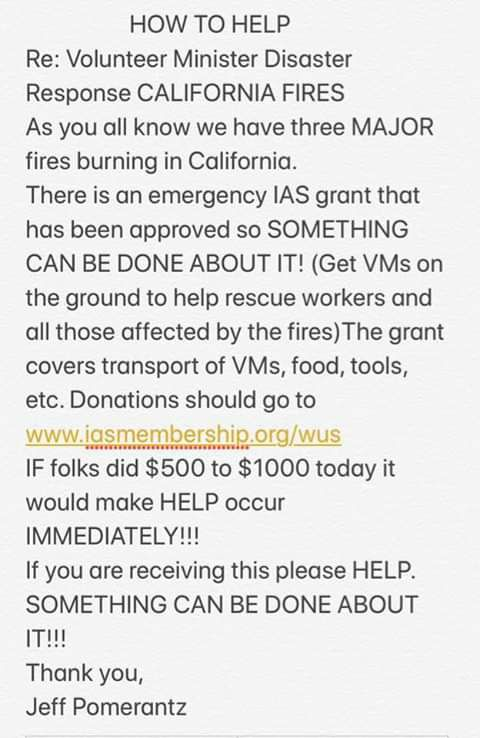 I know the reg vultures like Jeff Pomerantz never give it a thought — but do the people who give actual money to the IAS ever wonder how come the money they gave BEFORE isn't being used for catastrophies  now?
Hell, just 1% of their billion dollars, or $10 million, would go a LOOOONG way.
Instead of spending money, they not only use it as a reason to get more they also start trying to get people to donate "supplies".
Seriously? How about spending just 1% of that 1% and buying and shipping a hundred thousand dollars worth of supplies if that is what is really needed? Then using the rest to provide shelter or transport or whatever is REALLY needed by these people.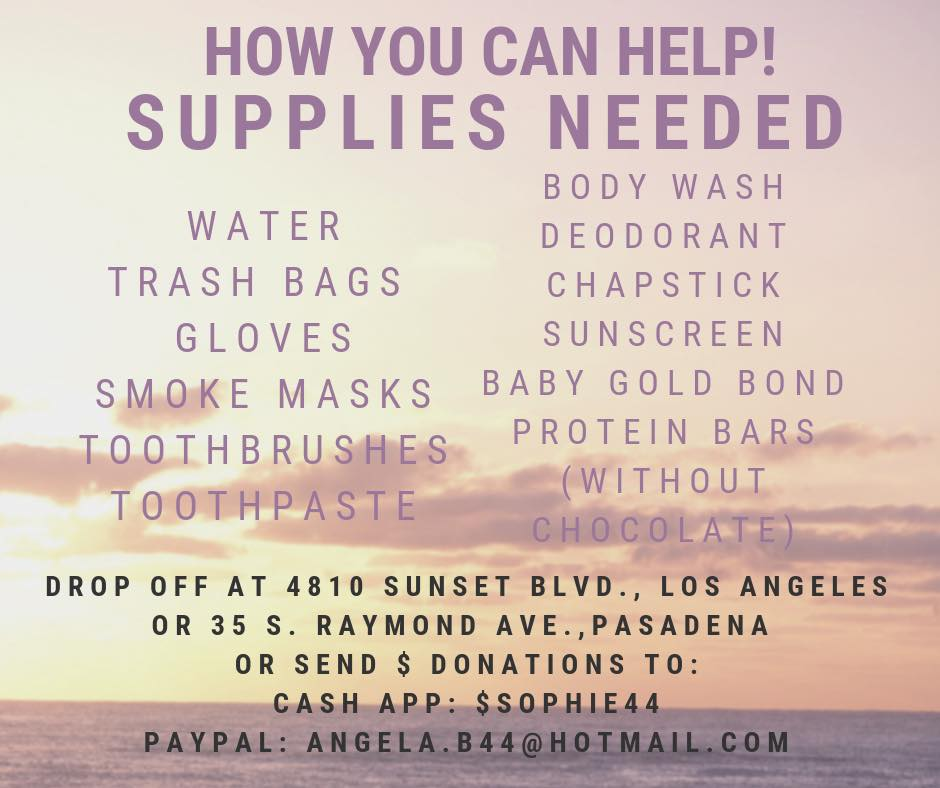 So, let's check in on what the largest independent relief force in the world.
RemembervCalifornia is home to the greatest concentration of scientologists on earth BY FAR. Also he largest number of orgs and missions, 10 ideal orgs, an AO, all of scientology's International management structure, publishing arms, tv studios, RTC, IAS and even 4 CST locations. If ever there was a convenient location for mobilizing the largest independent relief force in this universe, this is it.
This is from their official FB page. The first shot I guess is intended to make you think this might be VM's because they have yellow firefighter jackets on.
The photos underneath show the REAL VM's at "work" all clean and nice, posing for staged shots.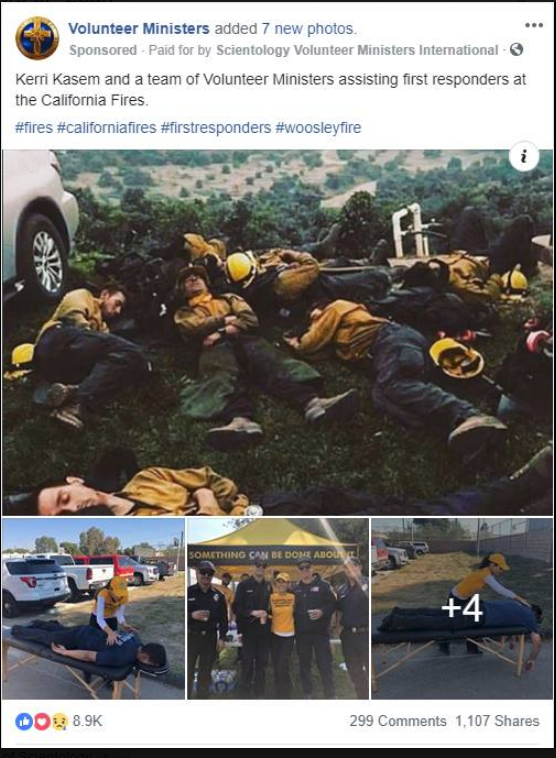 In case you were wondering what the "+4" shots showed:
To be clear, I do not criticize anyone who got off their butt and went to try to do ANYTHING to assist in this effort.
Though I do think it is cheesy in the extreme to pose for photos like these, or bringing kids to a disaster site (clearly they weren't really anywhere close to a disaster — it looks like they located themselves at an empty softball complex) but that's not my point.
Obviously this is not the largest private relief force in any location, let alone the world.
And obviously the IAS is spending exactly none of its massive accumulation of money on this or any other disaster. We saw zero evidence of the largest private relief force in the world when Florida was decimated by a hurricane last month even though the majority of the rest of the scientologists on earth are in this state.
For a broader picture of just how important this massive disaster is to the largest independent relief force in the world — this is the top page of their official VM Facebook page today, Friday 16 November.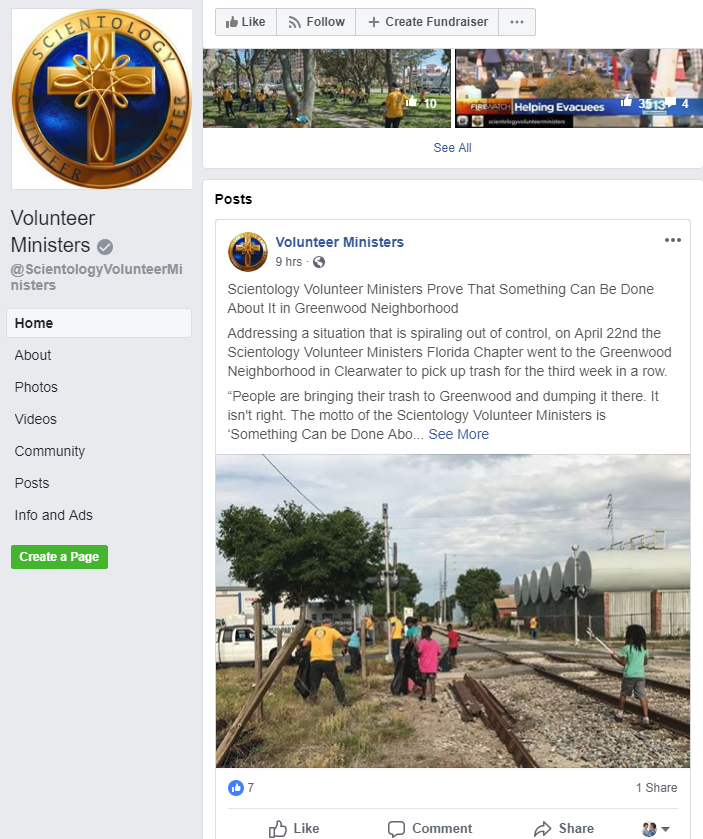 Yep, that's right. Nothing about the massive disaster in California — the big news for the largest independent relief force in the world is that they grabbed a few kids and picked up some trash in Clearwater.
And this is what the official volunteerministers.org "News" page headlines are today.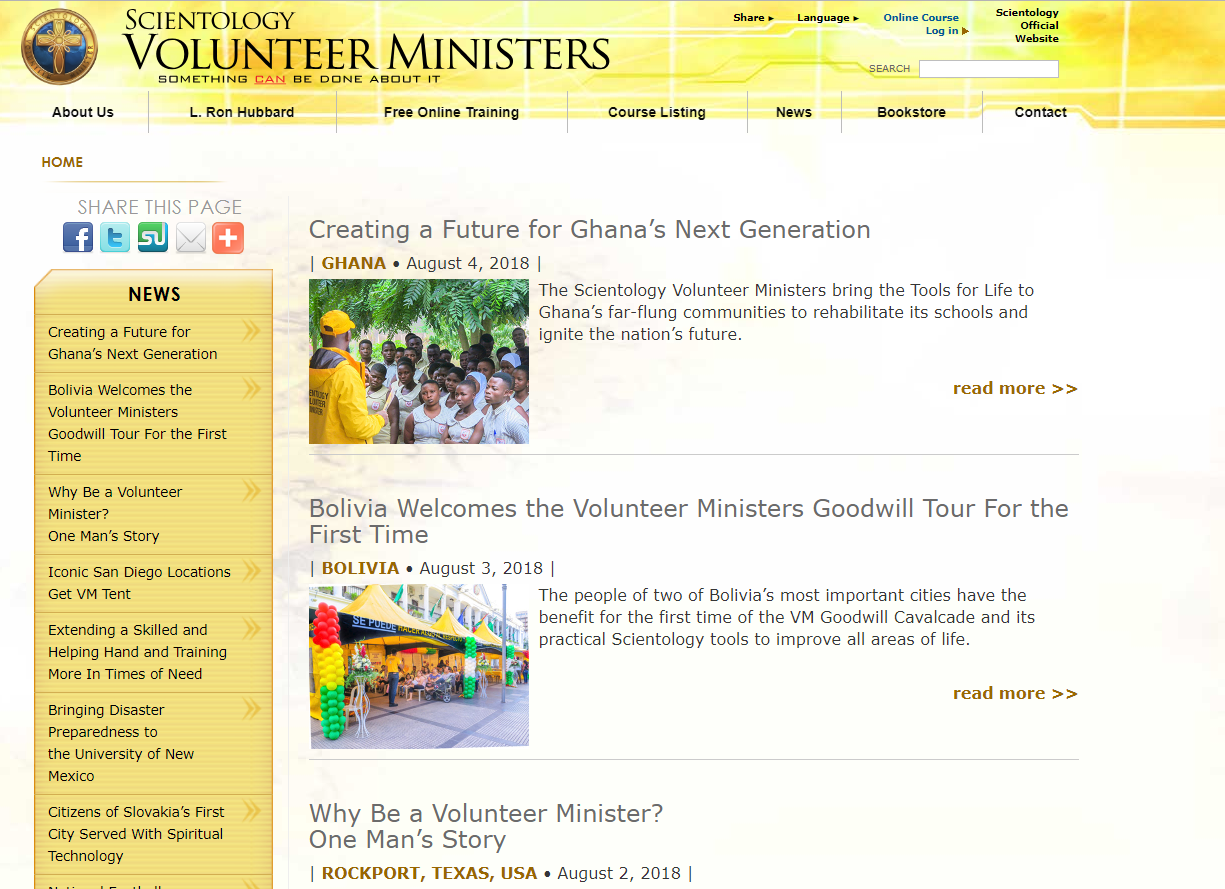 The complete failure of the Volunteer Ministers and the IAS in the face of this tragedy is incontrovertible evidence that:
David Miscavige tells bald-faced lies at scientology events to scientologists
Scientology tells bald-faced lies about its activities to the public at large
The IAS is a complete scam that does NOTHING it claims to be doing to help people other than collecting money — and using disasters to do so.
Vultures is probably too kind.
Fundraising scams that bilk people out of money and don't do what they claim they are going to do are typically shut down by the authorities.
Because scientology hides behind claims of being religious and thus protected by the First Amendment, they can do lie, cheat and steal with apparent impunity.