I just happened across a copy of this letter from February 2015.
This was the big push to try to get a St Hill Size org for March 13th.
There hadn't been one for more than a decade (and there still isn't one today — importing Sea Org members to man LA Org doesnt count, nor does sending Sea Org members to Africa to man a new "AO") and this was becoming embarrassing.
So a "12 man Sea Org, Saint Hill Size Mission" was sent in to ensure it happened.
They failed. Obviously. It didn't get announced as SH Size in 2015, nor in any year since. And anyone who has been by the Pasadena "ideal" org in the last few years knows it remains a sleepy, empty, creepy building. The only thing they seem capable of doing is telling Tory Christman she is not welcome to converse with them…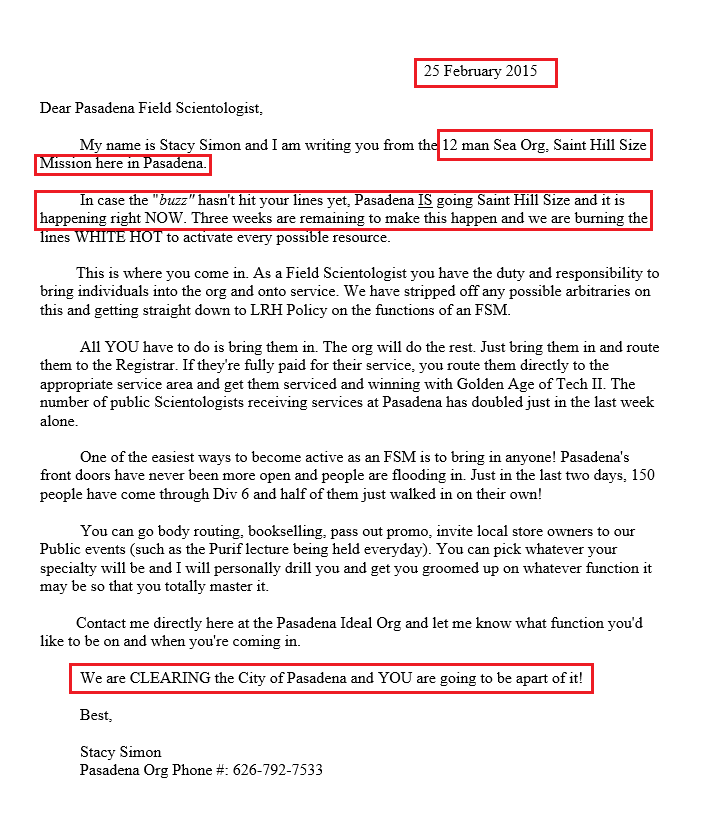 What is pretty remarkable is the conviction with which they assert "we ARE going SH Size" and "we ARE Clearing" Pasadena and the "command" "YOU are going to be part of it."
This is part of the horrible delusion of scientologists. They think if they say things with enough "intention" it makes them true.
I would say there is a greater chance that Stacy Simon is no longer on staff in Pasadena than the possibility she is still there today. Does anyone know?