Hurricane Leah is blowing scientology's house down and their only response is to send legal threat letters, create "WhoIs" smear sites and put up a webpage with their extremely lame response.
Here is their "handling" for the relentless storm surge that is swamping their leaking lifeboat.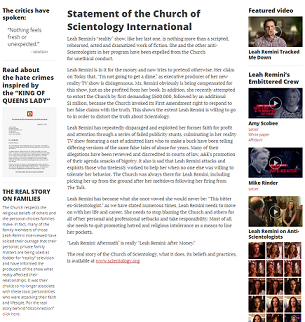 I have commented previously about their responses, this article addresses the statement above (this is the SAME response they have had on their website forever as even more of their dirty laundry keeps tumbling out, this is apparently the best they can do) and this is another article where I address their statements about me sentence by sentence.
The responses from scientology are evidence of a lot of what is being said on the show. They do not respond to specifics they only try to smear individuals and practice Fair Game. For a primer on the scientology policy on how they must deal with "critics" (enemies), read this article:  Dealing with Critics of Scientology: the L. Ron Hubbard Playbook
But I want to raise another point.
This is the page of "spokespeople" from the scientology website: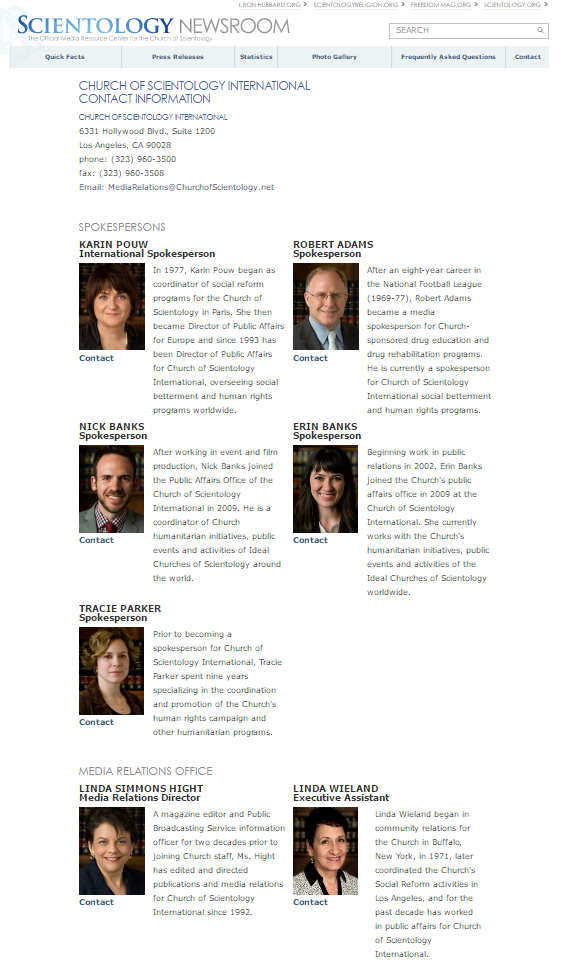 Not a single one of them is willing to go on camera and dispute or try to respond in any way to what is being covered every week on this show.
Believe me, the church was asked repeatedly for specific people to appear, and just generally for ANYONE to appear. Crickets.
Of course there are letters that go out in Karin Pouw's name. She doesn't write them. But her name is on them. But she has not been seen on camera for a decade or more.
Bob Adams is completely invisible, so too Nick Banks and Tracie Parker. They are simply ghosts.
Erin Banks does local puff PR pieces for the opening of ideal orgs and sometimes introduces the great man himself on stage for the Ideal Org openings. But no questions about anything other than where the marble comes from for the reception desk or "tell me about the community activities of the church." She is the pedigreed offspring of a whale and a Guardian Office spy, young, attractive and speaks American — qualities poor Karin can never have so she will always be doomed to be the shadow in the shadows.
Since the demise of Tommy "I'm Angry" Davis, Dave has not had anyone he trusts to deal with the media on behalf of scientology, other than his non-scientology consigliere Muffins Monique Yingling. But even she was not sent forth with her basket of freshly baked goodies for Leah's show.
But, the REAL omissions are two-fold.
First, where is Heber Jentzsch? The President of the Church of Scientology International has been "disappeared." Like so many others, from Shelly Miscavige to Ray Mithoff (the "Senior C/S International" entrusted by L. Ron Hubbard to "take care of the tech") and Guillaume Lesevre (Executive Director International of scientology — supposed to "wear the hat" of L. Ron Hubbard in the administration of scientology), Heber Jentzsch vanished from sight and nobody apparently has the rank to answer where he is. He was the spokesperson for scientology for decades. There is no new President of CSI (just like there is no new Snr CS Int or ED Int – no other posts in scientology are important so long as "COB" of RTC is around) and you cannot even find a mention of the President of CSI on their website any more. What is the story with Heber and why no President of the church?
But more significantly, where IS David Miscavige?
Why won't he speak up? He is the undisputed leader of scientology. He alone knows how to do everything better than anyone else. He considers himself the master of controlling the media ("I won Ted Koppel an Emmy because my interview was so good").  He single handedly brought the U.S. Government to its knees.  Yet his dinghy is sinking and he is too scared to be made fun of that he cannot step out of the bubble and speak up on behalf of what he proclaims is man's only hope for eternal life. Scientologists believe themselves to be the masters of communication and the master of Public Relations. David Miscavige is the ultimate scientologist (just ask any current scientologist who epitomizes the ideal of their species and 100% will respond "COB") – yet David Miscavige is demonstrating that L. Ron Hubbard and scientology do NOT have the answers to dealing with a "few SP's" who are making up lies for fame and fortune. And Miscavige is content for scientology to be torn to pieces and destroyed by "lies" and he says nothing?
This is perhaps the greatest indictment of scientology's unworkability.
They are being overwhelmed and cowered into hiding by a "failed actress," a "wife beater" and a "cast of admitted liars".
Here is just a sampling of coverage from yesterday. It's not looking good for Dave.  It ranged from the Washington Post and USA Today to US Magazine and the Daily Mail.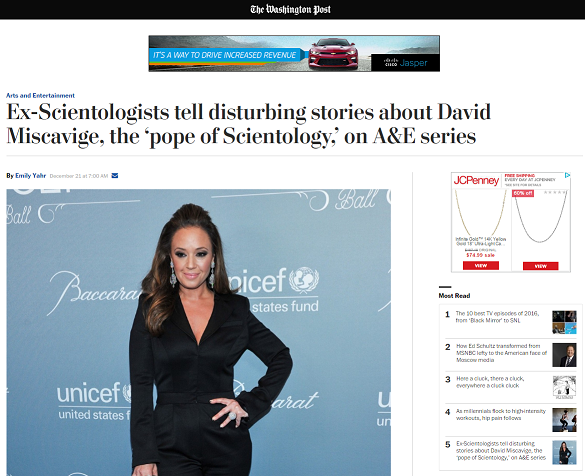 It sucks to be Miscavige.