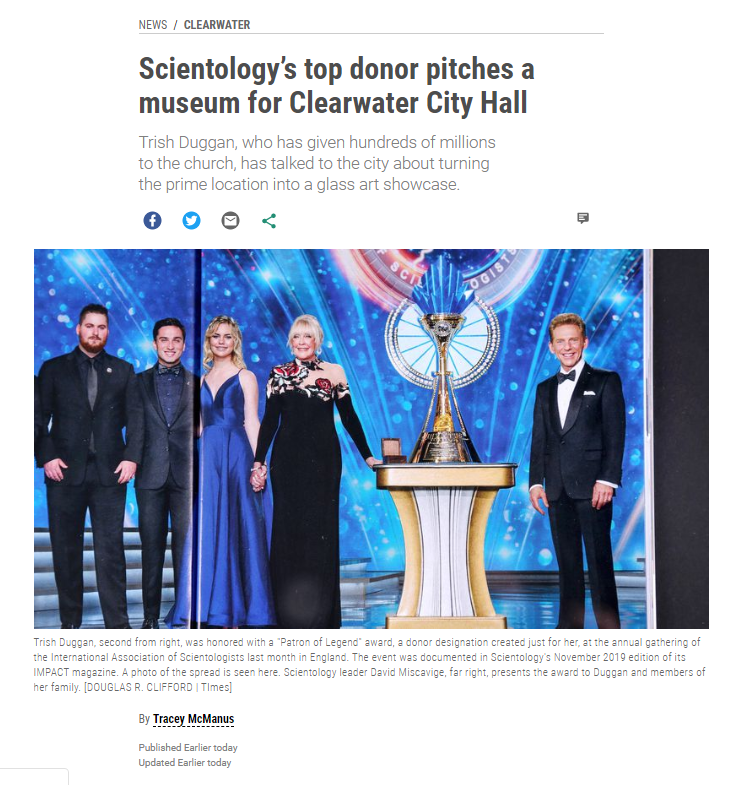 Tracey McManus broke another story concerning downtown Clearwater and scientology on Friday.
It speaks volumes about why scientology has been able to proceed unchecked with its announced plan of making Clearwater the "first scientology city."
The elected officials of Clearwater are so intimidated by the organization, and so lacking in understanding of how it works, they stumble along "trying to get along." They are forever being quoted saying "you have to play the hand you deal" and other explanations/excuses for being outplayed, outsmarted and outwitted by scientology. David Miscavige and scientology are playing a long game in Clearwater, with unlimited funds and unlimited time. The city are always trying to come up with a new plan to "revitalize" downtown in the face of the scientology blight. Those plans require money. Because they are NOT getting it from the properties that scientology has taken off the tax rolls. So, they will take it from anywhere they can get it.
Enter Trish Duggan. She (and her former husband) have given more money to scientology than anyone on earth – perhaps half a BILLION dollars. She is the most dedicated of scientologists.
It is difficult for those unfamiliar with the subject to grasp the mindset of scientologists. Hubbard made clear that every scientologist is a fundamentalist — there are no "half-scientologists".  As one of his more famous quotes goes, we would rather have you dead than an incompetent and dedicated scientologist. And his teachings (without going into a long dissertation about the Dynamics and "greatest good") MANDATE that every scientologist, in order to BE a scientologist, must put the good of the organization above all else. What is good for scientology is good for you, your family, the community, everyone on earth. Even if the "wogs" don't know it yet.
The story reports on the efforts of Mrs. Duggan (the real beneficiary of "Big Pharma" though scientology alleges they are my paymaster as "proof" that I am an evil being intent on destroying mankind) offering to use her drug money wealth to buy the symbolic Clearwater City Hall building to expand her glass museum.
According to the article, those in charge of the city planning claim:
Duggan is the only museum operator who has met with the city's architectural consultant for Imagine Clearwater.
Community Redevelopment Agency director Amanda Thompson confirmed Duggan is willing to pay for construction of a museum on the City Hall site and all operations.
Oh, how generous is that?
And it goes on:
When the city ended up buying the vacant lot for the Imagine Clearwater project, Miscavige cut communication and the flood of purchases took off. Of the $103 million spent by companies buying properties over the next three years, $99 million was paid in cash.
Duggan took part in the wave of purchases. In July 2017, a limited liability company run by her Imagine Museum vice president bought a one-story office on North Garden Avenue for $1.4 million in cash.
The city is being mesmerized by the cash:
"What do we do if our best partnership opportunity to bring something people will love is with a parishioner?" Thompson asked. "In my mind we set it up in a way that protects our interests, and that's what we can do. The city can't continue to subsidize every single thing, which is what is happening now."
Assistant City Manager Michael Delk said: "The challenge is to find a tenant that is really worthy of having that kind of level of commitment long-term as a part of the park in terms of museum quality," Delk said. "How many owners of world-class art are there out there to even attract? Ms. Duggan's art collection I think almost unquestionably would be considered world-class art."
How many owners indeed? Just one apparently. In the land of the blind, the one-eyed man is king.
In Clearwater, the man with the cash and willing to spend it is king.
They will parse a "parishioner" from "scientology" as if they are two different things. Because, you know, scientology would call us bigots if we painted them all with the same brush and said a scientologist is the same as the organization. It's what scientology does routinely. It scares politicians silly. But it's a hoax. Because the interests of scientologists ARE the interests of the organization. It's a shell game that plays the "bigot card" to its full potential.
Unfortunately, since the 80's the city has had little backbone when it comes to scientology.
"Mayor George Cretekos and City Council member Bob Cundiff said they are open to a museum being built on the City Hall property. Council member Hoyt Hamilton said a museum has no place on the pristine waterfront that is better suited for retail and residential projects. Council members David Allbritton and Jay Polglaze did not respond to requests for comment."
The final word from the Clearwater Mayor, who, in scientology terms, would be labeled "suppressively reasonable":
Cretekos said he believes Scientology's aggressive real estate acquisitions downtown are unrelated to Duggan's interest in the City Hall building.
"I hesitate lumping those two together because in my mind we're talking about two different things," Cretekos said." I go to a museum not because of who owns the museum but because of what's in the museum."
This is EXACTLY why Clearwater needs to elect Mark Bunker to the City Council.
Nobody is willing to stand up and say "Are you kidding me? A scientologist buying City Hall will be the final nail in the coffin of this city. The last symbolic gesture that scientology has turned Clearwater into the first scientology city they promised.  Believe me, that IS what they will be saying. And when some years down the line, the organization decides they need to buy the property to build a new shrine to L. Ron Hubbard, don't delude yourselves that Trish Duggan won't sell it to them for $1."
This is what Mark Bunker would understand. Because he knows the dynamics. It is why it is so vital to elect him.
If you want to support his election campaign — please go to his website markbunker.com.
PS: Thankfully, Tracey reports sale of  the property will ultimately require a referendum — the voters don't seem to be so unwilling to speak their minds as their elected officials do:
It will be up to the council to decide whether the City Hall property should even host a museum. And the lease or sale of the charter-protected City Hall property, as well as the former Harborview site, would ultimately have to be approved by voters in a referendum.