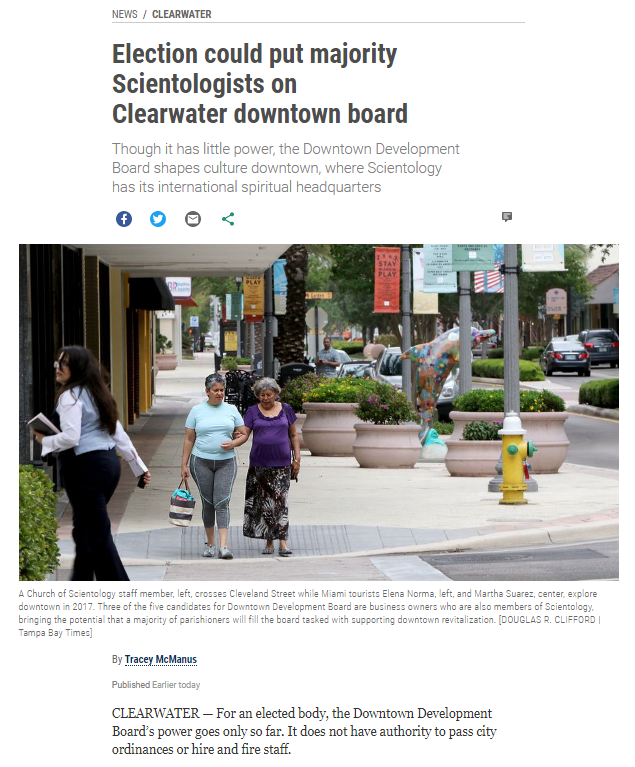 Tracey McManus article on the Downtown Development Board should be sounding alarms for the citizens of Clearwater.
She explains:
Three of the five candidates running for three seats in the Oct. 8 election are downtown business owners who are also Scientology parishioners. Three of the seven current board members are also parishioners: Stu Sjouwerman, founder of cyber security firm KnowBe4, whose term ends this year and who is not running for re-election; Ray Cassano, owner of Station Square Realty, whose term ends in 2021; and Paris Morfopoulos, owner of One Stoppe Shoppe, who is running for another term.
The Downtown Development Board doesn't have much power. It has a $267,000 operating budget, funded through a special tax on downtown property. They spend the money on things like festivals and holiday lighting.
But this modest, volunteer board could make history next month with what might be the first elected body comprised of a majority of members of the Church of Scientology, downtown's largest property owner.
If Morfopolous wins re-election and candidates Shahab Emrani and Keanan Kintzel are elected, a majority of board members, four of seven, will be associated with Scientology for what appears to be the first time.
Tracey goes on to mention Mark Bunker:
At a development board meeting earlier this month, Mark Bunker, a filmmaker and longtime critic of Scientology who is also running for City Council, addressed Scientology's role in a way that is rarely brought up in public meetings.
"If the problem downtown is Scientology, are Scientologists the answer?" Bunker said while commenting on the board's agenda item to approve the slate of candidates. "People are largely afraid to come downtown. They don't want their money going into Scientologists' pockets. I don't agree with that. I come downtown, I think everyone should come downtown. But there is that perception that has to be overcome."
Tracey explains who can vote in this rather strange election. And it would appear scientologists are going to take control.
Only the representatives of 375 properties within the board's boundaries, a jigsaw shaped area around downtown's center, are eligible to vote this year, according to Anne Lopez, a specialist in the Community Redevelopment Agency, which oversees the board.
Representatives for 402 properties in the boundaries did not fill out voter registration cards and 128 parcels are not counted because they are owned by the government or are fully tax exempt.
While 72 percent of the 60 properties Scientology owns in Pinellas County are tax exempt for religious purposes, the church can cast 18 votes for properties it owns within the development board's boundaries that are partially or fully subject to taxes.
Cassano has 58 of the 375 eligible votes for parcels he owns or represents. Fifty-three of those are for properties owned by companies run by himself with fellow Scientologist Emrani, a candidate in this election.
Scientology is following the mandates of L. Ron Hubbard. His policy for scientology states clearly:
"Bring the government and hostile philosophies or societies into a state of complete compliance with the goals of scientology."
This IS what they are working on. This is the word of God as far as scientologists are concerned.
While the City Council does not have enormous power, they do have some say in the activities of Clearwater. And they are elected by ALL the voters in the city, not a stacked deck of landowners in the downtown area.
Those unfamiliar with scientology policies often fall prey to their tactics. They become unwitting pawns in the games that scientology plays to influence their environment and gain "PR Area Control" and "Safe Points" as dictated by the writings of Hubbard.
This is why Mark Bunker is so important as a voice on the Clearwater City Council.  He knows the game. He is aware of how they go about creating influence. And most of all, he understands that the ONLY thing scientology and scientologists are interested in is what is good for scientology.
If you want to assist Mark Bunker to be elected to the City Council, go to his website: