When Mike so graciously agreed to share our plight regarding the situation with my son and the tragic accident that happened on the 5th May 2021, [A Mother's Urgent Plea for Help] I was absolutely blown away with the number of folks who readily stepped up to help.  There was so much outpouring of support, love, donations, loans and well-wishes at a time we desperately needed help, and I was quite at a loss for words as to how I was going to adequately express my gratitude to everyone.
While I concentrated on the immediate task at hand (getting my son out of "hell" and transferred into a facility that would properly care for him), Mike kindly posted a message on my behalf explaining I was knee-deep in all day-to-day mechanics involved and that I would thank everyone as soon as feasible.
Well, that day has arrived.
It is with tears of joy & relief I can report my son Jean was picked up by an ambulance team this afternoon and transferred to a wonderful sub-acute Recovery Lodge in Sunninghill – a lovely suburb in Johannesburg.  His wife and I had done research on various facilities, and this was the one we settled on.
It is a place that embraces & practices patient-centered, holistic care.  The owner of the facility graciously agreed to allow Jean's wife and son to stay with him (especially important for his emotional recovery) while he embarks on an intensive program of Physio, Orthopedic treatments, Occupational Therapy, Pain Management, Trauma counseling for the whole family – and many other ancillary therapies needed for the long road of recovery ahead of him. In addition to her kind gesture of offering for his family to stay, she also gave us a special daily discount based on the circumstances of what happened to Jean. This has now enabled us to get a private Orthopedic Surgeon to take over his future care!
Throughout the course of the day and upon arriving at the facility, it is hard to describe the sense of relief all of us felt – especially Jean who became quite emotional knowing he was finally in a place that is calm, safe, caring, and conducive to real healing. All of us, including the owner of Sunninghill Recovery, had tears flowing as we hugged each other, gave high-fives, and breathed HUGE sighs of relief.
By early this evening, Jean's wife Kirsty and the staff at the facility had managed to give him his first bath/shower since the accident and then the family settled down by the cozy fireplace to enjoy their first meal together in 5 weeks. This couldn't have happened at a more opportune time, as my grandson's 11th Birthday is on Thursday and he'll get to spend it with his dad!
Tomorrow a physician will be visiting Jean to give him a full assessment and work-up, including working out a proper pain-management protocol. We have Wound-care specialists, Physiotherapists, Occupational Therapists, an Orthopedic Surgeon, a social worker and other caregivers all on standby to commence with Jean's various therapies. We have the money to get him the best care possible because of YOU!
Today was a major turnaround for my family – and it was ONLY made possible by those of you who so readily and willingly responded to our plea for help.
With Jean now safely ensconced in a great facility, I can relax somewhat and settle down to contacting each of you within the coming days to personally thank you and discuss terms of loans where applicable.
Here are some pictures of the happy events today as Jean was transferred.
With all my love, thanks, and heartfelt gratitude to Mike and every single one of you.
Shelley Ashurst
Some more shots.
Jean being picked up by the ambulance crew at the hospital:
Arrivi9ng at Sunninghill Recovery Lodge
Settling in:
Jean's new room at Sunninghill: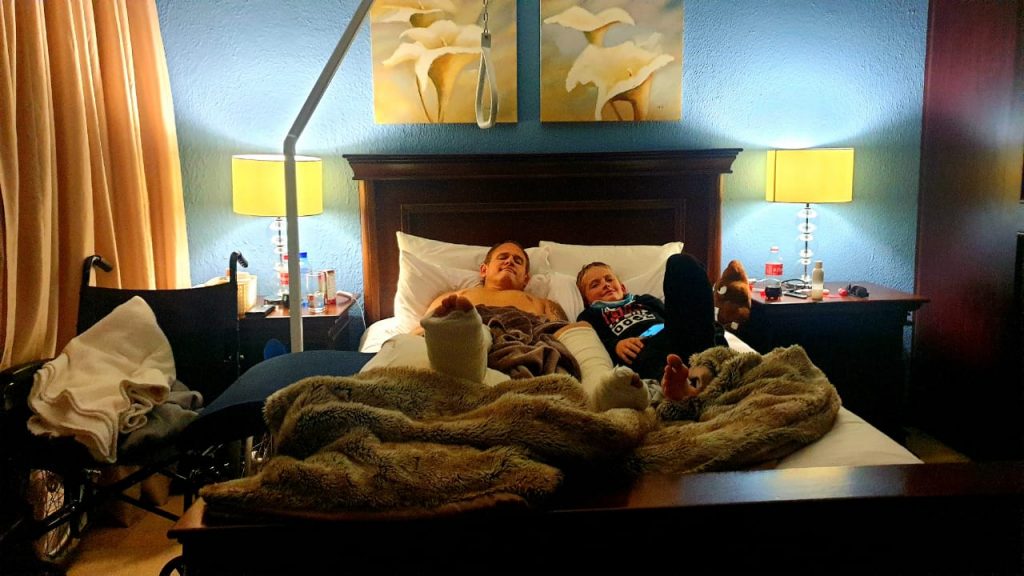 First meal with family in 5 weeks: