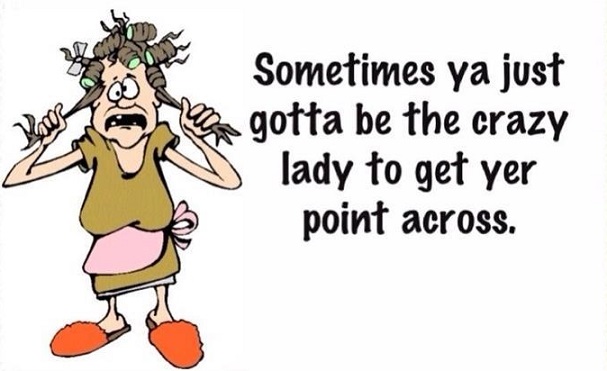 After more than 30 years, they are very slowly closing in on reaching 2/3rds of their 10,000 target. Woohoo.
Though the figure they give is certainly a lie and probably includes everyone who is "off the level" because they "started it at one time"  (you can be sure they have not deducted all the people who are now declared SP as they would be going backward in their cumulative total). But this is not new news, we have been hearing about them trying to get to 6500 for almost a year now.
More interesting are some other things said by Crazy Lady Edy Lundeen (I highlighted them in bold).
Date: Wed, 23 Apr 2014
From: Edy Lundeen <[email protected]>
Reply-To: [email protected]
Subject: Moving OT V's onto and through Solo NOTs!

Hello,

The 10,000 on Solo NOTs campaign continues to roll forward!

We are now only 10 away from the 6,500 target!!!

It is vital that you are promoting this target and are in the know on what
it takes to get an OT V onto Solo NOTs with Golden Age of Tech II.

ESACT STEPS FOR AN OT V TO GET ONTO SOLO NOTS:

A) Advance Solo Auditor Course (New OT VI Part A)
B) OT Preparations (done concurrent to OT VI Part A)
C) OT Eligibility Check (done concurrent to OT VI Part A)
D) OT VI Part B
E) OT VI Part C

ADVANCED SOLO AUDITOR COURSE
(New OT VI Part A)

The major sections of this course are:

– 13 Basics Books
– Metering (all 27 E-meter drills done 3 times through)
– Solo Metering (all 11 Solo E-meter drills done twice through)
– Simulator (the basic auditing skills needed to Solo audit through New OT VII)

Books already studied on any course, including Extension Courses, may be credited. Books may be completed on Extension Course or in any org or mission prior to arrival to Flag.

There is no longer any testing done on the Basic Books.

Length of course:

Over 500 students have now been completed on the Advanced Solo Auditor Course.

After the Basics Books are finished, by stats, 90% of public complete this course in 180 hours or less. On a Flag full time schedule that is 2 to 2 ½weeks. The average time for completion is 150 hours.

Golden Age of Tech Phase II trained auditors are credited with earlier studies, bringing course time down to as little as 3to 7 days dependent on volume of prior training.

WHAT TO DO IF YOU THINK SOMEONE NEEDS LOWER BRIDGE ACTIONS BEFORE STARTING SOLO NOTS.

Inspector General Network Bulletin 53 lays out the steps to take to get C/S okay to start on the Purification Rundown and or the Survival Rundown.

The person simply contacts their local org and fills out forms. These are then forwarded by the org to the Flag AO where public's folders are. If approved a temporary folder is sent to the Class V org for the public to start their Purif and or Survival Rundown.

TECH ESTIMATE FOR OT PREPS
Average Tech Estimate for OT Preps for those going onto New OT VI and VII with Purification Rundown and SRD complete is 1 to 2 intensives.

OT ELIGIBILITY
All OT V completions must pass a 72 question security check (Sec Check) plus 11 End Ruds, before commencing on the confidential sections of OT VI Part B.

Tech Estimate for OT Eligibility:
With Sec Check materials now in full use and due to the Mark Ultra VIII E-meter, all OT Eligibility checks for Solo NOTs are completed in 1 intensive.

TOTAL COURSE TIME FOR NEW OT VI

OT VI PART A – 2-3 WEEKS (Full time schedule after completing the Basics
Books)
OT VI PART B – 1 WEEK
OT VI PART C – 3 WEEKS

TOTATAL TIME FOR NEW OT VI, 6-7 WEEKS.

There are new special donation rates and packages for New OT VI and New OT VII and the intensives.

A being has been descending the dwindling spiral for many, many trillions of years, accumulating charge all the way down. For the first time ever one is rid of this negative charge and has one's personal spiritual freedom.

Contact us at (323) 953-3230 for more data.

Love,
Edy Lundeen
Flag Service Consultant
Ignoring her typos and spelling mistakes, this email offers some insight into the bubble.
Obviously, they were having problems testing people on the Basic Books. Likely the majority could not pass the test so they were being sent back to restudy them and this was causing slows. So dump that idea (no doubt with the explanation that now with the GAG II Shat there is no need to test people any longer).
With all current Solo NOT's auditors being ordered to redo the "new" GAG II Solo Auditor course it is shocking that they only have 500 completions. This may well include all the AO's too. This is the total of dedicated, with-the-program OT's at the top of the bridge… 500 internationally. Anyone who has not done this by now is NOT with the program.
A full time Flag student schedule is 75 hours a week. More than 10 hours every day. When do they have time to reg these people? There is a lie here somewhere.
It's good to know that "IG NW Bulletin 53" tells you how to get an OT V onto the Purif or Survival Rundown. No need for HCOB's, and anyway it's kind of hard to find ones to justify this "down the Bridge" tsunami, so just do with an IGNWB.  In the new corporate scientology any issue from Chairman of the Board takes precedence over anything else to the contrary. This IS Command Intention.
I think though the crazy lady doozie here is this amazing statement:  With Sec Check materials now in full use and due to the Mark Ultra VIII E-meter, all OT Eligibility checks for Solo NOTs are completed in 1 intensive. Seriously, it is because of the Warehouse 8? Edy, they have been using the Warehouse 8 for these sec checks for more than a DECADE. So why is it suddenly different?  Oh, just pulled that  one out of your butt….
BTW Edy, if the Eligibility runs over an intensive, is that delivered for free? (joke)
No wonder they are having a tough time getting to the 6500 level. Once the suckers have completed all their Basics, and then the new GAG II Student Hat and then redone the Purif and Objectives, they can then travel to Flag for 7 weeks (yeah, right, if Edy says it's 7 weeks it's probably 7 months), not only paying for the service, but also to stay in one of the overpriced hotels and eat the overpriced food, all the while being constantly subjected to the vultures.
A trip to hell.
I guess it's sort of like those guided "tours" where people pay good money to "rough it", sleeping on the ground, foraging for food, no soap, no toilets etc. And there is a small percentage of the population that WILL pay for someone to abuse them. It's probably a similar percentage that would pay up for the privilege of some months of abuse at Flag…. Maybe they are applying the principle of what doesn't kill you makes you stronger?