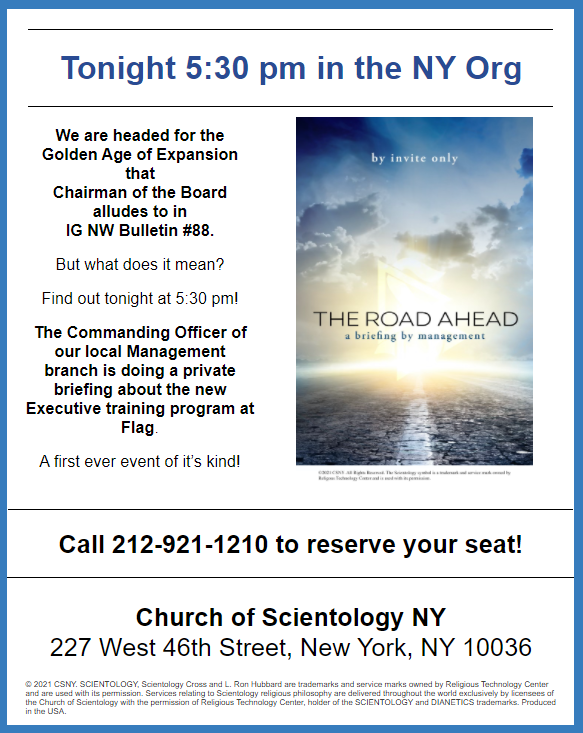 There is always a boom "coming" in scientology. The new "breakthrough" that is going to make everything that has been promised for decades finally come true.
But what is so odd about this is that it is an article of faith that they ALREADY have all the technology there is. The ONLY technology. The answers to all of life. So what is now going to be different?
Without doubt, absolutely nothing.
But these people WANT to believe there is something new just around the corner.
This time Miscavige has "repackaged" the Organization Executive Course (OEC). Nothing NEW, just a new format for the same old failed "technology" of management. It's not even up to the standards of previous "breakthroughs" that were going to "make clearing a reality"… Remember "The Basics"? How about Super Power? Golden Age of Tech? Ideal Orgs? Golden Age of Tech II? Golden Age of Tech for OT's? New Student Hat? The Complete books and lectures? The "New" Purif? Scientology TV?
Every year or so (sometimes more than once a year) there is a "big announcement" of a "milestone" in the "Golden Era of Expansion."
Wonder when they are going to have a Briefing Course again? Or Key to Life? Or Class VIII? Each of those things, in their day, Hubbard himself declared were the saviors of scientology. Or how about a new org somewhere — in a state or country where there is no scientology org now?
And finally, as for "first ever event of it's kind" – seriously?
The delusion is strong.