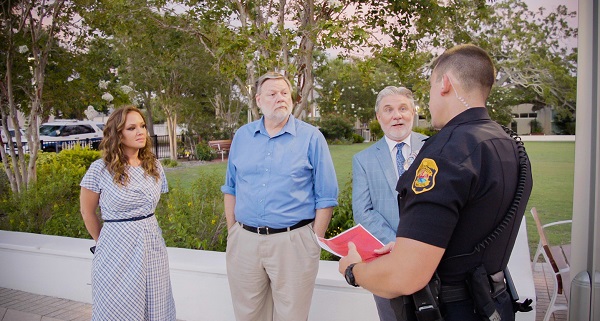 Our friend Mark Bunker is in the news again. But this time it isn't about what scientology is doing to Fair Game him.
Some of you may have seen the announcement that Wise Beard Man intends to run for a seat on the Clearwater City Commission. It was reported in the Tampa Bay Times yesterday.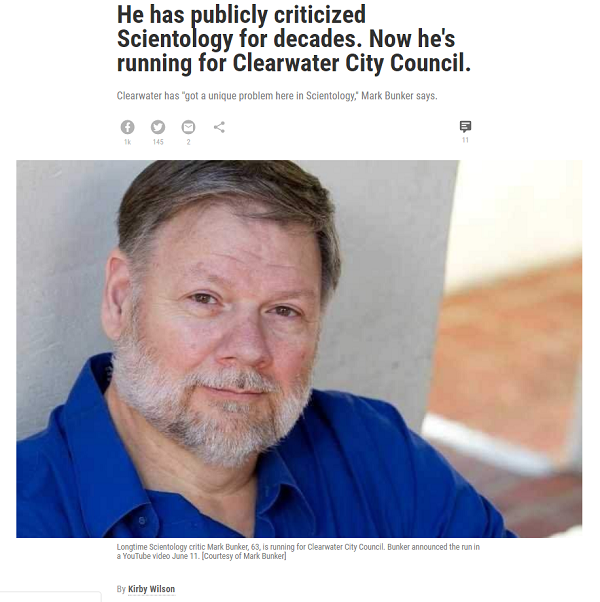 Clearwater, Bunker said, has "got a unique problem here in Scientology. And I think the city ought to balance it out with a unique council member who understands Scientology."
Mark has a long history in Clearwater and with scientology.
We discussed some of this in 2 episodes of Scientology and The Aftermath:
Mark, though never a scientologist, has a vast knowledge of scientology policies and practices and up close and personal experiences dealing with scientology (the "park bench incident" captured in the shot at the top was a remarkable expose of life in scientology's city for someone like Mark).
Over the years, many people have run for office in Clearwater, most with the idea that they cannot and must not offend scientologists by offering any sort of opinion about them at all. Back in the 70's and 80's things were different when Gabe Cazares was Mayor (if you don't know what happened to him, watch the shows linked above or Google his name).  Since the City was sued by scientology and lost, the status quo has been to publicly play footsies with scientology (while seething about them behind closed doors) and pretty much allow them to run roughshod over the community, doing as they pleased, buying properties at an alarming rate even if they had no use for them, while they implied to politicians that if they fell into disfavor with scientology, the voting block of scientologists in the local community would ensure they were not (re)elected.
Mark Bunker has long since crossed the Rubicon when it comes to scientology. He has publicly stated his objections to scientology's abuses and bullying. He has been sued by scientology. Followed and framed. It is beyond doubt he is denominated an enemy of the cult and according to scientology policy he is to be destroyed. For anyone who may be unaware of official scientology teachings on this, please read Dealing with Critics of Scientology — The L. Ron Hubbard Playbook which details exact quotes of L. Ron Hubbard that scientology WILL follow with respect to Mark Bunker.
I have long believed that the voting block that scientology claims to have in Clearwater is greatly exaggerated by them in order to gain political clout. Mark Bunker being on this ballot is going to test this theory.
This will be the biggest turnout of scientology voters for any Clearwater election in history — they will ALL be "encouraged" to get out to vote, even the local Sea Org members will be given time off to vote. And they hardly have time allocated to eat lunch… but conversely I suspect that Mark Bunker's name in the ballot, as an avowed and unafraid critic of the abuses of scientology, will encourage a LOT of Clearwater voters to head to the polls. The election of one seat on the Clearwater City Commission is going to become a referendum on how the citizens of Clearwater view scientology. I predict record breaking numbers voting next March.
Electoral rules prevent any candidate from even attempting to qualify to appear on the ballot until September — 180 days before the March 2020 elections. And no fundraising can occur until that time.
There are two (of 5) City Council seats and the mayor's office up for grabs.
Though scientology, as is usual, refused to comment to the Tampa Bay Times you can bet Mark's announcement and this story in the Times was more terrible news in the Office of Special Affairs and on board the Freewinds where David Miscavige is enjoying his annual scuba diving excursion (and conducting a few briefings in the evening). And coming on top of the announcement of being sued in California and Keith Raniere's conviction on all counts it must have been a rollicking good time for all the "OT's" "powering the future of planet earth" from down in the Caribbean. Miscavige will be back in Clearwater shortly and will be dictating the moves to be made. I would not be surprised to see them try to get a scientologist to run for the other seat (it would be too embarrassing for a head-to-head showdown – what if Bunker won?).
But you can expect to see dirty tricks and efforts to frame and smear Mark Bunker over the next 6 months. There will be claims he violated the election laws and must be removed from the ballot. Internet sites will appear claiming he is a sex pervert, thief, liar, bigot etc etc.
Scientology will wind up their surrogates and hired help (Mary Repper, Wally Pope, Ed Armstrong, Katherine Cole and whoever else they have these days) and send them out to do everything they can to scuttle him in the halls of power of local politics in Pinellas County.
This announcement is no doubt doubly concerning for Miscavige because next year will also see the departure of his long term buddies City Manager Bill Horne and City Attorney Pam Aiken. He pops in to see them and have a friendly chat and believes they are his allies in the city.
This is truly going to be a test of how much scientology can influence the City and elections in Clearwater and how much the citizens of Clearwater want to make their voices heard to install someone on the City Council who has no fear of scientology.
If I lived in Clearwater, I would be casting my ballot Mark Bunker's way. Knowing him personally, I also attest to the fact that he is a thoughtful, gentle, decent and highly intelligent man who has empathy for the well-being of others and a keen sense of fairness and justice. He is not a gimmick candidate. He is going to be a lighting rod concerning scientology, which is a huge presence in Clearwater, but he will also be a great representative of the citizens of Clearwater in all respects.
I intend to do what I can to help make every eligible voter aware that he is a fine candidate to represent their interests on the Clearwater City Commission.