My old friend, Andy Porter, sent me this article. It's an eerie look at scientology from a different perspective.
What I find especially interesting is the fact that this gave rise to an outraged piece in the New York Times, yet, as you will see, the conduct they deemed worthy of a lengthy article pales in comparison to scientology.
I would probably have added a parenthetical note to Andy's title — Amazon: The New Scientology? (Not even close…)
That said, Andy is a great writer and draws many excellent parallels.
Amazon: The New Scientology?
Back in August I heard about the New York Times expose on Amazon. Like most people I read ABOUT the article rather than actually READING the article. My general thoughts were along the line of "Oh, another soulless corporation sucks the life force out of its employees, forcing them to work like zombies to increase profits…move along, nothing new here".
Then last week I ran across the Amazonian Lawyer response to the article. I was struck by the incredible likeness to the Church of Scientology response(s) to numerous articles and interviews with former members detailing horrific treatment whilst toiling for the cause.
The ploy both used is simple: if you don't like what a former employee or member says about your group (How DARE anyone attack US!) then you just make them look like degenerate scum suckers out to justify their own criminal actions.
First of all, you have to be really stupid to think that you can handle former employee's negative comments just by painting them all to be psychos. I mean, doesn't this response FROM Scientology (or Amazon) basically PROVE that what the critic said was true???
But that's what Amazon did, naming a few of the people interviewed by the NYT and describing how they were unproductive trouble makers; "defrauding vendors and falsifying business records" (reports gleaned from the employee's personnel file); sorry, pathetic, miserable  losers who just couldn't measure up to Amazon's high standards.
Before you read further you need to take a few minutes to see what I'm talking about. Here is a link to an expose about Scientology done by the Tampa Bay Times. This series was a watershed because there were literally dozens of long-term members reporting how the church had become a madhouse of insanity under the leadership of David "the beatings will continue until morale improves" Miscavige.
Read a few of the articles and watch one or two of the interviews with the former high-ups in the church.
Then have a peek (for as long as you can stand it) at the church's response; a nasty, vitriolic, insane attack on the whistle blowers.
The funny thing about scientology (funny is used loosely here) is the way they attack former staff and members who speak out by culling through their (supposedly confidential) confessional folders for any crimes or misdemeanors that can be trotted out to demonstrate that whoever criticized the church is really someone so deprived and awful that they could never be trusted to tell the truth.
Anyway, after reading the Amazonian Lawyer's response/counter-attack to the NYT I went ahead and read the original NYT article.
Before I go further I need to disclose two things:
I have no personal experience with Amazon. I have never been to their office, nor have I ever spoken to any current or former employees.
On the other hand I do have detailed, firsthand experience with Scientology. I was "in" scientology for almost 2 decades, both as a member and as an employee. If you're interested you can read an account of my last horrific trip to the Mecca of Scientology.
Several aspects of the picture painted about working in the World of Amazon and the Church of Scientology have an eerie similarity.
On the Hamster Wheel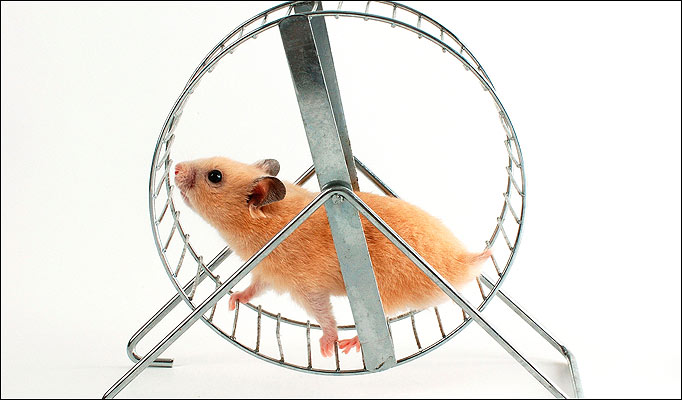 A common thread of despair painted by the former Amazon staff has to do with pressure to perform. I believe the phrase is "data that allows performance to be measured continuously". The idea being that every piece of work done is quantified and measured and the data used as a sort of prodding stick to get more production out of the employee. Motivating the Amabots is the term used in the NYT article to describe the relentless pressure brought to bear on employees to increase production.
In Scientology this is known as "Management by Statistics", Hubbard's system of quantifying every employee's products into statistical graphs. In the Church, stats are reported weekly, and each week your stats are expected to be up above the previous. In Scientology (aka "The Church of What Have You Done For Me Lately") you'd better have your stats up every week with no exceptions or excuses. It is common practice for staff to work until midnight, or 2 am, or all night to "make it go right" and get the stats up before the deadline. Down stats are handled with an iron fist. Hubbard says that one cannot be reasonable with down stats. A staff member in Scientology can be demoted, sent to a rehabilitation program (gulag) and given confessionals to discover his/her crimes behind the down stats. I would wager that all former (and current!) Scientology staff member have had more than one nightmare concerning the weekly stats and the "handling" they received.
Don't get sick
Maybe the most alarming part of the Amazon story was the numerous reports about sickness, illness and children being considered a "distraction" from work. The idea that an employee would take time off to deal with an illness, whether their own or a family members, and get in trouble in any way is completely fucked.  Being put on a "performance improvement plan" because you have breast or thyroid cancer (and your stats are down) is precisely the kind of uncaring, robotic and evil handling one would expect from working in a machine run world.
There are also reports of people getting demoted or enduring some sort of hazing because they had kids, or needed/wanted so spend time with them.
According to the NYT the Amazon response is that such responses to employees' crises were "not our policy or practice" and "If we were to become aware of anything like that, we would take swift action to correct it."
This Amabot response also implies that if anyone did do these bad things at Amazon, that we, the upper level management surely didn't know about it. Clearly, if such sick shit did happen we would have immediately put an end to it.
In Scientology a sick or ill person is labeled a "Potential Trouble Source". Such individuals are considered to be under some form of suppression, and so in a mental state where they can easily make mistakes which endanger the group. Being sick is also connected with being "out-ethics", or having committed some sort of bad deeds that helped you somehow "pull in" the illness. This idea that illness is caused by your own bad karma means that YOU are responsible for your own sickness, that you have some spiritual defect. The result is that if you're in Scientology and you get the flu you tend to feel guilty and try to hide it.  Sick and ill people are shunned. Caring and concern are replaced by suspicion and contempt. Scientology staff members who have cancer and other sever illnesses are often off-loaded and kicked out.
The indoctrination inside the church is that NOTHING is more important than being on post and getting the stats up. Taking time off to tend to a sick (PTS) relative would be considered a waste of time.
The idea of child care follows a similar vector. Kids are a distraction. Scientology Sea Org (upper level) staff are urged to get abortions rather than have children. There are literally hundreds of horror stories of how badly kids are and have been dealt with through the Church. Here is the story of Jenna Miscavige, David Miscavige's niece, and her childhood in the church.
Crying at Their Desk
Despair is partly caused by feeling trapped. A deep hopelessness comes when one cannot conceive a way out. Of course there is ALWAYS a way out. Just leave, go, quit, move on. But when you're "in" the cult of Scientology (or Amazon) it's not so easy. There are considerations. Money, friends, relationships, what others will think of you, letting down the group, how it will look on the resume, all of these thoughts and more stick you there like glue. Feeling intense pressure to perform and contemplating the price of failure can make anyone cry.
But in a Scientology organization you simply do not cry at your desk. Doing so would indicate that you had a disagreement with the way things are, you would be accused of dramatizing, and making your senior wrong. In the civilized world of Scientology crying is only done in the dark, alone when no one is around to report your weakness for thought handling.
Similarities and Differences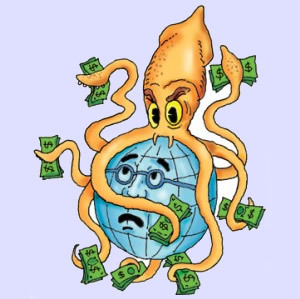 The biggest difference between Amazon and Scientology is employee compensation. In the Church of Scientology staff members get paid almost nothing. In the upper level management sector, known as the Sea Org staff work an average of 70+ hours a week for a total weekly salary of $50. Clearly this is an area where Scientology has Amazon beat hands down. Getting abused for high pay is one thing, but having the life squeezed out of you for $50 a week, this shows a great sophistication in human motivation on the part of the Church.
Fish Rots from the Head
Why did you stay? Why didn't you leave sooner? How could you work at such a place? These are common questions to ask of anyone enmeshed in such a group.
There are many answers. One, albeit unflattering, answer is that until this bad shit happens to you personally it's not real. All the stories of how bad someone else is treated have little impact until…it happens to you.
Then there is the group dynamic. The bond of co-workers is strong. You want to stay and help your team overcome the obstacles. Leaving would be to abandon your pals.
When you do directly witness some bat shit crazy stuff done to other employees, people make excuses for it. The employee who was offloaded had it coming, they deserved it. Bad managers are believed to be just an anomaly. They don't represent the True Values of those at the top of the pyramid. There is an unquestioned acceptance of the wisdom and compassion of the Top People (or Person) and so any and all bad practices from some mid-level manager are explained away.
I bought into this for many years while in the church. My observations of how bad things had gotten were allayed by my certainty that the top guys were totally awesome, cool dudes. Slowly my eyes opened and I was able to see through the illusion and realized that the actions of the mid-level staff were simply an extension of the intentions and philosophy of those at the very top.
Amholes
One part of the NYT article that made me laugh was the introduction of the term "Amholes"; a derisive term for former Amazon employees who are combative, pugnacious and work obsessed.
Here is another point where Scientology has Amazon beat hands down AGAIN. Watch this clip from the Anderson Cooper CNN show where several current Scientology staff members talk about their ex-husbands who left the church.
In Scientology ruthlessness is considered a valuable trait. Only the biggest Amhole (aka: David Miscavige) has any chance to rise to the top of the heap. Staff members are trained to be unreasonable and demand production, no matter what. When you're saving all humankind there is no room for hesitation, kindness or compassion.
Fairness
I understand that it's not fair to compare a completely bat-shit crazy cult like Scientology to Amazon. The unpleasant practices detailed in the NYT article are pale shadows of what happens in the church. But there are parallels.
In an effort to increase production and get the stats up it is easy to lose any sense of humanity and caring. In our current corporate run world people are just another commodity, or worse profit center, there to be used until they cannot be used further, and then discarded. I am certain that Amazon is not the only mega-empire doing this sort of shit, in fact they are no doubt not even the worst example out there.
But when the stories of mistreatment are outed and the shit hits the fan the right thing to do is to do a deep analysis of what you've morphed into and change it fast. Rooting out the insanity and making things right is the only sane action. Attacking the people who had the guts to report how bad things have gotten only proves to us all that you just don't get it.