Now, this is a deadly serious activity. It is also another of those inadvertently revealing things from inside the bubble that appears out of the ether with more regularity than one would expect.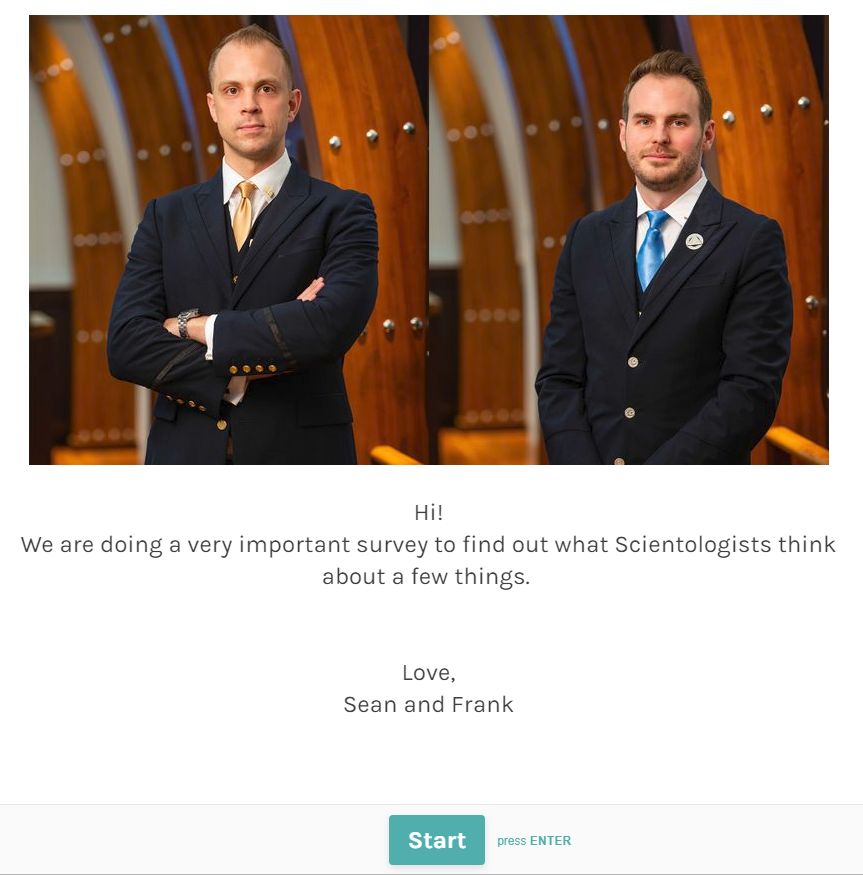 "Sean and Frank" clearly mean business.
And this is VERY important.
We need to find out what scientologists "think" about a "few things."
Well, being a sucker, I took the bait.
Here is the first question:

Now, what good scientologist would not answer that they have at at least "wanted" to do this at some point? It's like asking "have you ever wanted to have money". It's designed to gain some agreement and really has nothing to do with anything else in the "survey."
The next question is a little more to the point — but still is almost like the one above. Intended to get someone nodding their head in agreement and moving onto the next question,

And now the Truth Revealed. This is a Sea Org recruitment pitch. Starting out with a bit of a qualifying question — if you are breathing and don't have a certificate from a pharmacist that you did in fact take actual LSD and were not taking something else that just looked and acted like LSD — you qualify.

And that is literally the end.
Do that loving pair Sean and Frank think they are going to accomplish something with this survey?
Really?
This is the sort of thing someone does either: a) to cynically prove to your boss that you are doing something other than just sitting in your office getting nothing done or b) you are so desperate you will try just about anything.
If this is what they are doing to try to recruit people for Flag you know they are not getting many recruits. They have relied pretty much exclusively on the children of scientologists and people from Venezuela, Central America and Eastern Europe for their recruitment in recent years. It would not appear things have changed.
So much for the "important survey"…