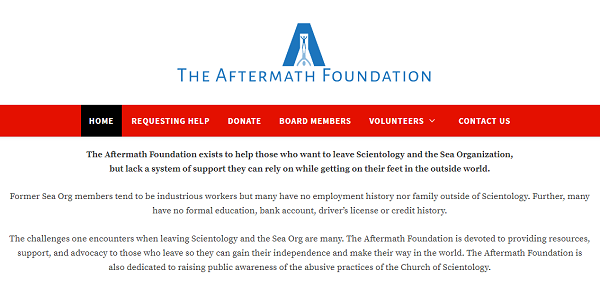 I mentioned recently that we would have a write up from one of latest people helped by the The Aftermath Foundation. Here it is. With some interesting insight into the reality of the latest "ideal org" demonstrating the massive international expansion of scientology.
I was introduced to the world of Scientology in June of 2012 when I traveled from Utah to Michigan to do the Narconon program at the "Freedom Center" in Albion. After completing the program I was recruited to remain at the Narconon center as a staff member, which is a common practice at Narconon.
I was a withdrawal specialist for almost two years. I had to deal a lot with the sales staff telling lies to get people in the door. I would have to chase students down if they tried to leave. I was made to work 12-hr days 6 days a week. I would maybe get one paycheck a month.
At the end of 2014 I left and went back to Utah.
In September 2018 I got a phone call from a friend who had worked at Narconon with me. He was now the Deputy Executive Director for the Detroit Org and was recruiting as many staff as possible to prepare for the grand opening of their newly-renovated building in downtown Detroit.
I was given a bunch of false promises about the opportunity. I was told I would make up to $1,200 dollars per week. I was reassured multiple times that I'd be guaranteed a livable wage. I was told my first couple months rent would be free, so I could settle in. All of this turned out to be untrue.
I was skeptical after being burned by similar promises at Narconon, but after being given many assurances by my friend and the Sea Org recruitment team this would be a good career that paid real money, I agreed to join staff at the Detroit Org.
I traveled to Detroit to be present for the Grand Opening and signed a 2 1/2 year contract at the event. I then came back to Utah to pack my things and went back to Detroit.
The actual experience was nothing like what I had been promised.
At the grand opening event the SO recruitment team (SO members helping Detroit org recruit non-SO staff) told me there were 165 staff members. When I started on staff, I saw 30 staff at most. My first 2 weeks working there while also doing my basic staff training I made $100 a week. I was told pay would get better once I was finished with my basic staff training.
However, once I was done with my basic staff training they wanted me to become the Purification Rundown In-Charge, but I would need to do some full-time training for this post first. Well that made things worse for me since staff on full-time training only receive half-pay. I said I didn't want to do this, but I wasn't given a choice.
For the next two months, the most pay I received for any week was $200.
The low number of staff was a problem. The main focus of every staff meeting was what we could all be doing to recruit more staff. The were only 5 staff qualified to deliver auditing. The rest of the divisions each had 1 or 2 staff in them.
Every public who came in for course or auditing was also heavily recruited for staff. The gross income of the org was so low that staff members were being regged to pay for courses and auditing (this is supposed to be free for staff members).
I was working for Scientology full-time making almost no money. I was renting a room at a staff house the org had leased and was sub-leasing to new staff members. What little money I was earning was going back to Scientology in rent and I barely had enough left over to eat. I didn't have enough to make my car payment or insurance payments. This was not what I signed up for and I wanted to leave but couldn't afford to get home.
I told them I wanted to leave and they said I had to route off of staff property (this requires lengthy interrogations). Since I wanted to leave, they stopped paying me anything at all, and wanted me to go through this process on my own time and dime.
While I was in the process of routing out it came up that in the past I had seen a psychiatrist. I had told the SO recruitment team about this before joining staff and was told that I was still qualified to join. Apparently none of the SO members wrote down what I'd told them, so when it came up again, the Detroit staff believed I had lied about my past just to get on staff.
Scientology has a policy called "Leaving and Leaves" which says that if you are leaving it is a crime to tell anyone else about it. So I was prohibited from speaking to anyone else there about what I was going on with me at the time.
I was stuck. I reached out to friends and family in Utah for help. They posted on Reddit asking for advice on how to get someone out of Scientology. Several people suggested they contact the Aftermath Foundation, which they did.
Very soon after, the Foundation helped me with the funds I needed to rent a trailer, get current on my insurance so I would be street-legal, get caught up on my car payment so it wouldn't be repossessed when I got back to Utah, and enough funds for food, fuel and hotel for my trip home. They supported me every step of the way, which included getting stuck in a snow-storm, getting sidelined by a windstorm, etc. It was a crazy adventure.
I could not have left the Detroit Org and gotten home without their help.
J.T.
Ron Miscavige Podcast This Morning
Around 11am EST this morning I will be joining my old friend Ron Miscavige (you may be surprised about how long we have known each other…) on his weekly podcast.