These guys keep putting out the "facts" to disprove the lies being told by David "Let Him Die" Miscavige about "massive international expansion."
Remember, this is the "model" ideal org (at least until the "model" became a Sea Org staffed org in LA, which is no model for anything).
And it has been an "ideal org" longer than any other org on earth. And moved from their original "model ideal" org to a new building to "accommodate their expansion."
First, and a side note to the real issue, but nevertheless worth mentioning. How does a "model ideal org" that has been "ideal" for 12 YEARS have ANY backlogged "CF filing"? Does not seem very "model" or very "ideal." Just more evidence that the administrative system of scientology is a Rube Goldberg machine that is a model of inefficiency and incorrectly assigned importances. Sisyphus would have given up in exasperation had he been assigned as CF officer in a scientology organization.
But that is not the real point. They proudly announce they have 65,000 in their CF. This is everyone who has ever bought anything from Tampa Org.
Let's give them the benefit of the doubt and assume just for fun that before the org became "ideal" in 2003 they had accumulated 25,000 names in the previous 25 years of existence.
I am sure one could find the pleas for help to get their "CF backlog handled" in 2002 "in preparation for opening the new org building" (remember, even though this is the first "ideal org" that concept wasn't born until AFTER this org was opened). And likely they had MORE than 25,000 in their CF. The 70's and 80's were much better times for influx of new public into scientology.
So, assuming an increase 40,000 names in CF over 12 years is an average of 3333 per year. Or 65 per week.  This is 65 books sold or new people started on a service in a week. Each one of those adds a "New Name to CF" and remember nobody ever goes OUT of CF.  They can be "deadfiled" but they are still "in CF" (just in case they "come to their senses and recant.")
This is the MODEL ideal org remember.
And let's also not also forget that a large chunk of Tampa's public are rejects from Flag. The people who find out when they arrive that they are "not eligible" to take services at Flag. And the "Flag public" in the local community who are not allowed to be on Flag lines or just don't want to pay the exorbitant prices charged by Flag.
65 per week is nothing to get excited about.
Another way of looking at this: Since 2003 the population in Tampa Bay has increased by 75,000 PER YEAR. Or in other words, more people have moved into the area in the last YEAR than the entire number of people who have EVER bought anything from Tampa Org. Or put another way, their CF is less than 2% of the population of Tampa Bay.
Or, they are going backwards at a rate of 72,000 per year — 75,000 new people and 3333 who make it into the org and buy something.
And this is the "oldest" and "model" ideal org.
As David Miscavige would say "Now, THAT'S planetary clearing on a monumental scale."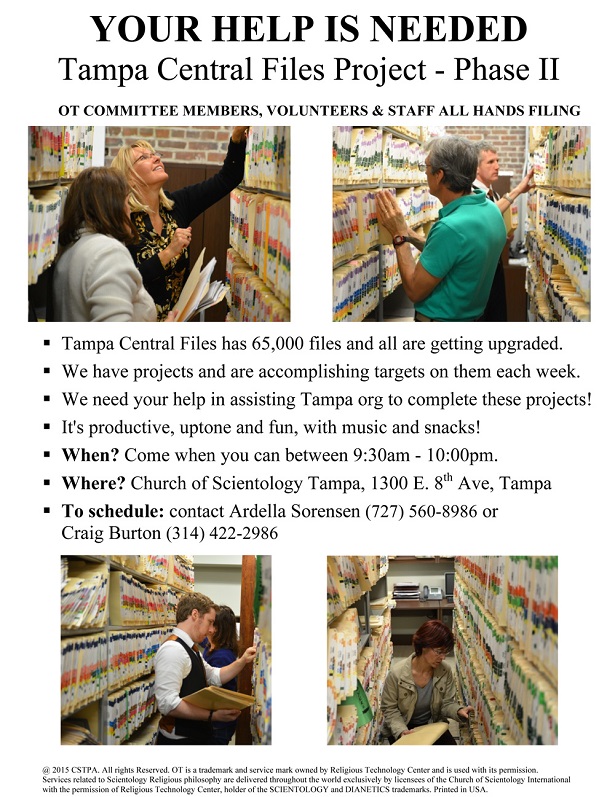 Where are the kids? The Clearwater scientology schools traditionally send their kids over to file the CF as "community service."