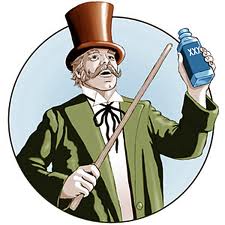 Radical Corporate Scientology has become a collection of individuals begging for money under various guises and for an almost unlimited number of reasons.  It is hard to imagine what it must be like to be one considered fair game by the circling vultures. I am sent the pleas and demands on a via and invariably the person who send it to me reports the insane volume of calls, texts, emails and snail mail that they receive. Fortunately, I get nothing from the RCS directly.
As time goes by the "reasons" to give become more and more "creative."  It's like a convention of snake oil salesman gathered around a table — those with the best (most pathetic?) pitches will get to eat from the ever-diminishing amount of meat left on the few remaining carcasses. As the salesman get hungrier, their pleas become louder, more frequent and more insane.
See the post a couple of days ago concerning using Sea Org Day as a poor excuse to give money to the IAS.
And yesterday's posting on Tony Ortega's blog that reported the REAL truth about how many Scientology books are in libraries around the world, a summary sent in by a librarian who has access to a computer system available only to libraries. 
Now, Bridge's most prominent snake oil salesman throws his Sea Org Day hat in the ring with this plea for more donations for the "Ron Series." 
It is of some note that Bridge pushes these books SO HARD — written by Dan Sherman,  not L. Ron Hubbard. Miscavige pounds on SCIENTOLOGISTS to buy the "BASICS" and then pounds on Bridge to get Dan Sherman puffery into broad distribution. Bridge SHOULD be getting BASIC BOOKS into raw public hands. That is their job.
Except, as with everything else in Radical Corporate Scientology, it comes down to short term MONEY MAKING. Those Ron Series are a big profit item. And according to Howson they have "completed 73,000 presentations" in the last few months. No details whatsoever about what those "presentations" consist of, but we all know that this really means how many have been SOLD. Some may have been mailed. How many actually reached the supposed "OLs" is probably a handful.
But in addition to the insanity of promoting "Sea Org Day" as a " buy now" to Non SO members (a celebration by the way that has been canceled because no Sea Org entity is ever "upstat" enough to have Sea Org Day, yet more proof that the straight up and vertical expansion exists only in Miscavige speeches), he comes out with one of those insane LRH quotes to justify why we have to "make this target before Thursday at 2." It is just so twisted and weird it's virtually impossible to get your wits around. The ONLY way this quote could make sense is if the reader literally thinks "Oh, Patrick says LRH says we have to get out 100,000 Ron books this week before 2 — and if he says it, its gotta be true."
And finally, he is going to issue special Sea Org week commendations to all the non Sea Org people who give money this week.  That gives me a big time money-making idea (or maybe it's a premonition?).
The RCS can start SELLING SEA ORG RANKS. It's the PERFECT status button. They can pull out some LRH quotes about how Sea Org Members are the super elite, the Loyal Officers, the ones who would be lionized were they to walk into any organization etc etc etc. By levels of donation you move up the Sea Org ranks and ratings. You start out as a Petty Officers and move on up. When you finally make it to Midshipman (sort of the make-break point equivalent to a patron with honors or $100,000) you qualify to wear a thin gold stripe on the sleeve of your tuxedo and have everyone who has not attained that status call you "Sir."  You can progress all the way up to Commander ($10 million) with scrambled eggs on the brim of your cap (no Captains, that is reserved for Voldemort exclusively unless someone offers $25 million and he will assume a new rank of "Commander In Chief" with gold stripes all the way to his elbows).
Now this is a real potential money-maker. You read it here first.
From: Patrick Howson <patrickh@bridgepub.com>

Date: Tue, Aug 13, 2013 at 5:40 PM

Subject: Update: Sea Org Day Game!
As you may have noticed from this week's LRH quote, yesterday was the 46th Anniversary of the Sea Org and this week we are playing a game for LRH – the Commodore of the Sea Org!

As a team, we've completed 73,347 presentations of the Ron Series to Opinion Leaders in the last few months, and we want to get up to 100,000 before the end of this week.  Why 100,000? Here's a quote from LRH to explain:

"A survey of all of this demonstrated that at any one time on Earth there were not more than about 10,000 people of a caliber that was sufficient to do a little steering or leading. … There's only about 10,000 of them, really. And below that level you have something in the neighborhood of about 100,000 or 150,000 – 200,000 people who have a competence of assimilation. That's about all." — LRH, 18 December 52

As you can see, this target is of strategic importance in bringing about awareness of LRH solutions around the world! 

So here is the game: This week, we are issuing special Sea Org Week commendations to anyone who can contribute to this major accomplishment, in commemoration of the 46th Anniversary of the Sea Org!

The full details follow… or you can go ahead and make your donation here:

Make your $25 donation here

Make your $100 donation here

Make your $250 donation here

Make your $500 donation here

Make your $1000 donation here

Or call me at (323) 899-1034.

You can also forward to a friend.

Thanks very much in advance!

Best,
Patrick