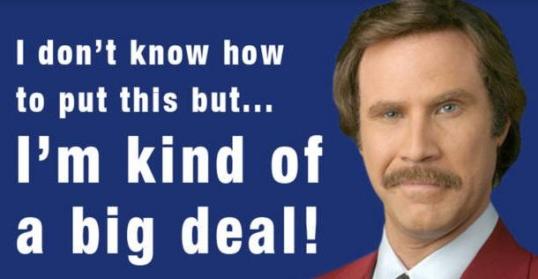 This is the closing address from David Miscavige at the last IAS event, now transcribed and preserved for eternity as all pronouncements from Dear Leader must be.
He is becoming a parody of himself — and the speed of his descent into a character right out of a "Funny or Die" skit or the next Will Farrell movie appears to be accelerating.
Even the photos he is selecting for photoshopping are getting stranger. He has almost perfected the Ron Burgundy sneer of superiority.
Either those gold buttons are getting bigger or he is shrinking….
A few memorable shermanspeak diamonds in here that are pulled out for only the most hallowed occasions — when the pitch to fork over cash reaches its peak. And there is nothing that exceeds the pinnacle of the sacrament of the "church of scientology" — COB's "closing remarks" at the International IAS Event. This is the Easter Mass of scientology.
A mere half page of scrambled word salad for this august occasion qualified for no less than 5 trademark Shermanspeak sentence openers:
In point of fact…
Ergo…
While, in full and all told…
But, even so and only with… 
While overall and in totality,… 
But notwithstanding that, and given the importance of the occasion, not to mention the significance of the event and the whole track historical magnificence of the location, the flowery shermanspeak bloomed like orchids in the rainforest, signalling to one and all that a Gettysburg II was upon them. A truly earth-shaking moment that literally flipped the universe and collapsed the time track, punctuated with these fevered expressions:
We are the rock & fortress of humanity…
…you are witnessing a space-time continuum where clocks stand still…
…a panorama of expansion to the far horizon and it can only be described as breathtaking.
…we are everywhere and everyone.
I do so from a grand perspective…
…a significant donation is all that stands between a great void where souls are lost forever and a message to billions…
Phew. This gives new meaning to the term "purple prose."*
In fact, it is pompous purple prose.
Apparently Miscavige has become so blind to the outside world that he does not even realized how arrogant he sounds. Or maybe he does, and he just doesn't care: because the sheeple would not dare do anything but lick his toe jam, and the non-sheeple are just "wogs" and their opinion doesn't count.
* From Wikipediea: In literary criticism, purple prose is written prose that is so extravagant, ornate, or flowery as to break the flow and draw excessive attention to itself.