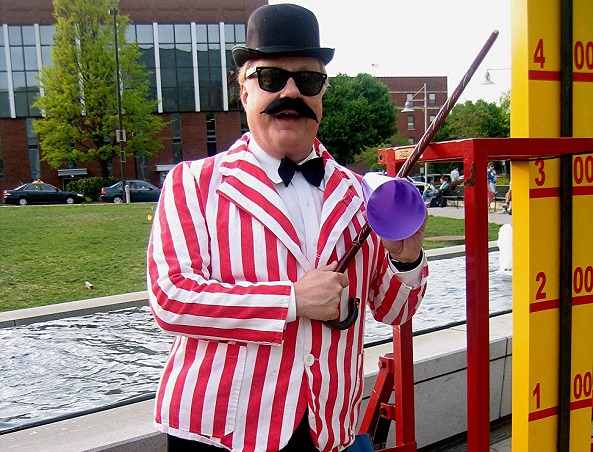 Here are some more outrageous claims about Super Power, including from the mega whale himself.
The most outrageous statement is in the third paragraph. And the scientologists wonder why people think they are "anti-doctors" and the church loudly proclaims this to be a lie. Meanwhile they promote this sort of nuttiness
Scientologists generally ARE "anti-doctor" (unless they are a wealthy doctor who can donate to the cause…)
SUPER POWER® PERCEPTIC DRILLS SUCCESSES
Level of Consciousness
This was an awesome experience! Through the process of communication via my sense channels I fully realized WHY theta has provided me the 57 perceptions. It is so I can orient myself, perceive my surroundings, my emotions, emotions of others. This is not possible just by "seeing or glancing at something." I must get into comm via as many sense channels as possible. Then and as I do that my level of awareness, my quality of perception really changes for the better. I "know" more about what I am actually confronting. This is really a drill to live by. USE all my perceptions as needed. But no longer will I substitute "thinking" for real perception through examination via my perceptics as appropriate. Thanks.
– Bob Duggan
Awareness of Others
There is little if anything more moving to me spiritually than the awareness of others! Their beauty, their desire for good, their striving for freedom, their persistence to further life no matter what. Now we have the technology, the trained Sea Org, the Ideal Orgs and many, many public all aligned with a common purpose – clear the planet. All those that desire to be free, be free. Now from this point in time until that happens, and it is happening and it will happen, life will proceed to become more and more livable. This is true for several reasons, all of which are creations of LRH but delivered by the Sea Org. But a big reason is because Super Power (extraordinary ability to be) has now been unleashed. It is rolling into our spiritual DNA. We are now really and quickly more able to be able to make our postulates an everyday reality. Thanks! – Bob Duggan
Organic Sensation
Very cool! I realize that I can perceive far, far more than I had thought. Again – turning my body and its health over to doctors is just plain ridiculous! Additionally, I'm being much too "careful" of it! It is tough, strong, resilient and roaring to go! I can give it more use and far more motion than my current exercise is providing. Loved this one! I get it now!
– BR
Sound
This drill was great! I was able to increase my ability to differentiate between different sounds and heard sounds that I didn't previously! I realized that my perception of sound is merely a matter of intention to hear! Thanks to my drill supervisor, COB and RTC for making this a reality and LRH for giving us this tech! – EP
Sight
I have always considered that I had and still have good sight. This drill has confirmed this idea and has disabused me of the idea that my sight will deteriorate the older I get. Thanks to my up-tone Drill Supervisor! – WB
Fields/Magnetic
That was very fantastic! It was very clearly apparent to me the presence of electrical and magnetic fields. In the beginning it was very weak and the more I worked with them the more sensitive to these fields I became and the more aware of them I was. It was also very apparent, their effects on the body. Magnetic fields produce a strong pull on the body I never would have noticed before. Nice! – JG
Physical Energy
It's interesting to be aware of my body's physical energy level and quite useful as well. I could perceive the cells replenishing the energy being used up. They got real busy during and slowly after the physical exertions, then went back to the former lower level of activity. The body is very mechanical indeed! – ZK
Rhythm
This was great. I got my rhythm back! Also my ability to differentiate speeds of rhythm got validated. All wins! These past several perceptics having to do with sound have rekindled an interest in music. Thanks! – JM
Super Power is waiting for you at Flag! I can help you get there. Please call me or write anytime for anything.
Love,
Sandy Dodwell
Flag Service Consultant
And here is another one proclaiming the virtues of "Flag."
Taken at face value, simply reading the words on the page, it is absolutely crackers. A perfect demonstration of the glee of insanity that Jason Beghe describes so well in Going Clear.
But it is something a bit deeper that caught my attention.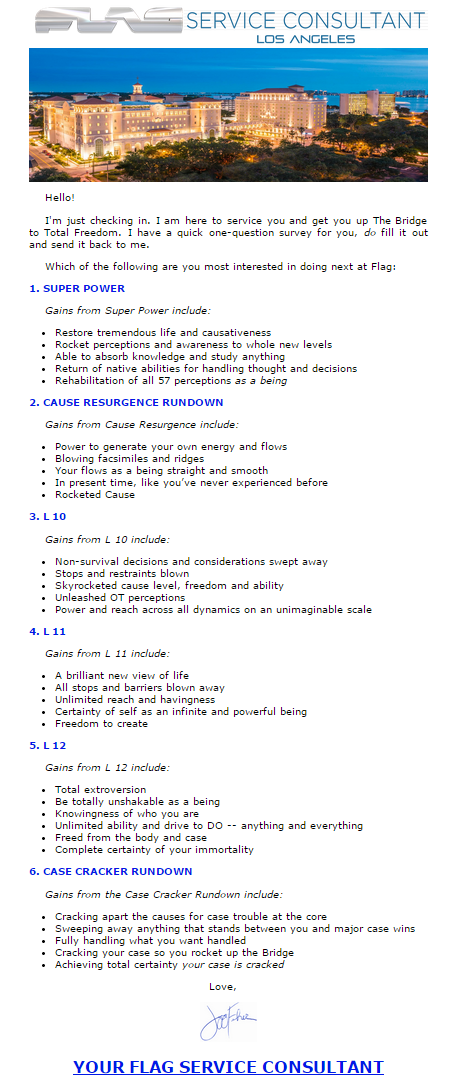 IF these things were true, and people actually had "power and reach across all dynamics on an unimaginable scale" and their "native abilities" were returned for "handling thought and decisions," and had "rocketed cause" and all "restraints and stops were blown" etc etc two things at least would come to pass:
1. If nothing changed in scientology, anyone who gained those increased perceptions would be INSTANTLY gone because they would SEE what is going on
2. Or, pplying all that cause and intention and power to scientology would result in the whole world getting on board, and scientology truly WOULD be rocketing, "straight up and vertical" with new milestones every 4 seconds and planetary clearing all but "Done Sir."
Neither of those things are true, ergo the "wins" are not true either.
This is part of the trap of scientology. If you can convince someone that these ARE the "wins" they are achieving, they MUST buy into the concept that scientology IS expanding. Otherwise it would invalidate their "gains" and "abilities."  It is a symbiotic relationship between the people who are wanting to believe they have achieved superhuman powers (after all, they would like fools if they didn't after all the money they spent) and David Miscavige who tells them their "superpowers" are resulting in "enormous milestones of unprecedented expansion." It's a model mutual masturbation society.
They ALL know they are ALL lying, but as long as nobody stands up and shouts "the Emperor has no clothes" they just carry on stroking themselves that they are "clearing the planet" and "this is the greatest time in the history of scientology." And at the base of those lies are the false assertions "I am cause over life" and "I have no problems" and "I can create infinite energy and power."
Truly, a created universe of delusion.