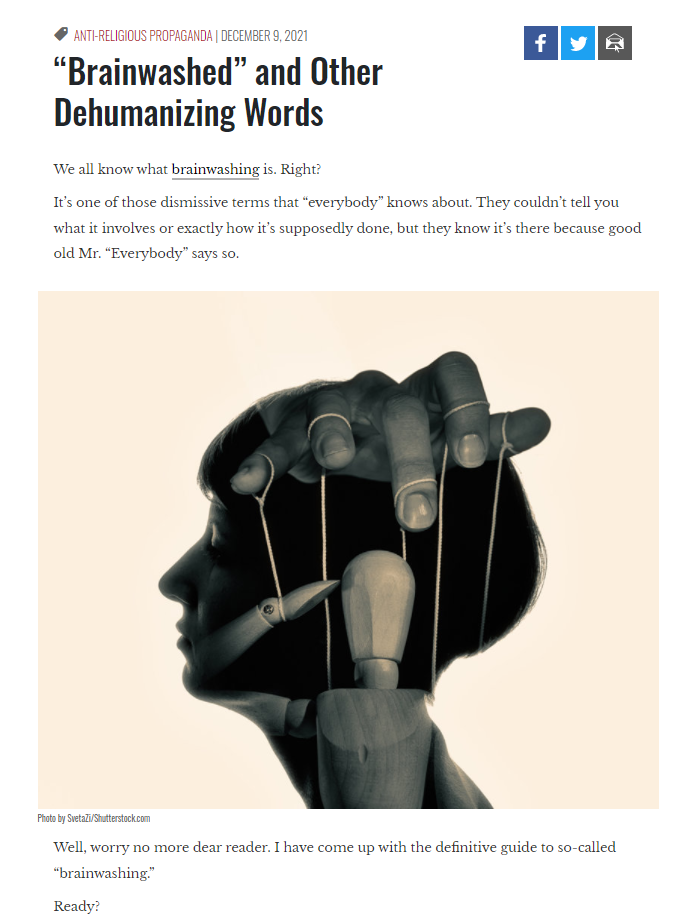 I noticed this some time ago, but had not gotten around to doing anything with it. Another brilliant analysis from the experts at STAND: who of course know absolutely nothing, including what Hubbard had to say…
He kicks his piece off with a witty description of how to "wash a brain" before prattling on about how brainwashing is a hoax:
How to wash a brain:
Carefully remove the brain.
Gently immerse it in a bowl of lukewarm soapy water.
Scrub the brain gently with a fine bristled brush.
Rinse the brain.
Wrap the brain in plastic wrap to prevent further soiling.
Though washing brains is not recommended for individuals prior to their actual demise (when the brain will no longer be in use), the procedure for washing brains is simple and can be a rewarding way to pass an otherwise dull evening.
He continues in this vein for some time, seeking to persuade the world that scientologists are NOT brainwashed, because there is no such thing. It's impossible. Just cannot be done.
Thus, the term "brainwashing" can be safely swept into the same pile of other vagaries as casting spells, lucky charms, signs and omens.
Of course, he should be asking himself whether being convinced that the words of one man, ALL the words, are absolutely true and should never be doubted would fall into the description of brainwashing… Whether he is in fact able to "think for himself" or simply goes along with the words of Hubbard no matter how crazy or false they may be is an indicator that someone has given up their ability to think critically.
So, what does Hubbard say on this subject? Remember, he wrote a whole book (Brainwashing Manual) he falsely claimed was sourced to the Russian secret police chief Beria.  It was just another of Hubbard's stunts to convince the world that only scientologists could understand and undo brainwashing.  Chris Owen took this apart in an excellent 2 part piece on Tony Ortega's blog:
How L. Ron Hubbard tried to hoax the FBI, and "brainwashed" politicians of the far-right
Hubbard's "Brainwashing Manual" — how a crude scientology joke became a far-right touchstone
Hubbard really wanted the world to believe in brainwashing, as detailed in Chris' expose, and here he is delivering one of his rambling lectures on the subject. Boldface is mine.
EFFECTIVENESS OF BRAINWASHING
GC-12, 2 September 1956
It did happen. There was a record. Billions of years ago they knew how to do it. And the only result that a modern practitioner could get on the subject of brainwashing would be to restimulate it, but that at that time the fellow would know more about it, and he'd be smarter than he was before.
Fac One was a Sunday school picnic. Fac One was so mild that I wonder that anybody ever bothered to let himself get aberrated with it. Boy, he must have been short of problems. No, there are methods of brainwashing people, and you could do them right this minute. You can brainwash a man thoroughly in twenty seconds. And the HGC could undo it in about an hour. And we could knock him down to being totally blank, in a complete amnesia, and then brightened right up and looking good.
A brainwashing could be done, but Russia does not know how to do it. There are records of brainwashing on the whole track, but the only person that would be able to understand it or do anything about it's a Scientologist, and I never met a Scientologist who was so stupid as to brainwash anybody.
All the psychiatrist is doing with psychiatric treatments is dramatizing later day brainwashing. He isn't doing a good job of it, it's just a dramatization not a treatment. I say that advisedly, not to be wicked. I mean, that's a technical fact, because the second you try to put him in the patient valence he goes mad, boom, as is learned by institutions. But the whole subject of brainwashing is too complicated or too simple for anybody to grasp. He'd have to know all about engrams, he'd have to know all about the electronic phenomena of the body, and he'd have to be able to group the whole works suddenly and quickly so that it was indecipherable. You got it? But then of course, an auditor could come along, run over and under which is the process that straightens it out, and his track would go back together again.
It's not really odd that scientologists don't know their Hubbard these days. They tend to focus more on the COB now.
Nor is it odd that Hubbard noted that only a scientologist could understand this subject.
What is remarkable is how often Hubbard said the quiet part out loud.
Just for the record, the author of the piece: