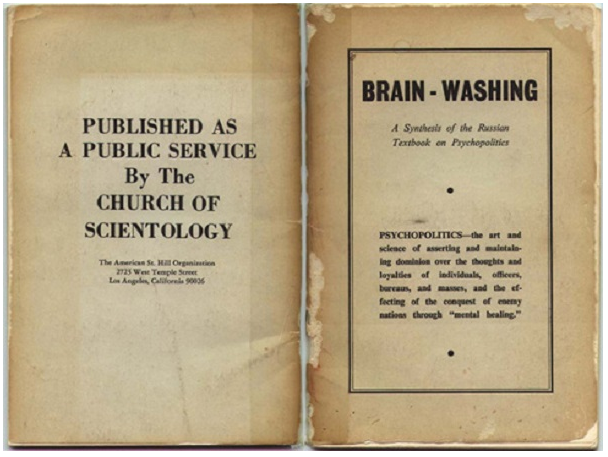 My old friend Janis Grady sent this to me and I found it quite amazing.
These are some quotes taken from the booklet entitled Brainwashing. L. Ron Hubbard had this distributed by scientology in the 50's. He wrote it, but published it under the name of Lavrentiy Beria, Stalin's infamous head of the secret police. Hubbard never officially acknowledged he had written it, though it was reported by early scientologist John Sanborn that he witnessed Hubbard doing so. But what is undisputed is that Hubbard pushed the booklet (commonly called the Brainwashing Manual) through the HASI. Also undisputed is use of scientology terminology in the booklet. (You can see a detailed explanation of the history of this booklet by Chris Owen here).
Here are some excerpts that are quite telling when compared to the practices of scientology, particularly the Sea Org.
It is not enough for the State to have goals. These goals depend for their completion upon the loyalty and obedience of the workers. These engaged for the most part in hard labors, have little time for idle speculation, which is good.
Belief is engendered by a certain amount of fear and terror from an authoritative level, and this will be followed by obedience.
The body is less able to resist a stimulus if it has insufficient food and is weary…Therefore, it is necessary to administer all such stimuli to individuals when their ability to resist has been reduced by privation and exhaustion. Refusal to let them sleep over many days, denying them adequate food, then brings about an optimum state for the receipt of a stimulus…
Degradation and conquest are companions.
By lowering the endurance of a person. and by constant degradation and defamation, it is possible to induce, thus, a state of shock, which will receive adequately any command given.
Any organization, which has the spirit and courage to display inhumanity, savageness, brutality, and uncompromising lack of humanity, will be obeyed. Such a use of force is itself, the essential ingredient of greatness.
The next loyalty is to his friends and local environment. This is destroyed by lowering his trust and bringing about reporting upon him allegedly by his fellows.
I guess in the case of Brainwashing, he did follow his own "tech."
If you want the whole text you can buy it on
Amazon.
Janis Gillham Grady Audiobook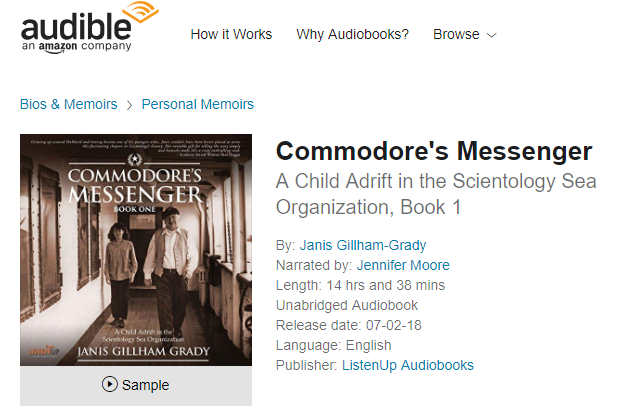 Janis' book, Commodore's Messenger is now available as an audiobook, many prefer to listen to books than read them so it is good this is now available in this format.
NOTICE
I am interested in hearing from anyone who has given money to scientology and suffered financial hardship/crises as a result, and especially if you then tried to get to get your money back and were unable to do so.
Please write to me at knowledgereports@hushmail.com with the following information:
How much money in total you gave
Which orgs you gave it to
The consequences for you and/or your family
Whether you tried to get your money back and what happened
Whether you are willing to talk publicly about 1-4 above
Best phone number to reach you at.