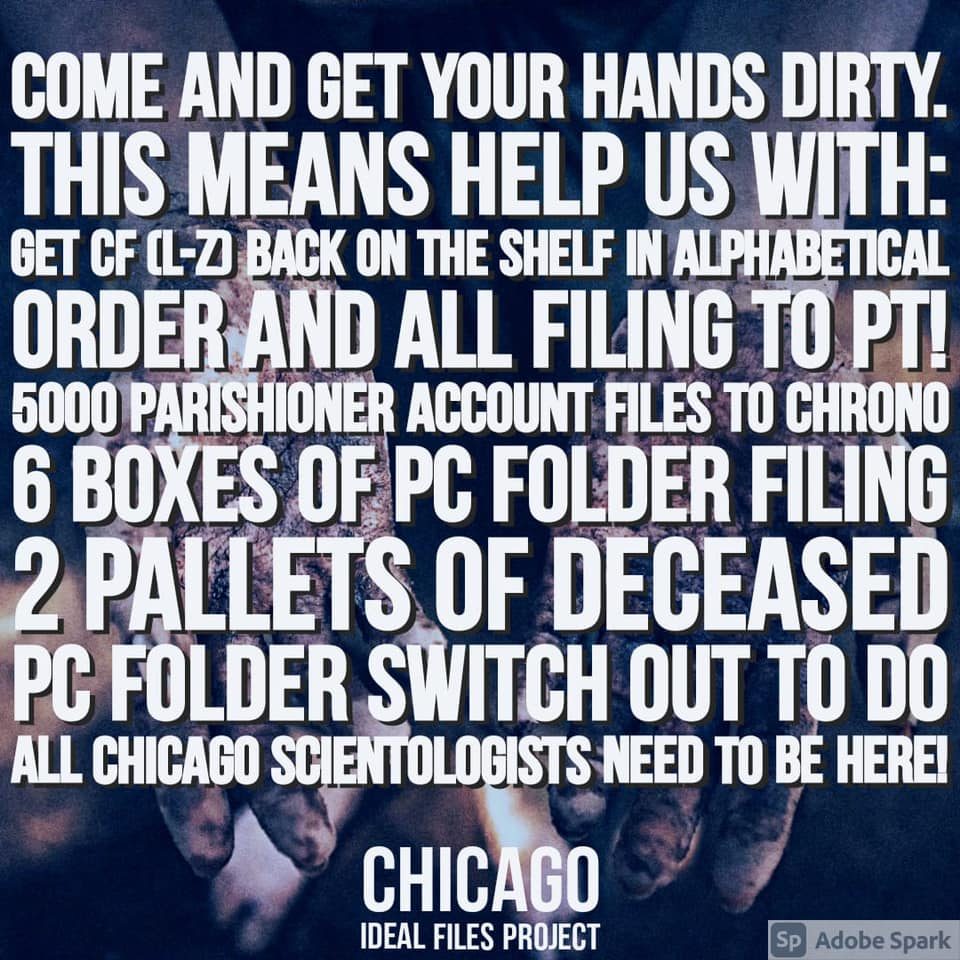 Chicago is on the runway for a Miscavige Ribbon Yanking ceremony. Woohoo….
But of course, before then they have to get their mountains of backlogged filing in order.
They've got something I have never heard of before. Pallets of "Deceased  PC Folder switch out" to do? 2 pallets worth? That seems like a lot. Guess the aging population of scientologists in Chicago are shuffling off their mortal coils with some regularity. But what is a "switch out" in this context? I have no idea? Are they making new folders for the dead people? Why?
Once again, this highlights the unworkability of the "admin tech" — there is not a scientology organization on earth that has EVER managed to keep their filing current. It is always the third biggest task in making an "ideal" org after raising the money and getting some staff to roam the empty halls of the new building. The amount of bureaucracy and wasted effort in a scientology organization makes the most inept government agency look like a well-oiled machine. The Hubbard system is not merely archaic, it would make Rube Goldberg proud. But scientologists tout this as the ONLY "workably management technology on earth" and swear it will make ANY organization succeed. Except their own. Can you imagine how big Amazon would be if they had Hubbard's tech? It's amazing they have expanded at all when they don't have "the tech." Apple and Microsoft are also operating in the Stone Age according to Hubbard-think.
I wonder if these people realize their self-incriminating "promotional" pieces are constantly leaked? They probably cannot comprehend that anyone thinks this exposes their incompetence.
The world inside the scientology bubble is very strange and very delusory.