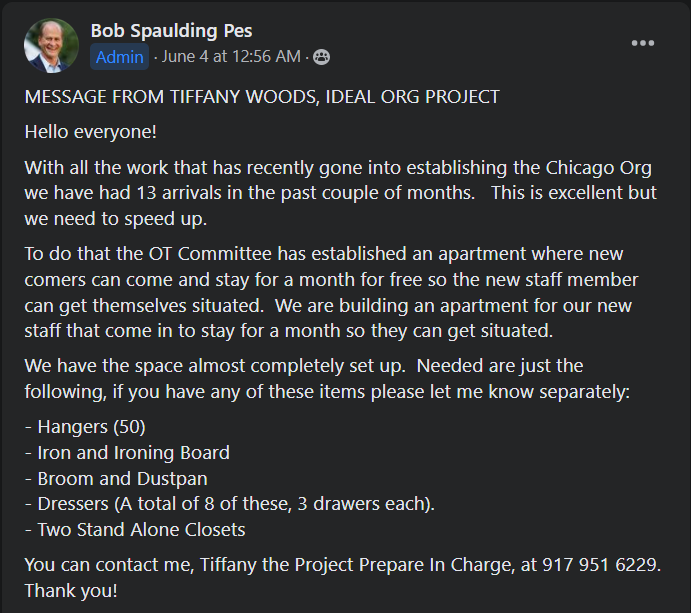 The "ideal org" strategy is so far off the rails it doesn't even resemble the original crazy plan when Miscavige announced it in the early 2000's.
He proclaimed that orgs required large enough buildings to be able to deliver "all the services", including a Public Divisions space large enough to accommodate what I called his FART program (Fully Automated Robot TV) whereby staff would be replaced by videos to "explain scientology). I laid this out in some detail in a posting from 2015 entitled What Is The Ideal Org Program?
Originally, OT Committees were supposed to raise the funds to purchase and renovate the buildings so the orgs could move in. But over the years, as scientology has continued to shrink, another problem arose — not enough staff to man these mausoleums. When they were small and failing orgs located in a strip mall or on the second floor above a dry cleaners, the glaring emptiness (failure) was not so visible to the world. But as these "new churches" — in fact, no new churches at all, just new BUILDINGS — began come into existence, the emptiness was a much more obvious problem.
Three things were done.
Sea Org members were sent to man many of these orgs.
Massive musical chairs — sending staff from one or more orgs to temporarily man the new orgs for their opening
Sea Org Missions recruited people from all over the world to join staff in whatever the next org to open was
Thus we come to the above.
The Sea Org is out recruiting people to try to man the Chicago org so it can open. Because Chicago org has a tiny congregation, there are not enough people to recruit for staff in the local area. So, they have to send them from elsewhere. I remember when Orlando was being opened and it was manned with Eastern Europeans! Because org staff are not provided with room and board like Sea Org members, these recruits have nowhere to live when they arrive. And no jobs. And despite the promises that this org is going to be "booming" and they will be well paid, that never happens either. Within a couple of months, most of the imports return to where ever they came from. Amazingly, Chicago org cannot even afford to buy coat hangers or an ironing board, so, at the behest of the Sea Org Mission, start begging for items to be donated.
You may have noticed my snark in the the Thursday Funnies about the guy from Los Angeles who joined staff in Chicago — this is why.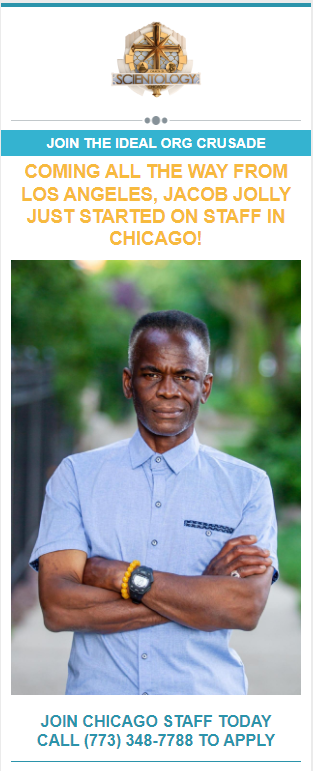 I bet Jacob Jolly doesn't even last until the Grand Opening before he realizes everything he was promised was a lie. And then has to try to figure out how to get out of Chicago. The Aftermath Foundation has a helped a number of people just like Jacob after earlier "ideal" org openings.
Stepping back from the absurdity of this to take a broader view. This single posting says a LOT about the current state of scientology.
The ideal org program has been going for almost 20 years now. The org in the nation's second largest city (the ONLY org for the entire city of Chicago, in fact the entire state of Illinois, and Iowa and Indiana and Wisconsin) cannot manage to get itself into a new building in all this time, though it is the highest priority for all scientology organizations who operate with the ONLY workable administrative technology selling the most valuable commodity on earth, and when they finally do get a building (10 years ago) they cannot get it renovated for years, and when they finally do that, they don't have any staff, and no field of scientologists to recruit from. Yet, they are "Clearing Chicago."