Scientology sometimes sends out the most self-incriminating "promotional" items….
With a subject line "Yeah, yeah, I know — I've heard that before!" it is pretty clear they recognize that everyone inside the bubble knows they tell one another an endless stream of lies about their accomplishments and what is coming next. And they repeat those lies over and over and nobody ever protests: "Hey, you told us the ideal org was going to be done in 6 months in 2010 and have been telling us the same lie every fundraiser since" — but they do acknowledge the lies in a less forthright manner "yeah, yeah, we told you this before but…"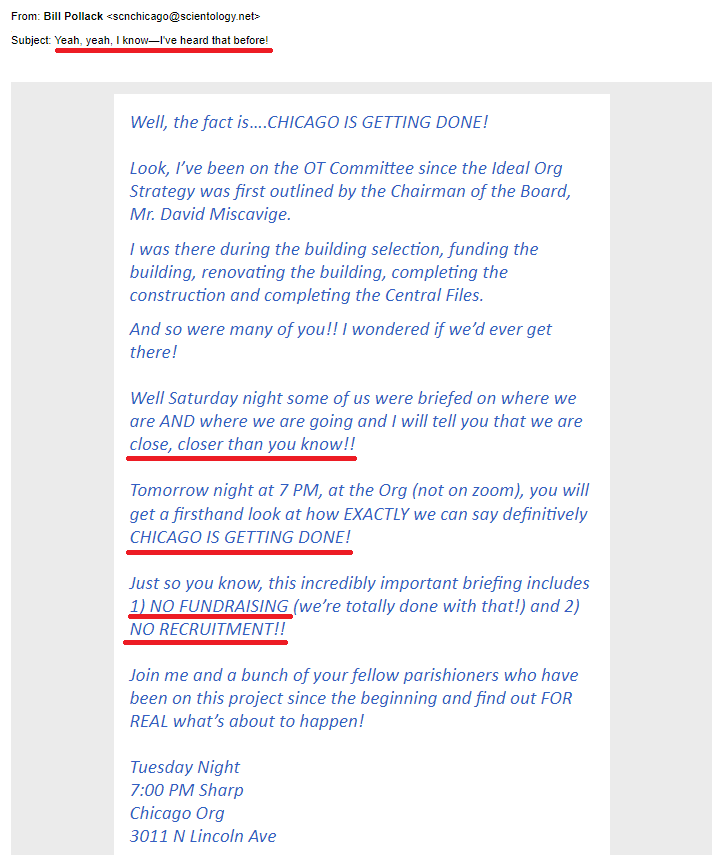 Then in the body of the email are more lies.
"Closer than you know!!" — ha ha. They have been told the Grand Opening was "imminent" since the summer time. So, it could not be closer than you know, because they "knew" it was going to happen months ago.
But, rest assured, despite the endless stream of lies — in ALL CAPS just to be sure you understand how much certainty they have on this — "CHICAGO IS GETTING DONE!"
And then, because they have told so many lies about this before, they have to come out and promise (again, in ALL CAPS) NO FUNDRAISING and NO RECRUITMENT.  More new lies to pile onto the old lies.
Pretty soon they are going to have to put out promo pieces headlined: "We are DEFINITELY NOT LYING lying this time about NOT LYING when we told you we were not lying about the last time we told you something…."
They bought this building in 2007.
The photo above was taken in August of 2022. The renovations were complete. They even installed the signage on the front of the building, but then had to cover it up. They don't have the staff to open it and Miscavige is scared to go out in public. So, it sits empty.
Though, it is not by a long shot, the worst story in this Ideal Org boondoggle. Miscavige's home org in Philly has had a decrepit building purchased and sitting untouched for a decade. New Haven and Battle Creek even longer. Toronto, a building they have owned since the 70's was vacated and has sat unused and unrenovated for many, many years. Boston is a tragedy of missteps, losing their once beautiful building on a prominent street. The two buildings purchased in Zimbabwe for "ideal orgs" have been taken over by squatters….