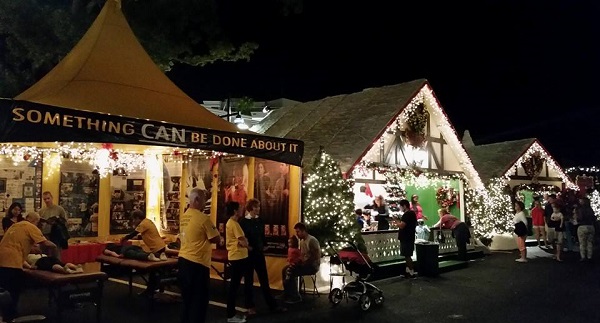 Winter Wonderland is coming to Clearwater once again.
What is different about this year? It's not the fact that scientologists pretend to celebrate Christmas when they believe christians are "wogs" who need to be saved — that has always been the case. I have included excerpts from a couple of choice Hubbard writings on the importance of "Safe Pointing" areas and how scientologists are expected to view and address other religions.
No, this year their promotion has NO MENTION of scientology. Apparently Winter Wonderland is done by the "Clearwater Community Volunteers" and the word scientology appears nowhere.
Are they afraid to promote that this is a scientology thing? Or embarrassed?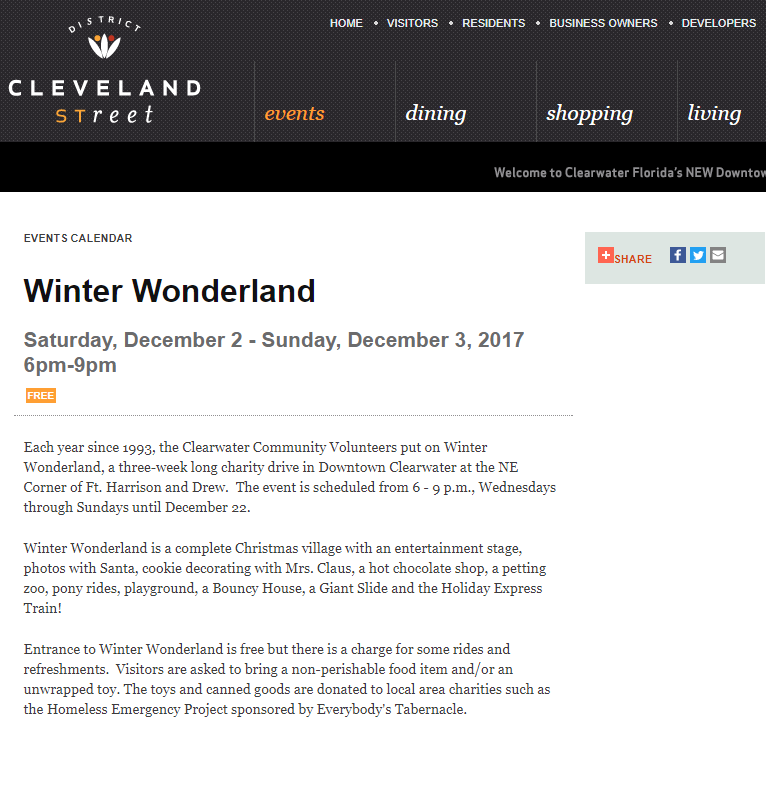 In previous years they put out press releases shouting that scientology sponsors this annual attempt to win friends and influence people.  Scientology was prominent and mentioned in the same sentence with the "Clearwater Community Volunteers" (as if they were two separate things).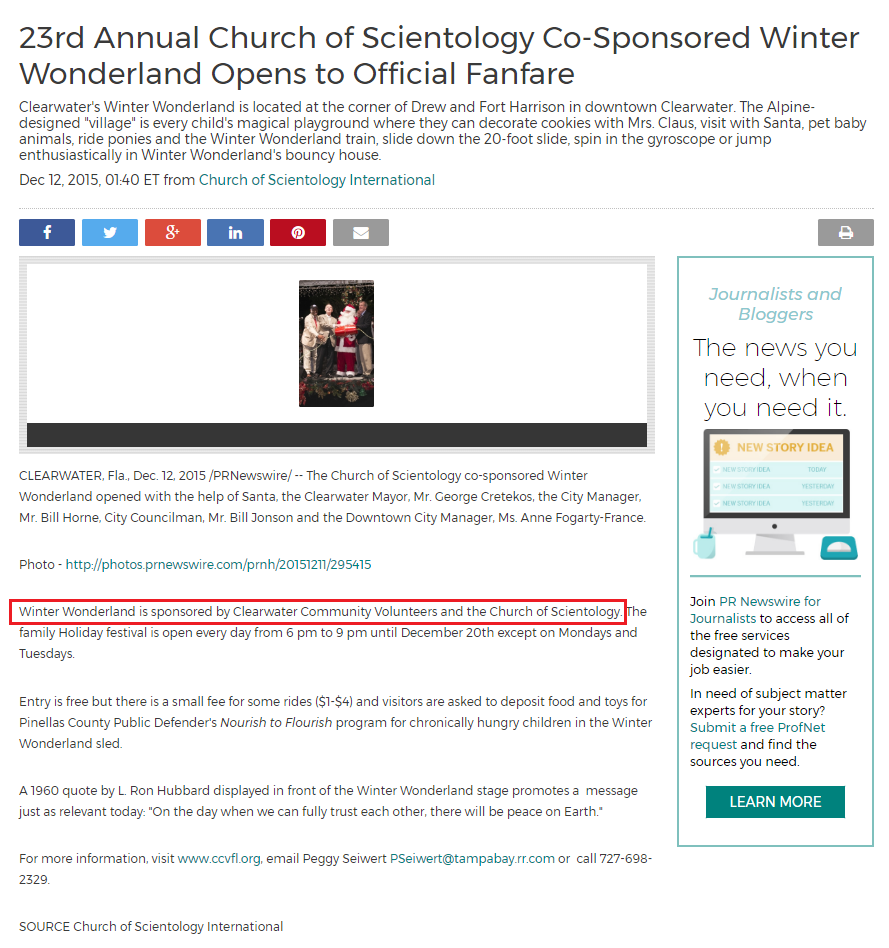 Of course, the Clearwater Community Volunteers is just another scientology group "established in 1994 by parishioners of the church of scientology" according to their website. This sort of group is formed and operates according to L. Ron Hubbard policy in order to create "Safe Points" in the community and gain influence.
The Volunteers claim they now have volunteers from all over Tampa Bay from "all faiths".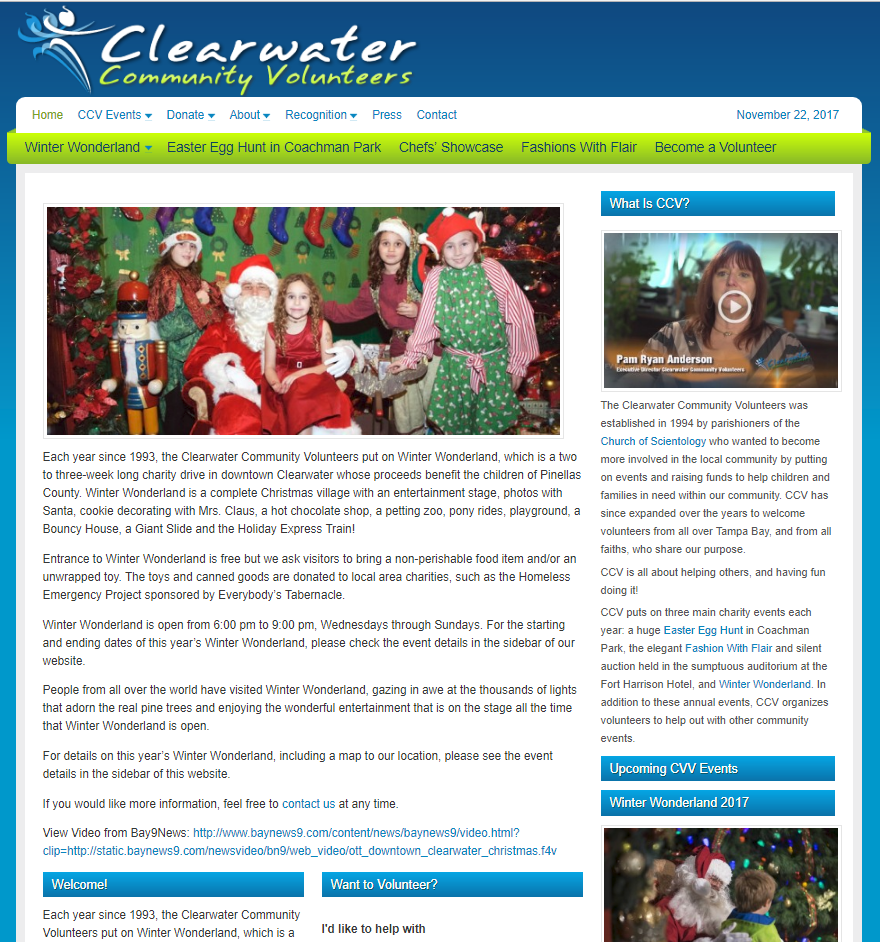 They very prominently promote endorsement by Pinellas County Sheriff Jim Coates. He seems to be following in the tradition pioneered in Los Angeles with the LAPD and (now imprisoned) LA County Sheriff Lee Baca offering support in exchange for donations to his programs. He should wake up. (For updated information on this, read Tony Ortega's excellent blog this morning).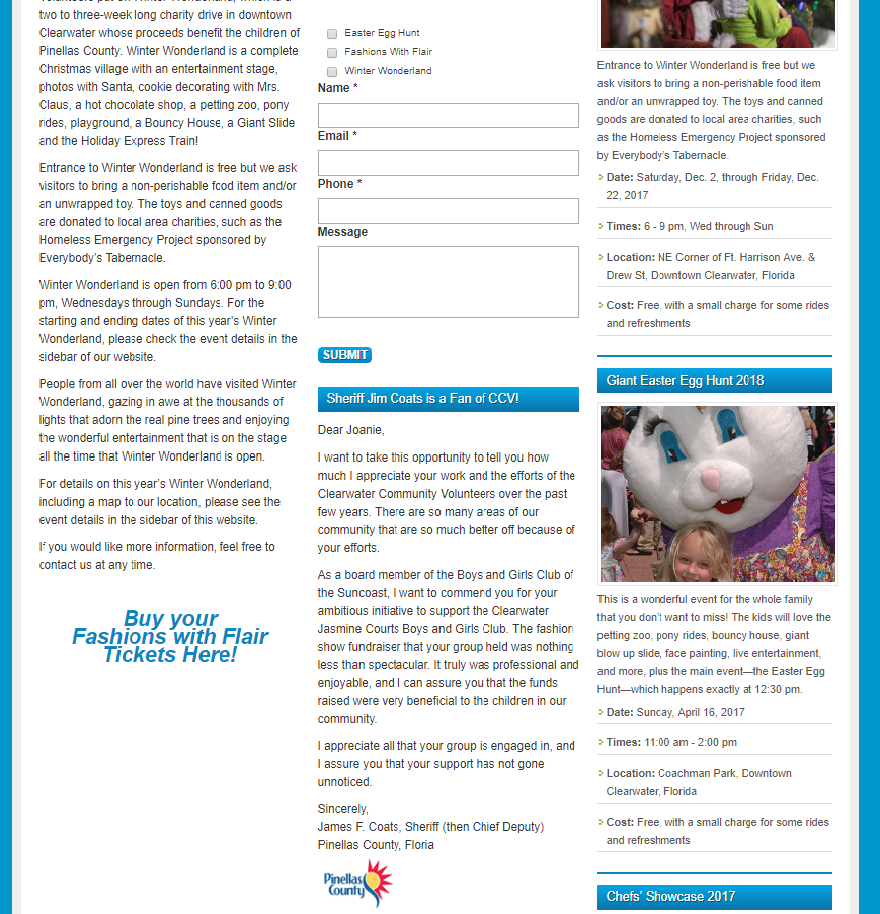 Here is the list of "sponsors" from the Volunteers website. Many of these are scientologists or scientologist-owned businesses. I don't have the time or inclination to check every name on the list. But I do find it curious that the City of Clearwater is listed. They too should get themselves educated as to who they are supporting and how their endorsement is being used.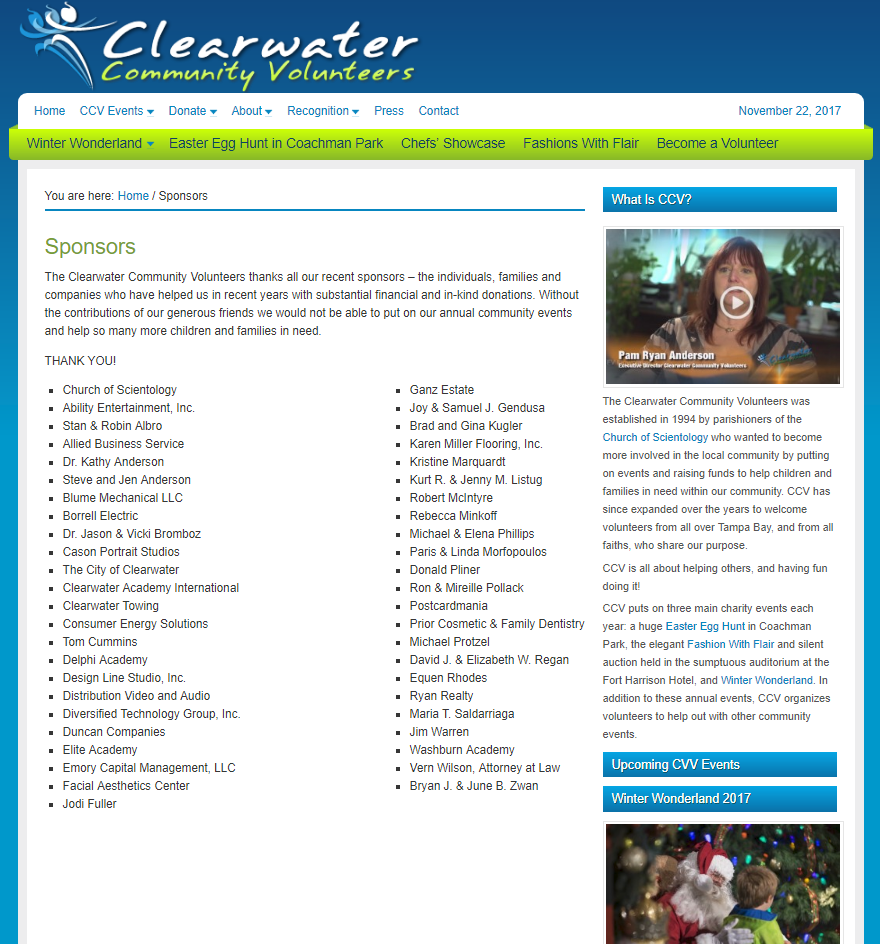 Excerpts from Hubbard Policy of 12 January 1973 "THE SAFE POINT"
"You cannot operate without a base to operate from. You cannot deliver without somewhere to deliver it. You cannot sell what you cannot deliver. The optimum action is to send a PR Area Control team to the area you want to operate in, and have it establish PR Area Control first.
"The most important action to undertake when going about making a Safe Point is to carefully and painstakingly find out who exactly are the top dogs in the area in financial and political circles, and their associates and connections, and to what each one is hostile.
"One must learn carefully his Ps & Qs with regard to these people and take care not to step on their toes. 
"Without a Safe Point established as above, it is a waste of time to rush into dealings with a government or to promise them anything. It is too easy to step on hostile toes and to arouse suspicion of you or make you difficult to account for.
Excerpts from Hubbard "Professional Auditor Bulletin" 7 August 1954 "WHY DOCTOR OF DIVINITY?"
…"a Scientologist has a better right to call himself a priest, a minister, a missionary, a doctor of divinity, a faith healer or a preacher than any other man who bears the insignia of religion of the Western world. And remember that it is precedent which masters the opinion of multitudes and nations.
"Why should Scientology ally itself with religion or use the word religion in connection with its philosophy?  There are many, many reasons. Amongst them is that a society accords to men of the church an access not given to others."
…
"In another time, in another place, those men (the Buddhas) responsible for what Western culture calls their religion, called themselves priests. I do not see, then, any inconsistency of any kind in the issuance to those well-schooled and well-skilled in Scientology the degree of Doctor of Divinity as a passport into those areas where they are needed. Only a barbaric minister is a "Man of God." In all enlightened religions such men are called "Men of Wisdom."