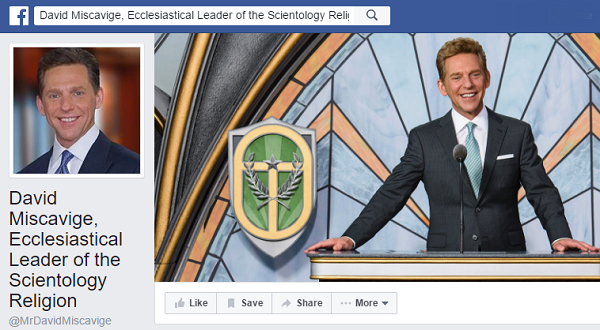 You can always tell how much "entheta" is enturbulating the COB.
Efforts are redoubled to attack perceived threats to his good name and to flood the internets with "theta" about him.
"Public Enemy #1" at this time is Ron Miscavige. I assume Louis Theroux and Steve Cannane are soon to move up the rankings. But for the time being, Ron M retains the top spot and every possible avenue is being used trying to negate him and destroy his credibility.
Fake email accounts generate weekly smears, like these from "oliviapaterson873":

I never open them because I know exactly the sort of salacious lies they contain – I have seen the ones about me. But I love the "title" of the bottom one about how he never "used the opportunity" to visit his granddaughter. Hahaha. As if he and Becky ever had any time off to be able to make such a trip. And as if it would not have landed him instantly in the Hole had he ever even brought up visiting the "SP" Jenna (she left the SO not on good terms). These creeps can twist ANYTHING. Hey Dave, how come you as the family man at the top of the heap, never popped down to visit your niece? You had plenty of time and didn't even need anyone's permission? Unlike Ron you would not have to explain your whereabouts to anyone.
Not even delving into the stream of effluvia that emanates from "Freedom" magazine or scientology lapdog lawyers sending out preemptive slime letters if they even think Ron might be talking to someone. Or any of the other avenues of attack and dirty tricks employed as part of a standard "3 channel" handling.  It is crystal clear who the sights are trained on. Ron Snr. is the biggest burr chafing Dear Leader's butt. And the smear campaign on him can be expected to carry on as his book and story continue to get coverage (see latest article in LA Times, and reportedly there is more coming from other media sources).
The other side of the coin is the increasingly desperate efforts to "fill the vacuum" on the COB.
I happened to be looking for something on scientology.org and arrived at this page about scientology training. Just check out the links. Amazing. Every time Miscavige blows up about the bad PR he is getting, someone creates another page extolling his virtues and links it to everything on scientology's websites. Remember, this is the page "Fundamental Skills of Auditing" — 4 different links to Miscavige puffery?
Then, coincidentally, I was sent a link to David Miscavige's Facebook page.
Wow. For the leader of a massive international religion with tens of millions of members, it's a bit strange he only has 14,000 or so likes (and I note one of them is Graham Berry — wonder how many other SP's are included?). 14,000 – that really is pathetic, yet probably represents a massive campaign to generate "likes" as no Sea Org members have FB accounts. I bet if you could trace them a disproportionate amount would emanate from India and the Philippines.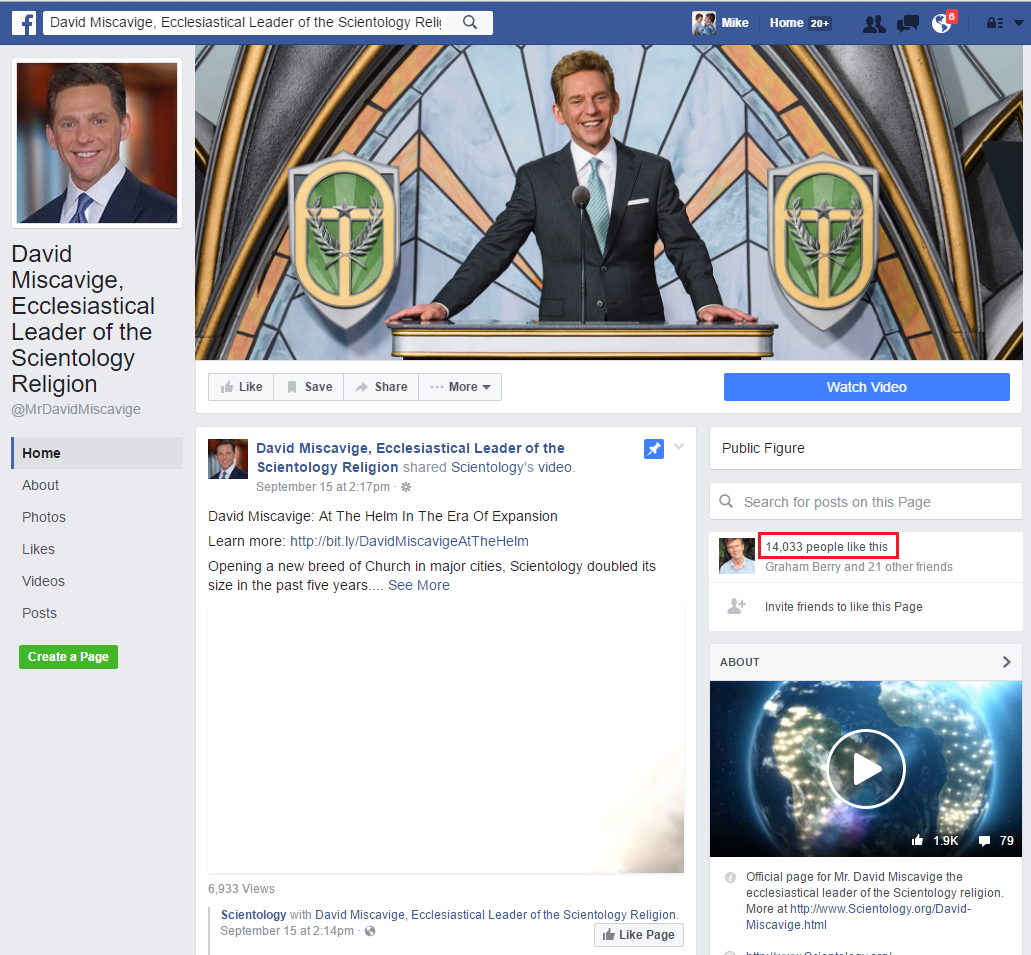 A few days ago they uploaded an 11;30 minute video to tell the world what a wonderful guy Dave is. More of the SuMP output no doubt. Sorry, the screen shot happened to get a pretty much blank screen, but then again, there is a lot of dead time in an 11:30 presentation of Miscavige's accomplishments. Imagine devoting the time and effort to an 11 and a half minute video about Mr. Miscavige's magnificence. Things must really be desperate…
But as a final word, Dave you really should check out Leah Remini's Troublemaker FB page — Leah is 65.6X more popular than you!
Now that is monumentally epic.