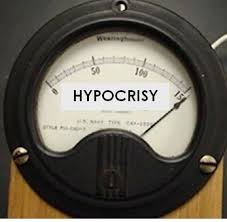 Dirk Niblick just put up an interesting comment quoting from "The Wake Up Call." 
For those who may not have heard of this — though if you spent any time in the church and attended even a single event, it is hard to imagine you have NOT — it is one of Miscavige's favorite "accomplishments." Written after 9/11 it was intended to be the "Come to Jesus" message for the faithful to get busy.
It was mostly written by Dan Sherman. Miscavige wanted to put out the issue, but did not plan on writing it himself. So, he called Marc Yager, Greg Hughes, Guillaume Lesevre, Lyman Spurlock, Ray Mithoff, Norman Starkey and others to his 11th floor conference room in the Hollywood Guarantee Buildiung and spent hours explaining to them what they were to write. Of course, nothing was acceptable, and he would spend more hours berating them for their "incompetence" in not writing something "like he would"  (he could have written the whole thing in about 1/10th the time he took explaining, berating and J&Ding those executives).  Eventually he called in Dan Sherman to write it for him.
It contains a lot of interesting statements, not the least of which is the para that Dirk quoted:
"At times. they are hidden by the social veneer of materialism-nifty cars, fancy houses and an economic "boom" that only existed on paper with the latest dot.com worth billions one day and not one cent the next. Look even deeper and you find mankind's 'humanitarian' objectives heading in the direction of MEST and 'artificial intelligence," all towards denial of the spirit. Instead of man, computers are the supposed salvation, evidenced by what comprises the world's largest industry, generating billions for its owners. And what has this ignorance of the spirit and reliance on MEST wrought? Computers, heralded as "amazing," but only capable of popping up an address book, phone number. mail order catalog… but they can't yet help one human being…"
Compare this to the incessant and loud assertions about "Ideal Orgs".  
Among other things these buildings (the "orgs" are incidental) are by turns:
a. The proof that Scientology is expanding (just see ANY of the letters sent to the media about how they got it wrong)
b. The REAL story of Scientology (see ANY of the letters to the media)
c. The ONLY way to guarantee planetary clearing
d. An urgent priority in order to "release OT IX and X"
e. The most on Source and significant program in the history of Scientology
f. The unquestioned proof of the utter genius of "COB".
g. All of the above in one long, strained blurt of Shermanspeak.
Now read the paragraph again.
It is an interesting study — just how far removed things are today from a dozen years ago when lip service was paid to theta and MEST concepts. And the ideals espoused by Miscavige resembled fundamental Scientology. These days there is no longer any pretense, though if you ask the clubbed seals walking glazed-eyed out of one of his events, "Mr." Miscavige is absolutely the epitome of the perfect Scientologist and about as On Source as you could find in a universe where absolutes are unobtainable.
A microcosm that speaks volumes about how, with a concerted, constant and well executed campaign, you can convince a lot of people of ANYTHING, no matter the evidence before them.
Thanks again Dirk. It was an eye opener….