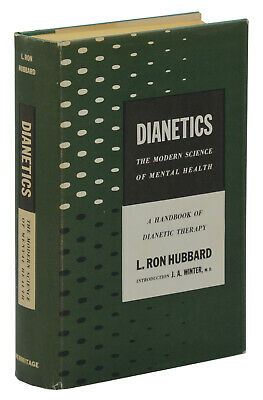 On this day in 1950, "Book One" was published.
It seems an appropriate day to remember some of the claims Hubbard made in his lengthy explanation of his "discoveries" that had been thoroughly tested…
Let's start with the most infamous: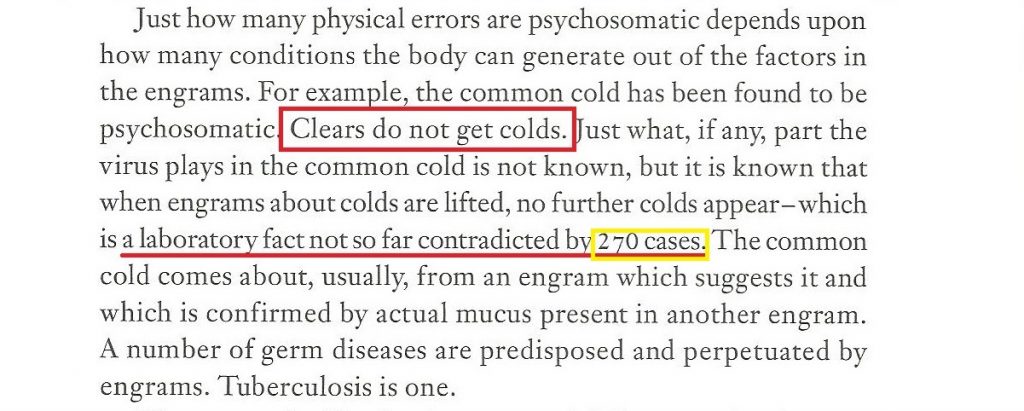 Clears of course DO get colds. They also get cancer, suffer heart attacks, strokes, pancreatitis and all sorts of other ailments. But this statement is still in the current edition of book.
As for the 270 cases, this is of course also a total fabrication. Obviously. No "laboratory fact" confirms this lie because it is provably false. And there were no 270 cases.
He claimed ALL "psychosomatic ills" could now be cured.

And how does he define psychosomatics illnesses? There is a whole chapter devoted to describing them:
That's an awful lot of stuff that Dianetics "cures."
Then there is his explanation of why a seven year old girl should not react to a passionate kiss from a man based on his reactive mind theories: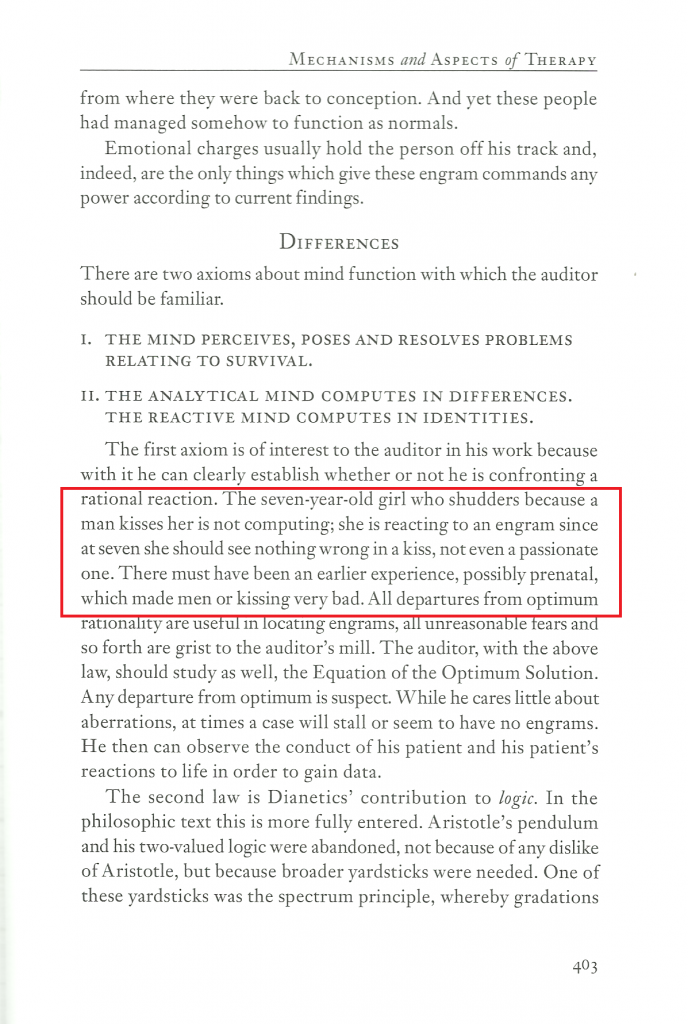 And his thoughts about opium, marijuana and phenobarbital being "better" than alcohol flies directly in the face of Narconon, and scientology's Drug Free World campaigns that are unapologetically anti-marijuana (and certainly opium and other stronger drugs) but say nothing about alcohol — which is NOT forbidden among scientologists.
But then again, after he lost the copyrights to Dianetics, Ron proclaimed the following in Scientology 8 – 8008:
It was found that there was no purpose in reducing incidents out of the reactive mind beyond the point where the analytical mind could step apart from the reactive mind, and then command it. Dianetics is a science which addresses itself directly to the reactive mind to reduce the command value of that reactive mind. Scientology is an embracive subject, much wider in application. It has as its goal the beingness that can exist without an energy or matter, which is to say, without time, whether homo sapiens or not.
Dianetics was an evolutionary step, a tool which had use in arriving at a higher level of knowledge; its use, however, produced slower results and much lower goals. Further, Dianetic processes were limited in that they could not be applied more than a few hundred hours without the reactive mind assuming a very high command level over the analytical mind due to the fact that the reactive mind was being validated continually in the process, whereas the better process was to validate the analytical mind.
Medicine and psychology, as practiced today, have absorbed and are using many of the principles of Dianetics without caring to be aware of the later developments in the field of the mind as represented here. Thus, the society absorbs and very often misunderstands knowledge.
And yes, this IS in the current edition of the book.
Despite these contradictory positions, Dianetics continues to be hawked today.
Interestingly, the techniques described in 8-8008 were soon abandoned when "new techniques" were developed and then in 1955, when he managed to regain the rights to Dianetics the subject was "restored" and scientology and dianetics were "reconciled" in Dianetics 55.
But of course, "clearing" which was delineated in DMSMH underwent an almost endless stream of "new technology" that would "finally make it possible" to clear people.
To this day, there never has been a Clear, as described by Hubbard, produced anywhere. Not even Ron himself.