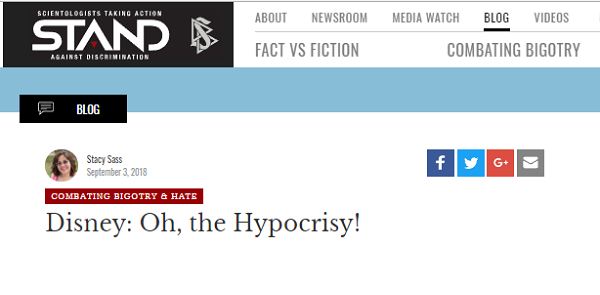 Here is something from the STAAD website decrying hypocrisy.
It's almost like this was written for a TV satire — The Office or Veep. The character who is a horrible racist files a complaint with HR over an alleged slight on him that he interprets as racially motivated because he has a complete misunderstanding of the term that is used.
Scientologist Stacy Sass is complaining so bitterly of "hypocrisy" yet she is part of an organization that embodies the very definition she quotes:
the practice of claiming to have moral standards or beliefs to which one's own behavior does not conform; pretense.
Scientology proclaims itself to be the "most ethical group on earth" (though it abuses and bankrupts people daily) and that it "promotes family values and happy families" (while shredding families with enforced disconnection), that it "protects human rights" (while holding people against their will at Gold) and is a champion of "free speech and freedom of belief" (unless that belief is not in agreement with scientology, then you are a bigot and have no right to speak).
In fact, on that latter point — just read her letter.
She believes victims of scientology — ONLY because they do not agree with scientology — are necessarily liars and bigots and should be fired. That we speak from OUR experience and she does not like hearing it means we are "discriminating against her religion." Yet she has never been to the Gold base or even been in the Sea Org. Apparently she has not had a child at a scientology ranch. Nor has any family member disconnected from her and it seems she has not lost her job because her boss was informed by the Ethics Officer she was an SP. She's probably given plenty of money and believes she could get it back one day because they told her that was the case (though it doesnt matter because "that's never going to happen.") In short, she knows not of which the victims speak.
But she KNOWS they are liars because they don't agree that scientology should be allowed to continue to harm and abuse people.
Her assumptions are the very definition of hypocrisy.
But her final point is wonderful. She tells Disney about "ratings" — obviously something of which she knows nothing, but was told to say this by her OSA handler. But she is a "star" now on Scientology.TV, featured in her own episode of "Meet A Scientologist."  Here's the thing Stacy, Ed Parkin forgot to mention to you that the ratings of your show don't even exist. Perhaps .001% of the viewership of The Aftermath has ever tuned into the Cult Shopping Network – and your show is a fraction of that.  So, by her excellent scientology logic, her show should be taken off the air…
Oh wait, she has a right to freedom of expression, it's just the "other people" who don't.
No hypocrisy here, right?
And finally, isn't it odd that with "millions" of members and growing at an epic rate, they have to recycle the same old people for everything. You see the same names and faces on the STAAD page and the CSN episodes, the lauded donors to the IAS, at CCHR demonstrations, Maiden Voyage events, leading the crazies in ideal org fundraising pirate parties, on stage as "Power FSMs", completing their Purif re-dos etc etc.
That's very curious scientology.