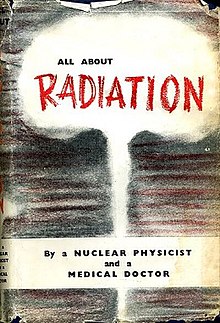 L. Ron Hubbard referred to himself as a "nuclear physicist" and assumed the title of Doctor when it suited his plans to sell his "wisdom" to people.
He authored a book, All About Radiation (no longer published because it was SO provably false) and delivered a series of lectures that he sold to the unsuspecting filled with his crazy theories about radiation — cashing in on the fear of nuclear war in the 50's. He even claimed he was offered a position as a nuclear physicist by the US Government, but of course he turned it down. As is very well documented, he took a course in atomic and molecular physics at George Washington University for two semesters, received an F and subsequently dropped out of college altogether before graduating. He was never a nuclear physicist of any kind. (Nor was he a "C.E" [Civil Engineer] — another title he used for a time).
He also assumed the title "Dr." Hubbard, until that too became unviable. With typical Hubbard bluster, he then announced he was renouncing it "in protest against the abuses and murders carried out under the title…"
In February 1966 he issued a policy letter "abolishing" the doctor title, justifying his false claim by saying:
"I was a Ph.D., Sequoia's [sic] University and therefore a perfectly valid doctor under the laws of the State of California".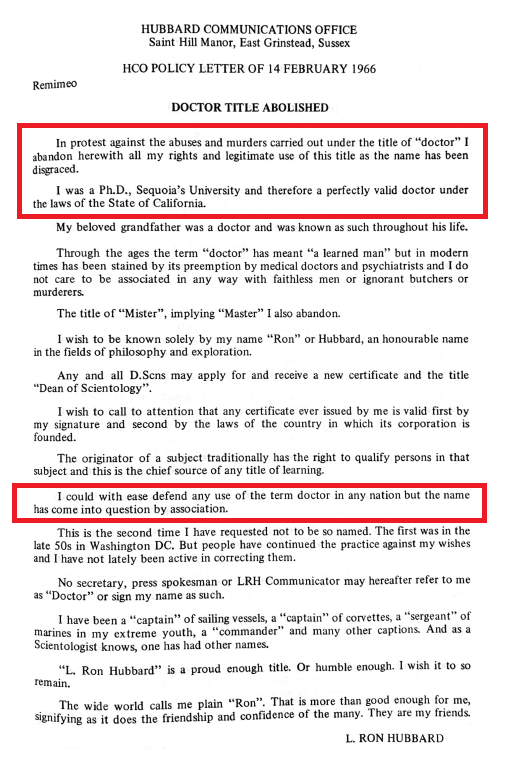 His claim to a Ph.D. was based on him buying, in 1953, a "mail order degree" from the diploma mill, Sequoia University.  This was conferred by Dr. Joseph Hough, a Los Angeles chiropodist in exchange for a small fee. Hubbard wanted the degree to impress people in England and asked for it to be expedited because his "work here [is] utterly dependent on it." (See Bare-faced Messiah).
Hubbard used the title until he was called out on it, then he tried to claim that it was his protest against abuses that was the cause of him "abolishing the title," not that he was not really a doctor. He still maintained his "Ph.D." was "valid" but he just didn't want people to call him this any longer in "protest of their abuses."
One of our readers, Fred G. Haseney, added this interesting information: On the same day that L. Ron Hubbard wrote his scathing dissertation on the medical profession ("Doctor Title Abolished," HCO PL February 14, 1966), the Daily Mail published the first of a three-part series on him ("Attention the Minister of Health: This Man is Bogus"). "He claims," the article reported, "to have 'many degrees and is very skilled by reason of study.' He uses the title 'doctor.'" In the next paragraph, the Daily Mail proves his claim of having any degrees or of being a doctor as "self-invented" and "self-bestowed."
This is similar to his policy letter canceling the "use of Fair Game" — a propaganda statement intended to deflect criticism. Or his announcement to a government inquiry in New Zealand that disconnection was no longer being used in scientology.  Or his claims that he had 'not profited" from scientology, but in fact it owed him huge sums for all his unpaid work. There are numerous other examples. When Hubbard was confronted with uncomfortable truths or exposure of his lies and false claims of accomplishments, study or research, he issued self-serving statements to try to rewrite history or hoodwink people with cleverly worded disclaimers.
Scientology continues to do the same thing today. They too are masters at "protesting" abuses — while abusing people every day of the week.