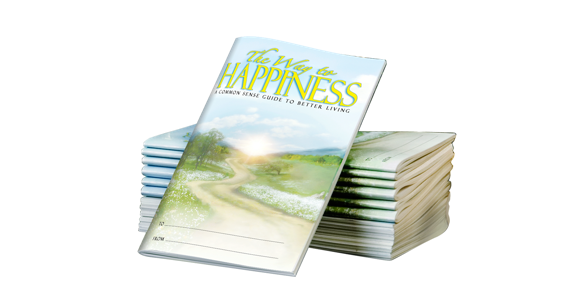 I think scientologists are losing braincells with each WTH booklet they distribute.
Lydia Hopwood is announcing "proof" of the effectiveness of handing out WTH booklets and attaches statistics from the LA PD as "evidence"….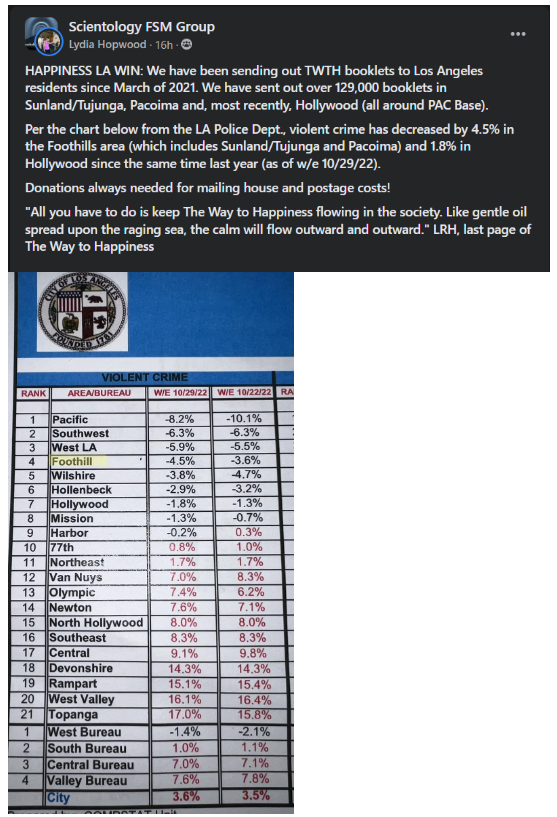 Unfortunately, what she attaches proves the exact opposite (but is a great illustration of how scientology creates the illusion they are "helping the world" as I describe below).
If it were the WTH booklets that caused the reduction in violent crime in the Foothill area, then what is being done in Pacific/Southwest/West LA as that is apparently far more effective?? They have seen a significantly greater reduction in crime. Pacific almost double. But NO WTH booklets stuffed in people's mailboxes there.
Scientologists cannot help themselves. They are terrible at identifying cause and effect because they have been convinced to believe they are "at cause" as an inherent state just by being a scientologist. So, if they do anything and can find a statistic or even a statement that might support their efforts, they use it to assert it is proof of their causative action. Even down to shifting the track of a hurricane. "We had our OT's get busy steering it away from us (and onto others). It didn't hit us. Therefor we caused that."
Yet they come out with things like this and what they attach as "evidence" of their accomplishment in fact proves they had nothing to do with their claimed accomplishment.
But this doesn't stop them. In short order, this will likely be cited in further promotional items and maybe even in one of their propaganda videos. They will say something like this: "hundreds of thousands of WTH booklets were distributed in the Foothill precinct of LA and it caused a significant reduction in violent crime while the majority of areas without distribution of the booklet saw an increase in crime. This is the power of the WTH. This is the power of OT's forwarding our fourth dynamic campaigns."
It's a perfect example of how scientology manipulates facts to tell a completely false story to make them look good.
I the real facts are ever uncoverable (as Lydia Hopwood inadvertently did here) every claim made by scientology about their effectiveness falls apart. Stefani Hutchison at her wonderful blog Confront and Shatter has documented this over and over.