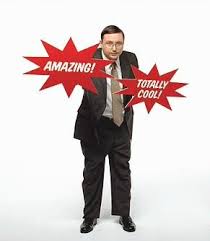 Once upon a time, Drew and Dede Johnston were respected Scientology field auditors.
But they gave up that gig for the far more lucrative business of earning commissions from money squeezed out of their fellow kool aid drinkers.
Of course, they are going to promote the astonishing wonders of Super Power, just like they promoted the wonders of Objectives and Purif and reading the Basics and the Purif or whatever the latest blanket "why" is. So, here they go, superlatives, generalities and exclamation points cocked and loaded, giving their newest reg pitches in the guise of "success stories."
But what I find most amazing is the quote at the end tacked on the "FSC":
Super Power…This is the means that puts Scientologists into a new realm
  of ability enabling them to create the New World. It puts World Clearing
                        within reach in the future."
                                   – LRH Ron's Journal 30
These people apparently have no critical thought capacity whatsoever.
Really?  You are going to quote something from 1978 about how World Clearing is put within reach in the future.  THIRTY FIVE YEARS AGO!  
Had this actually been released to staff in the 6 weeks that LRH claimed it would be out (this is an example of hype, 6 weeks became 35 years) then "the future" would have come some time ago.  I guess she never stopped to think that the population of earth increased from 4.2 billion to 7.1 billion during that time.  But never mind, wondering about why the delay would just be "CI" and "entheta" so we just pretend it never happened.  
Really?  THE THING that would make "world clearing" a reality was swept under the rug for 35 years and nobody is supposed to mention it. 
It's an endemic problem. Because the words of L. Ron Hubbard are considered sacred and unquestionable by fundamentalist Scientologists, they practice a refined sort of A=A=A. If he said it, it is therefore true. Any facts that seem out of alignment or contradictory thus cannot be true. And those untruths can be cast aside with impunity and not even given a second thought.
This is the "logic" that ensures orgs will not sign for registered mail "because it is off policy" but WILL sign for a FedEx envelope.  
Date: Sun, 01 Dec 2013 
From: Flag Office <fscnwus@earthlink.net>
Subject: New SuperPower Wins from Drew & Dede Johnston!!!!! c/o Sandy Dodwell
                        UNLEASH YOUR SUPER POWER!!!
                   Enter a brilliant new realm of ability
                        Super Power Success Stories
                            Drew & Dede Johnston
                        currently on Super Power!!!!
Success Story                                      Action: Consequences Rundown
I just emerged from what I thought was a "life" but it was a life that was far from complete and far from the Ideal Scene of what I really wanted; I discovered it was just one I decided to operate in and create despite it all.
Did I know that was the case??? No, I didn't but now that I do I can see the future and I can figure out how to actually run the life I really want to live. This rundown has exteriorized me from the "Lions, Tigers and Bears!"
I can really see how my power of self is returning and emerging and I am so very happy about what I am shedding to bring about that result–because as I shed what has held me back I am releasing the power I have that can be used and used well.
My auditor, you are amazing the best of the best!
To my C/S, thank you for the perfect guidance.
Thanks to COB and RTC who have worked to ensure the tech is there for us all.
A huge Thank you to LRH who has made it possible for me to be saved from the darkness that I so creatively embroiled myself into for far, far too long.
ML,
Dede
Success Story                                      Action: Bright Think Rundown
The Bright Think Rd kicked my butt.
WOW, what a ride – one where I found myself down the track and back many times, interspersed with huge exteriorizations, valence shifts, perception changes, cognitions, and tons of other phenomena that was fascinating to experience.
This rundown had the power to grab my attention, double it and double it again and bring me back to the auditing room in a way I've never experienced.
What a rocket ride. So simple, yet so powerful. This rundown crushes reactivity while bringing about a greater sense of beingness, doingness and havingness and a greater sense of livingness. I feel more alive, with a greater reach.
Drew
Success Story                                   Action: The Super Study Rundown
All of my Super Power auditing has been remarkable – and this rundown is no exception. It is so basic, so fundamental – providing me with the opportunity to free up my ability to absorb knowledge and study. A horde of twists and turns of reactivity I was not even vaguely aware of have been exposed and resolved.
As learning is a common denominator to all life's experiences – removing the trauma from learning on four flows has given me an exhilarating sense of well-being.
I'm truly astonished how skilled and competent my Flag trained Class IX Super Power Auditor is – her metering and auditor presence are exemplary.
In each and every session I feel my havingness is increasing by just being in session.
Thank you to my auditor, C/S, FSO, RTC, COB and LRH for this amazing opportunity.
Drew
SUCCESS STORY                                      Action: Bright Think Rundown
WOW! WOW! WOW!!!
I could end my success story there but I will give you some more.
This rundown has exceeded any expectations I had going into it.
With this rundown LRH took me on a journey so personal, so very intimate it is a bit hard to find the words to adequately describe it.
I went on the perfect adventure on this rundown and following the road signs, voila, I found my way home!
This rundown has given me a new sense of myself. I will never be the same again.
Thank you to my auditor, my C/S, RTC, COB and of course to LRH!
ML,
Dede
Wow!!! Welcome to a new world, to a new era, where the technology is now in place to provide an amazing series of super fantastic confidential rundowns. You will experience ten rundowns like no other – ever. Ten rundowns in specific sequence in a space created exclusively for that purpose. 
These are unlike any rundowns you've ever experienced. What they address. How they are delivered. The unique and utterly spectacular results of each.
I am here for you and I am going to help you get there. You have a very powerful and caring team behind you: your Flag Office! 
Call me or e-mail me and let's unleash your Super Power!!! Call me with any questions you have and I will answer them!
Love,
Sandy Dodwell
cell: (323) 893-6689
sandyfsc@gmail.com
Super Power…This is the means that puts Scientologists into a new realm
  of ability enabling them to create the New World. It puts World Clearing
                        within reach in the future."
                                   – LRH
                                     Ron's Journal 30