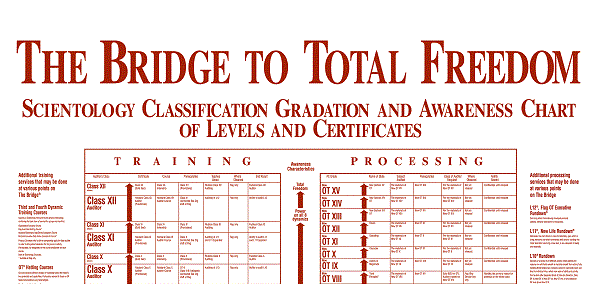 We continue breaking down the Bridge to total Freedom towards the level of Clear with Bruce Hines.
It's the stairway to heaven with turnstiles at every step.
The State of Clear — halfway up the Bridge
What is the E-Meter? 
Leah mentions her therapist's write-up on the E-Meter and she quotes from a small part of it. Here it is in full:
The science is pretty precise and involved (i.e., the science that it sounds like Scientology and the e-meter capitalizes on and distorts for the purposes of Scientology), but here's the basic scenario:
 It sounds like a basic polygraph test that gets used differently by the person administering it and with outcomes that get interpreted in non-scientific ways. And, by the way, polygraph tests (aka lie detector tests) do measure real physiological phenomena but do NOT accurately and consistently identify lies, so both a Scientological interpretation and a lie determination are essentially garbage.
They both use real science of the body to "prove" something that isn't actually proven by the information being gathered by the machine.
A polygraph machine can measure one's heart rate, breathing, and electrodermal activity (which is basically just a sweat response that can happen when we get emotionally aroused in any way – not necessarily "guilty" or something "bad," as this can happen in response to feeling happy as well).
The emeter only measures skin – not heart rate/blood pressure or respiration, which is even more limited and skewed in terms of data collected from the machine – meaning the results of this very basic polygraph-type machine would be even less meaningful (not that they're meaningful even with all 3 components involved).
In any case, the activation that gets measured originates from one's autonomic nervous system, which is a basic system in the body that operates mostly unconsciously (e.g., regulates heart rate, respiratory rate, digestive system, etc.). It's strongly connected to the survival system (i.e., limbic system), so intense emotional states of any sort (again, not just the "bad" ones) can have a significant impact on it.
Beyond this is also what's called cellular memory or body memory, which refers to the way in which our actual cells (and not only brain cells) are transformed by experience and hold information associated with our actual, lived experiences (and, to a certain degree, the lived experiences of our direct ancestors, whose bodies were changed by their experiences, and they then passed on those changes to their descendants). Aligned with this, as we live through things, our cells connect and build relationships with one another, which very literally look under a microscope like interconnecting webs. The cells learn about how to work with each other based on the very unique things we live through. From any given lived experience, cells associated with one thought or emotion from that experience might also become associated with a particular motion or pain or other type of experience somewhere in the body (and this idea as applied to trauma is essentially the thesis of the Peter Levine book, Waking the Tiger – somatic therapies are built on this understanding). This cellular/body information isn't interpreted as some other being but is instead seen as a part of someone's experience that hasn't been properly integrated for them, meaning that a network of cells fires off together in response to some stimulus that, by appropriately working through that, could become better integrated and no longer problematic – if indeed the non-integrated response is problematic for the person"
We also mentioned Bruce Ploetz, the electrical engineer at Gold who knows more about the E-Meter than anyone on earth. He wrote an article for this blog entitled What About the E-Meter?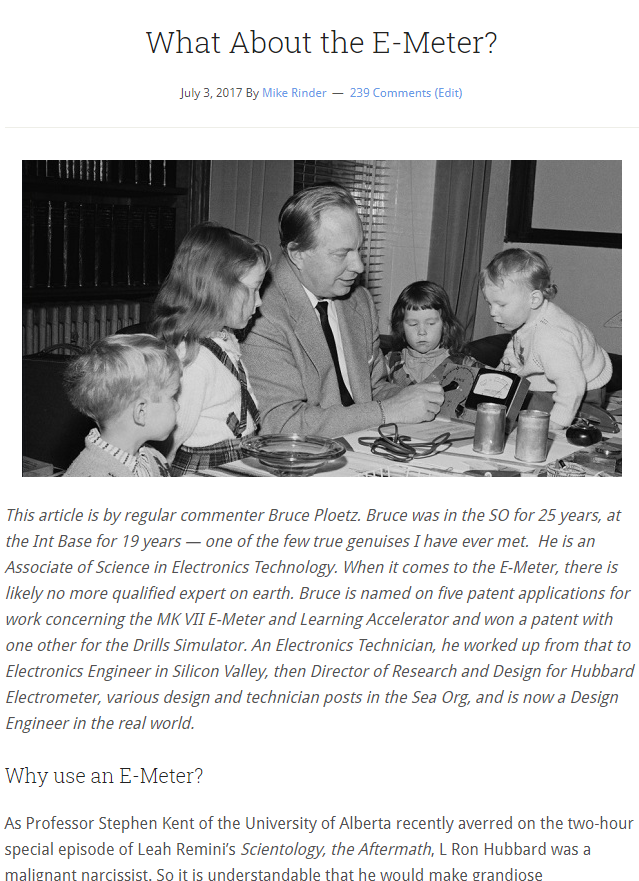 Further reading for a deeper dive on this subject:
Jeffrey Augustine published an extensive analysis of the history and science of the E-Meter at his blog, The Scientology Money Project entitled: A Brief History of How Scientology's E-Meter Came Into Existence — Parts 1-10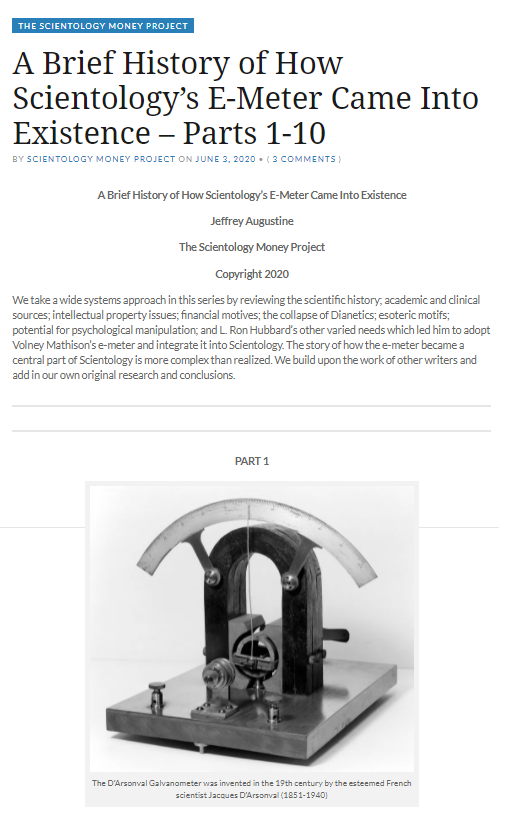 And here are some other sites with additional information:
Secrets of Scientology: The E-Meter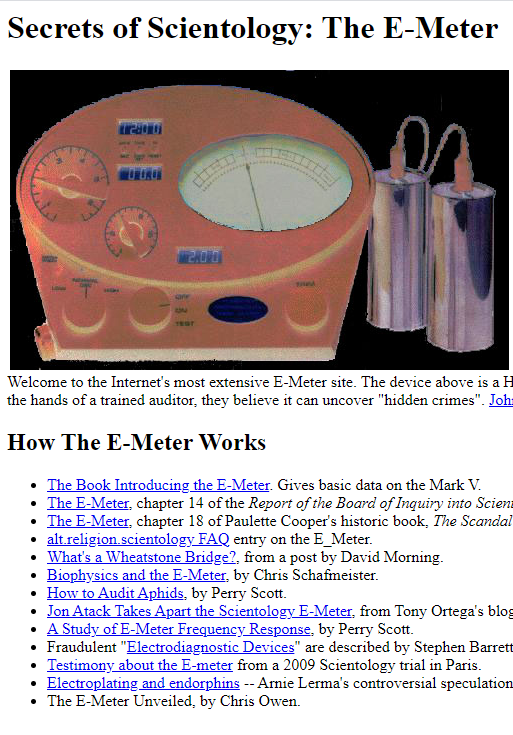 The Wikipedia entry on the E-Meter: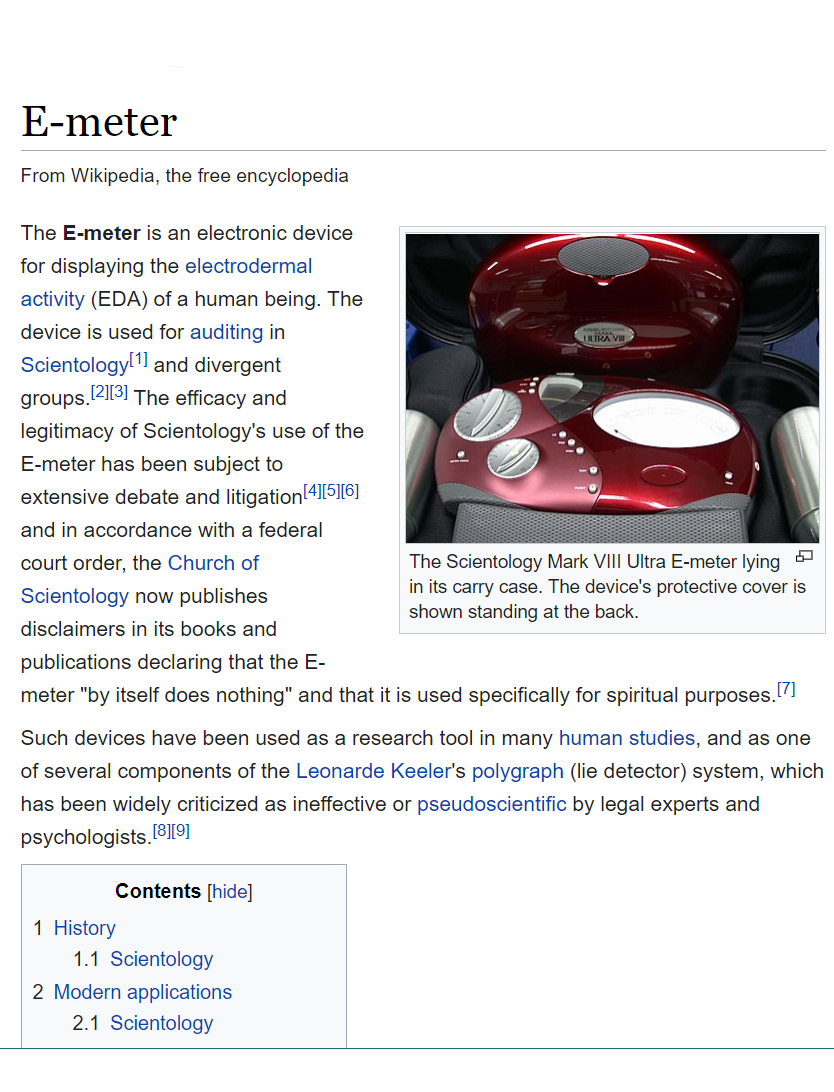 This includes the quote from Hubbard in 1954 where he discontinued use of the E-Meter:
"Yesterday, we used an instrument called an E-Meter to register whether or not the process was still getting results so that the auditor would know how long to continue it. While the E-Meter is an interesting investigation instrument and has played its part in research, it is not today used by the auditor … As we long ago suspected, the intervention of a mechanical gadget between the auditor and the preclear had a tendency to depersonalize the session …"
And finally on this subject, these are some quotes from Hubbard about the E-Meter being a lie detector from a lecture he gave in 1952 entitled Indoctrination in the use of the E-Meter:
Anyone who pretends to a knowledge of auditing should also at least pretend to a knowledge of how to use one of these machines. This machine is a small edition of those machines employed by police departments and which they call "lie detectors," The difference between this machine and a police department machine is elementary: a police department machine is just more of it.
This machine is also a "lie detector," completely in addition to being a diagnostic instrument…
Waking the Tiger: Healing Trauma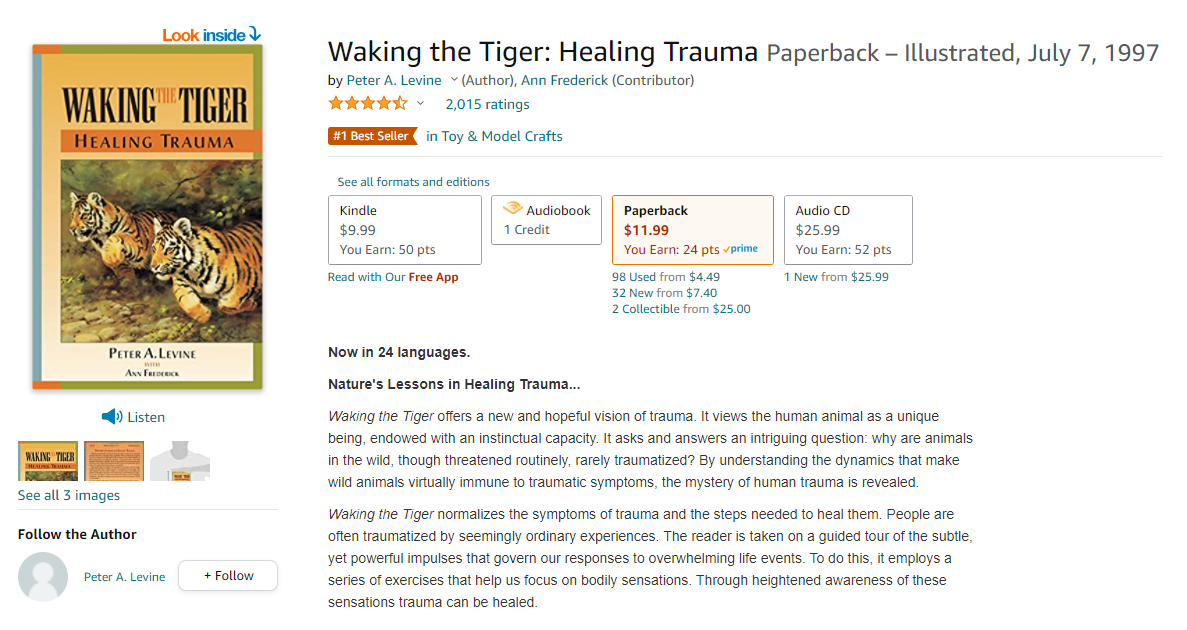 The Happiness Rundown: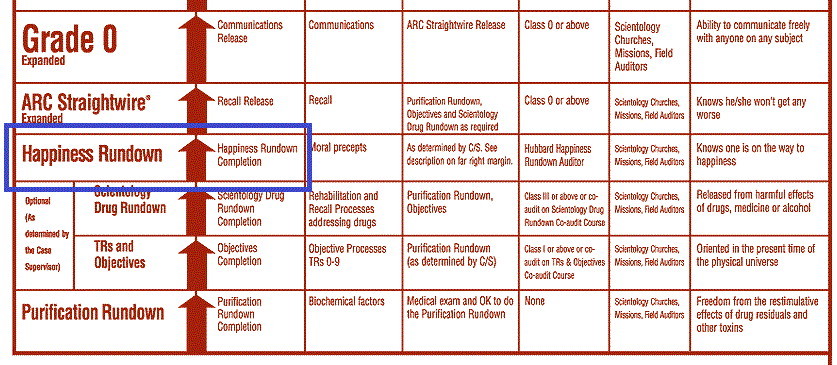 Price Lists from Scientology: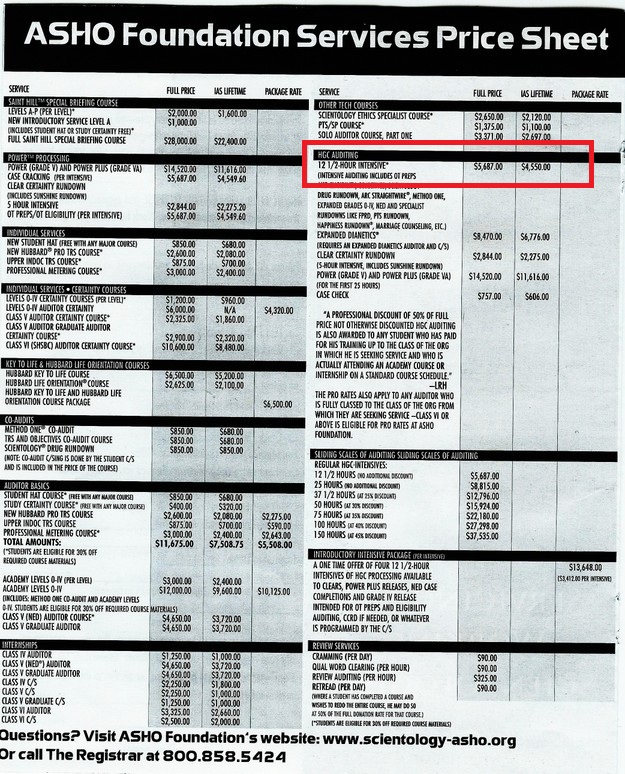 Grades Claimed Results: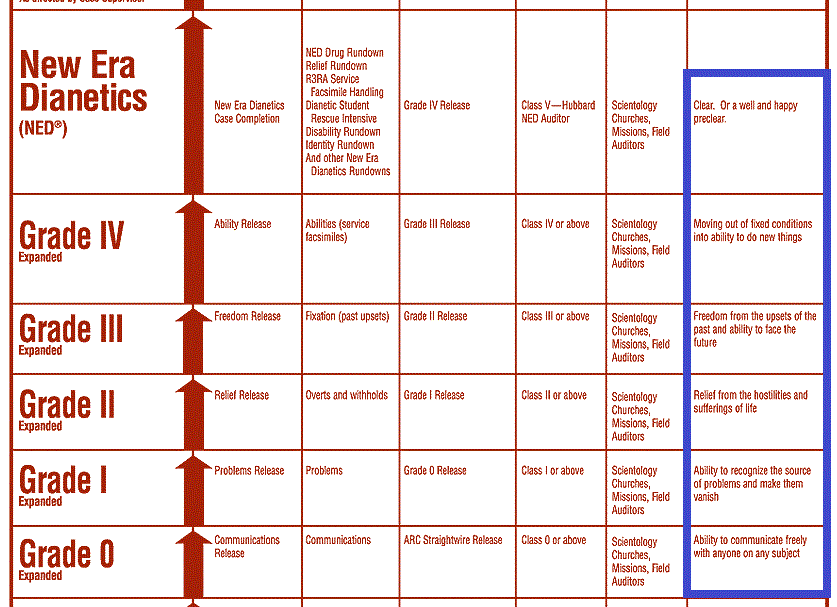 AC 360 with the "Inch Wives"
Researching dark matter….