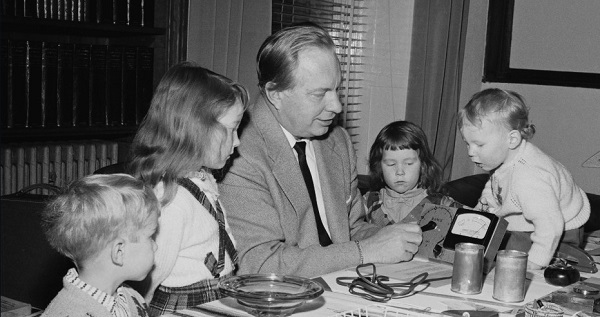 This article is by regular commenter Bruce Ploetz. Bruce was in the SO for 25 years, at the Int Base for 19 years — one of the few true genuises I have ever met.  He is an Associate of Science in Electronics Technology. When it comes to the E-Meter, there is likely no more qualified expert on earth. Bruce is named on five patent applications for work concerning the MK VII E-Meter and Learning Accelerator and won a patent with one other for the Drills Simulator. An Electronics Technician, he worked up from that to Electronics Engineer in Silicon Valley, then Director of Research and Design for Hubbard Electrometer, various design and technician posts in the Sea Org, and is now a Design Engineer in the real world. 
Why use an E-Meter?
As Professor Stephen Kent of the University of Alberta recently averred on the two-hour special episode of Leah Remini's Scientology, the Aftermath, L Ron Hubbard was a malignant narcissist. So it is understandable that he would make grandiose pronouncements, based on nothing but his own pride and authority, and expect others to accept them unquestioningly. That's what narcissists do.
The pretense of secret knowledge, discovered by heroic effort or attained in mysterious interactions with higher forces, is a common feature of destructive cults that revolve around a malignant narcissist. It serves to filter out potential members that may lack the devoted intensity needed to really adore the central figure, and to create the sense that the group is special. To make the necessary barrier between the core believers and the outside world. To create the sense that sacred secrets are shared by the group that far exceed the understanding of the mere mortals outside.
It should be noted that religions are usually also based on sacred knowledge. The difference is how the beliefs are used. I say nothing here about anyone's sincerely held beliefs and have no quarrel with believers in general. The issue is with those few who prey on others by pretending or inventing beliefs with the purpose of gaining undue influence over others.
But many have also averred, just as strongly, that Hubbard was onto something. That they experienced life changing successes using Hubbard's techniques, especially the simpler early stages. And especially, they shout, what about the E-Meter? Doesn't the objective use of a measurement tool remove the misty speculations and replace them with tested factual results? Can't you "see a thought" or measure actual "mental masses"?
I am familiar with the argument because only a decade ago I would have made a similar statement.
A Painful Experiment
As an electronics technician who started my career in the 70's, working my way up to engineer, I have some experience in electronics. And as a Scientologist who used the meter for hundreds of hours as an auditor, I have some idea what it is like to use one. And as Director of Research and Design for E-Meters in the Sea Org for three years, and contributor to several E-Meter related patents including the Drills Simulator, I can say that I have studied how it works.
The answer to the panicked starry-eyed true believers who cling to the meter like a rosary or a piece of the One True Cross is no. The meter does not prove that Hubbard was right. It can't.
Don Breeding, inventor of the transistor E-Meter, did an experiment in the 80s and sent the results to L Ron Hubbard, who was unable to figure out what Don was talking about. So Hubbard sent the write-up to Ken Delderfield to archive. Ken, knowing that I was in charge of meter research at the time, showed me the write-up. So we are going by a decades old recollection of a paper I only read once, but since it upended my entire idea of how the meter works and since I put it to extensive testing over the years since that time, I can reconstruct the essential points.
Basically, Don put needles through his skin into the flesh beneath, and put that on an E-Meter instead of the cans. What he found was a tone arm position around .8, basically the same as clipping the leads together. In other words, the "juice" inside the body has essentially zero ohms resistance. It should not be surprising that this is so, since the "juice" is soaked with blood, which is mostly a saline solution. Pure water is not a good conductor of electricity, but if you add salt it becomes a very good conductor. Not as good as a metal like copper, but good enough to short out an E-Meter.
How the E-Meter doesn't work
To understand the implications of Don's painful experiment, we need to get a little technical. Feel free to skip this if you are allergic to equations and math. Ohm's law basically says that electrical potential (usually called "voltage", electro-motive force) is proportional to current (electron flow rate). The constant of proportionality is called resistance (ohms). V/I = R where V is volts, I is current (for no good reason) and R is resistance. This is just another way of saying the harder you push, the more flow you get, depending on the resistance.
Now we can use our Ohm's Law. If V/I = R then by simple algebra V = I times R. Then when R is near zero, so is V. 0 times anything is 0. So, once the current from the meter gets into the body, it has a straight shot to the other can, it does not pass go and collect 200 dollars or interact with the brain or the soul or the masses of the mind or sheets of energy or anything. That is why solo cans work, where both cans are in one hand. Instead of going through the whole body, the current just goes a quarter inch or so. But it still works. The tone arm (resistance measuring setting) is a little higher because each can only covers half as much skin surface area. And the reads are a little smaller for the same reason. But otherwise it still works.
But, you say, what about the How the E-Meter Works film, scripted by Hubbard? Doesn't he show a scene where a magnet is moved near the meter leads, and the needle jumps? Can't there be effects on the needle even if the resistance is zero, like the antenna of a radio?
There can be such effects. No need to get into radio theory here, just think back to the film. The meter is connected to a coil made from many turns of wire wrapped around an iron core. And they are using a big heavy magnet. Do you really think the mind makes such large magnetic fields, large enough to affect a wire that is not formed into a coil? No such fields have been measured, they would be very bad for those who use pace-makers for their hearts, and they would make compass needles jump too. None of these phenomena have been observed.
But the real killer argument is this: remember the film. When the magnet is passed near the coil, the needle jumps and then pops right back to where it was. The film is carefully edited to make it seem more like a real reaction, but you can see it if you know what to look for. Real E-Meter needle reactions don't look anything like that. The needle moves much more smoothly and stays down for a while, then gradually comes back. It never pops and then snaps back to where it was before.
I am not saying that there are no electro-magnetic phenomena associated with the body, mind or spirit. I am just saying that the meter does not and cannot measure such phenomena.
Even Hubbard, early on, acknowledged this. In the June 1952 article, Electropsychometric Auditing—Operator's Manual Hubbard says:
DON'T MAKE THE ERROR OF THINKING THAT THE E-METER GOES THROUGH FACSIMILES. It goes only through the body.
He goes on to explain a purely spurious theory about "body density" but at least at this early stage he got it partly right. Later on he spun an ever more ephemeral web of complexity around it, but at the beginning even Hubbard knew that the meter shows physiological phenomena.
What the E-Meter really does
So where does the meter action really come from? As we have seen, it is not anything to do with the internal parts of the body. It is all happening in the thin layer of dead cells on the surface of the skin, right where it is in contact with the cans. In the palms, and on the soles of the feet, there are many special sweat glands. These open and close, releasing fluid, in response to emotional or mental arousal. Here I am using the technical term "arousal" which does not mean only sexual arousal. You can get an emotional arousal from hearing about the passing of a friend, or getting pinched enough to hurt, or in many other ways. Factually it is not just a matter of resistance changes, there are potential (voltage) changes as well.
This is well studied. You can look it up in texts on electro-dermal activity. It used to be called galvanic skin resistance or GSR and galvanic skin potential (GSP). One oddity in the texts is that they almost all say there is a two second or so delay. We who have used the E-Meter know that the delay is a lot less. I can only speculate that they are using silver-silver chloride electrodes that don't show the activity in quite the same way as our E-Meter electrodes (soup cans).
Conclusion
The E-Meter shows emotional arousal using physiological phenomena associated with brain activity. It does not show anything useful about the mind or spirit, considered separately from the body. If you are afraid of ghosts, and see one, the meter would show that something had happened that affected you emotionally. It would not prove or disprove that there are ghosts! It can't.
You could argue that the meter is still useful in therapy. Similar instruments are used for bio-feedback and research.
But you cannot argue that it gave L Ron Hubbard any useful special knowledge that would justify his claims to have found an empirical path to higher spiritual states. His claims to have discovered past lives and recovered lost knowledge using the E-Meter are similarly bogus.
It is actually a truly insidious conceit. Hubbard makes up something completely bizarre, like the "Piltdown Man" and how he used to chew on his wife. Since the Piltdown Man discovery is a hoax, and his large teeth were added by the hoaxer, it makes no sense to speculate on his marital relations.
But Hubbard did not present it as a speculation. He said it was "verified by the E-Meter"! At the time Hubbard was writing the History of Man, the Piltdown Man hoax was not broadly known to be invented pseudoscience. You could generously give him the benefit of the doubt or say it is a symbolic statement intended to give the flavor of the false memory, not specific facts. But then why did he say:
This is a cold-blooded and factual account of your last sixty trillion years.
From invented "memories", Hubbard constructed supposedly lost knowledge in ever cascading fountains. Somehow he never "remembered" anything useful, like the location of the lost mines of Solomon or how to travel faster than light. But he disseminated speculations about everything from how to wash windows to baby formula to how to cure radiation sickness. It is almost like a religion invented by a hack science fiction and fantasy writer…
Sprinkled in with the false assertions he also used true information. Almost all of the facts he states as his own are derived from other authors without credit. And the information is usually distorted or given false significance. So the former Scientologist has to sort it all out, and most end up disagreeing about particulars. But it is pretty safe to simply reject Hubbard and just look for the real information from other sources instead.
L'Envoi
Hubbard built a mighty empire of fantastic assertions and claimed that he saw it all in a needle that waves about. Then he called it Sciency or Science-o-logical or something. To this day there are those who claim that Hubbard's revelations do not require belief, that they are scientifically derived.
But they are not science. They are Scientology.
Scientology, a word that used to mean pseudo-science. Just about as scientifically valid as reading head bumps or tea-leaves, but he had the gall to use an electronic instrument. And that sucked me into the game.
I finally woke up, though, and you can too.